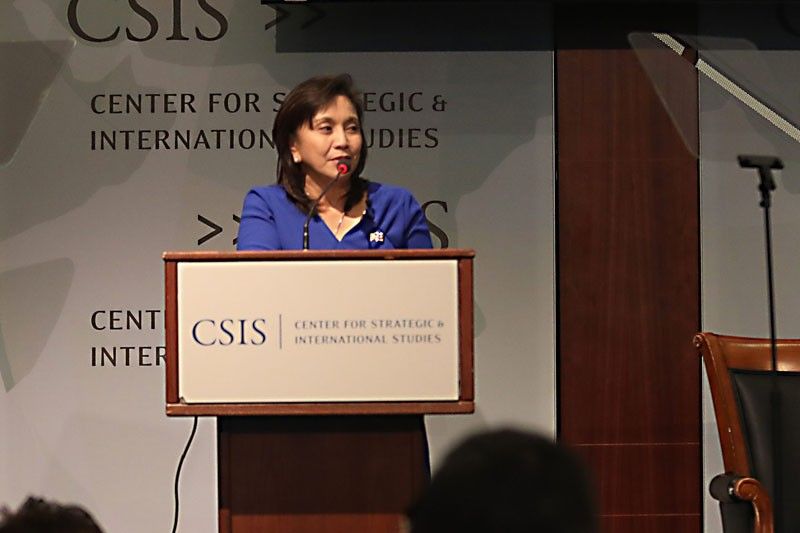 Vice President Leni Robredo delivers the keynote address at the Center for Strategic and International Studies-Pertamina Banyan Tree Leadership Forum in Washington on Oct. 17, 2018.
Fact check: No, the US has not announced travel sanctions on VP Robredo
(Agence France-Presse) - February 1, 2019 - 12:54pm
An article that has been shared thousands of times since it was first posted on Facebook in 2017 claims that the "US Department of States" has imposed travel sanctions on Vice President Leonor 'Leni' Robredo. Robredo traveled to the US in October 2018 and a search of the official website of the US State Department showed no such announcement has been made.
The article, which was first shared March 20, 2017, has been posted in Facebook groups with more than two million followers between them.
The article says: "U.S department of States has announced travel sanction against the Philippines Vice president, Leni Robredo for her continued effort to destabilize the government. Leni, who resigned from Presidents Duterte cabinet last year citing political frustrations has been banned from entering the United States for unspecified period of time, State department noted."
Below is a screenshot of the article: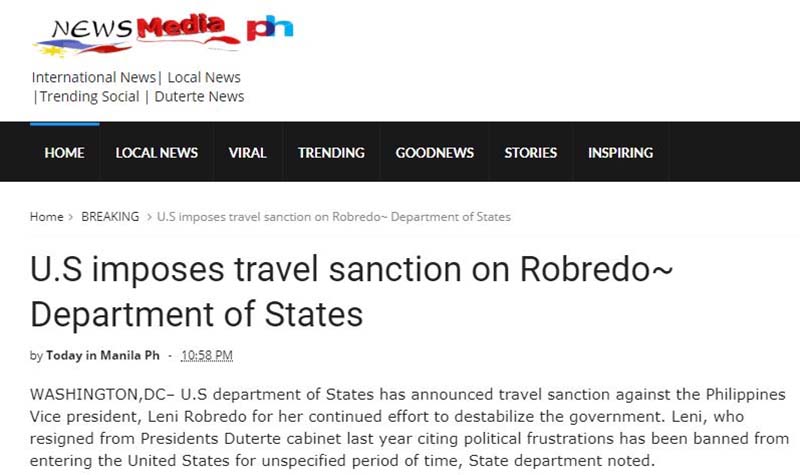 Robredo traveled to the United States in October 2018. Here is a video of Robredo giving a talk on October 17, 2018 at the headquarters of the Center for Strategic and International Studies in Washington, DC.
Here are pictures of Robredo in a meeting with David Miliband, president of the International Rescue Committee, in New York City in October 2018.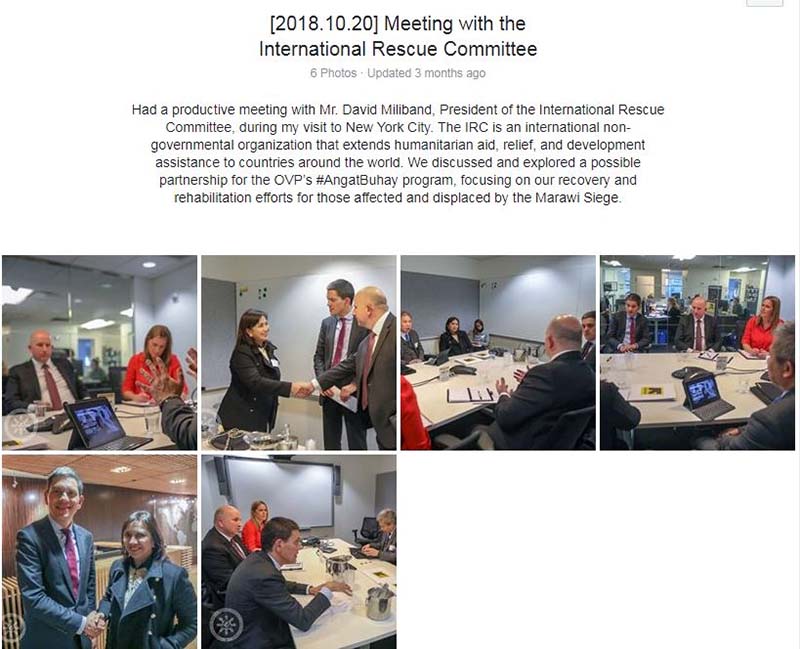 There is no US agency called the "US Department of States". There is a government body called the US Department of State or the State Department.
A search of the official website of the US State Department revealed that no such announcement against Robredo has also been made.



A search of transcripts of special press briefings and department briefings also showed that there had been no such announcement.
Molly Koscina, press attaché and spokesperson of the US Embassy in the Philippines, said that travel bans are not made public.
"Section 222(f) of the Immigration and Nationality Act (INA) prohibits us from discussing individual visa cases," she told AFP in an email on January 29, 2019.
The misleading article has been shared more than 2,000 times by Facebook groups and pages with almost two million followers since 2017.