Kadamay to DENR: Do not use Manila Bay rehab as cover up for reclamation
January 30, 2019 | 4:16pm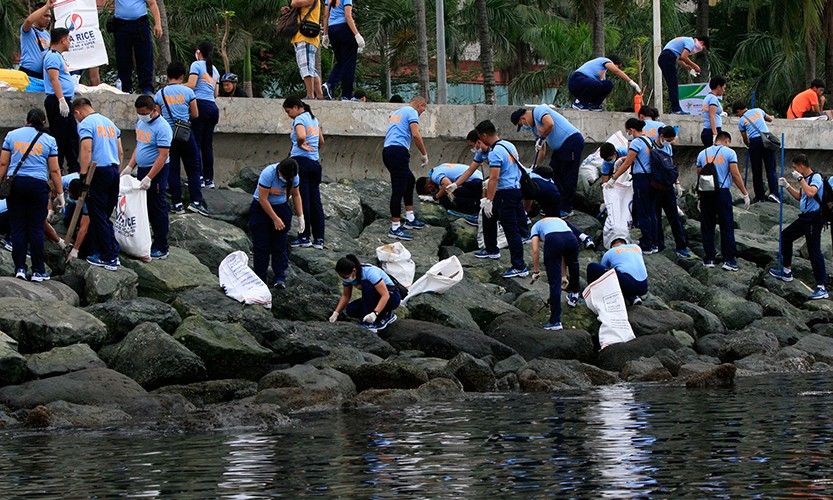 MANILA, Philippines — Urban poor group Kalipunan ng Damayang Mahihirap urged the Department of Environment and Natural Resources to ensure that the government does not use the rehabilitation of Manila Bay as a cover up for reclamation projects.

"Ginagamit panakip butas at panghatak sa publiko ang di umano'y paglilinis lamang sa Manila Bay (They're using the alleged cleanup as a smokescreen to gain the public's support and under the guise of cleaning up Manila Bay)," Kadamay Chairperson Gloria "Ka Bea" Arellano said in a statement on Tuesday.
But she said her organization believes there are more sinister plans in the works.
"Pero ang nasa likod nito'y pagbebenta ng teritoryo ng Pilipinas sa malalaking dayuhang kumpanya gaya sa China at paglalagay sa panganib ng kalikasan (Behind it, they're actually selling Philippine territories to large foreign corporations like China which, in turn, would put the environment at risk)," she added.
The Department of the Interior and Local Government said in a statement on Wednesday that they could not heed the calls to suspend the rehabilitation of Manila Bay. Progressive lawmakers in the House of Representatives said the rehabilitation should be suspended until a "comprehensive and holistic" study of the project's socioeconomic impact on marginalized sectors has been "diligently" carried out.
The DILG also said that claims of the cleanup as a prelude to reclamation is "misinformation."
"Again, this is clearly misinformation. There is no place for reclamation in the rehabilitation program. In fact, [DILG] Secretary [Eduardo] Año is personally opposed to reclamation projects," DILG Assistant Secretary Jonathan Malaya said in a statement.
READ: DILG: Manila Bay rehab can't be suspended
Proposed reclamation projects to be scrutinized
Kadamay said they believe there are 43 reclamation agreements set on the area. They believe that the projects would displace around 300,000 families.
According to a report in The STAR, proposed reclamation projects in the Manila Bay area involved at least 26,230 hectares.
READ: Review of Manila Bay reclamation projects eyed

Año said they would be scrutinizing the proposed projects if they are in compliance with the law.
Arellano said that if they are cleaning Manila Bay, they should "just clean."
"But the problem is, they're pretending like they're just doing work, but many corporations are waiting to take advantage of the opportunity," the group's leader said.
"Fake rehabilitation is what they're doing at the DENR under Duterte."
The rehabilitation of Manila Bay, which is known for its polluted waterways even as many flock to the area to catch its famous sunsets on a regular basis, became the government's next target for cleanup after Boracay was rehabilitated and re-opened.
According to government officials, the cleanup would be done in three phases, first by clean-up and water quality improvement, rehabilitation and protection and sustainability. — Ryan Macasero