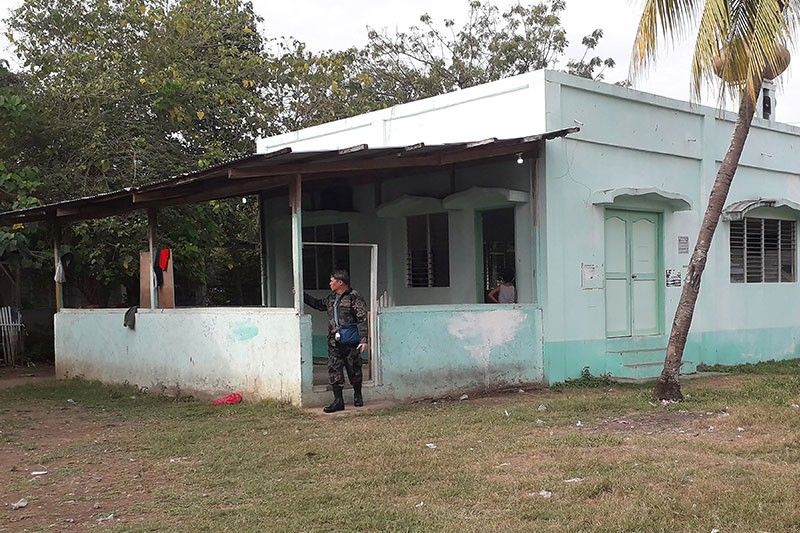 A police investigator stands at the entrance of a mosque in Zamboanga city on the southern island of Mindanao on January 30, 2019, after a grenade attack. A grenade attack on a mosque in the troubled southern Philippines killed two people early on January 30, 2019, authorities said, just days after a deadly Catholic cathedral bombing and a vote backing Muslim self-rule.
AFP/STR
Palace: Gov't will keep Mindanao residents secure, punish bombers
MANILA, Philippines —Bombings in Jolo, Sulu and in Zamboanga City are a challenge for the Philippine government to ensure the safety of the people of Mindanao, Malacañang said Wednesday.
Days after the twin bombings at a cathedral in Jolo, an explosion at a mosque in Zamboanga City left two people dead and four others wounded.
"This latest act of murder apart from the terrorists sowing terror in the Mindanao region, coming as it does in the wake of the Jolo dastardly [sic] bombing, is a taunting challenge to the capability of the government to secure the safety of the inhabitants in Mindanao," presidential spokesperson Salvador Panelo said in a statement.
Security forces: Incidents likely unrelated
Defense Secretary Delfin Lorenzana has said the attack in Zamboanga City is likely not connected to the Jolo bombing.
"We're still looking at it but we do not see any connection," Lorenzana said in a press conference.
The Zamboanga City police also said Wednesday that the two incidents might not be related.
Senior Superintendent Joseph Thomas Martir, City Police Office director, said they already have "people of interest" in the mosque grenade attack, while also pointing out that the two attacks have different modus operandi.
Martir said the mosque attack may have been motivated by politics since one of the men who died in the attack, Rex Habil, used to be a barangay official in Lamitan City, Basilan. "In politics, sometimes people have grudges... maybe he was followed here," he said in Filipino

He said police are also considering religious differences within the Muslim community.

"As of now, we see there is nothing to do with the incident in Jolo. We already have persons of interest," Martir said.
Military will 'unleash its might and weaponry'
The bombings occurred while Mindanao is under martial law, which has been in effect since May 2017.
Malacañang said the Armed Forces of the Philippines "will unleash its might and weaponry" against enemies of the state.
"The successive attacks on two different places of worship depict the ruthlessness and the godlessness of these mass murderers," Panelo said. Security forces have yet to say that the two incidents are related.
Panelo assured Mindanao residents that the government will keep them secure and provide them with any kind of support they need.
The explosion at a mosque in Barangay Talon-talon, Zamboanga City happened at around 1 a.m. while the victims were sleeping, according to a report from News5. — with TheSTAR/Roel Pareño in Zamboanga City