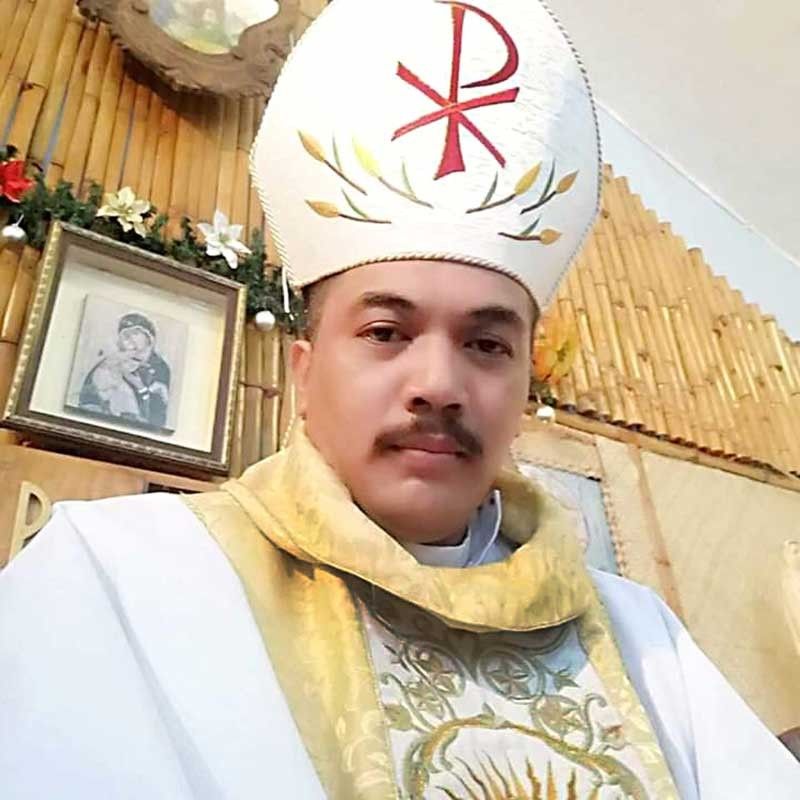 Photo provided by the Cavite PNP shows Richard Alcantara who was arrested along with a companion during a drug sting in Bacoor last Thursday.
'Bishop' arrested for shabu in Cavite
MANILA, Philippines — An alleged bishop and his companion were arrested while in the act of sniffing methamphetamine hydrochloride or shabu in Cavite last Thursday.
Bishop Richard Alcantara of the Sacred Order of St. Michael Archangel was arrested after three months of surveillance operation, said Supt. Vicente Cabatingan, Bacoor police chief.
"It took us several months to collar him because we wanted to catch him in flagrante delicto or in the act of committing the crime and have hard evidence to stand in court. We have a video of him sniffing shabu," said Cabatingan in an interview.
Cabatingan added that they conducted a drug sting on suspected drug peddler Fernando Dacuma, alias Nanding, in Barangay Alima in Bacoor at about 5 p.m.
Dacuma managed to escape but the police nabbed Alcantara and Perlito Aliba, alias Bindo.
Alcantara admitted he was hooked on shabu as he was conducting research regarding the government's campaign against illegal drugs.
He claimed to have told his parishioners not to use illegal drugs.
Alcantara admitted he has been sniffing five grams of shabu daily for almost two years, Cabatingan said.
"He sniffs shabu in the morning, lunchtime and by nighttime," Cabatingan added.
Alcantara said he sustained his drug habit through the money sent to him from his congregation in the UK.
Alcantara is a graduate of Bachelor of Science in Theology and was ordained at the Imus Cathedral.
Cabatingan said they monitored Alcantara celebrating mass at the Holy Theotokos Church in Trece Martires City last Jan. 21.
Alcantara also blessed houses, vehicles and baptized children, Cabatingan added.
Alcantara and Dacuma are detained at the Bacoor police station pending the filing of charges against them before the prosecutor's office.
The Sacred Order of St. Michael Archangel, its website www.michaelarchangel.org said, "isn't subjected to any religious affiliation, hierarchy or denomination, while maintaining its not-for-profit educational corporate status." – With Ed Amoroso