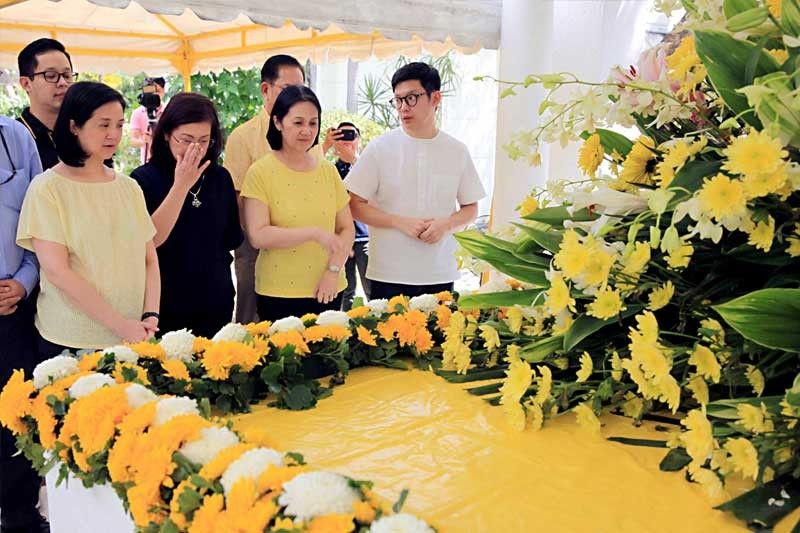 The Aquino sisters Viel Dee, Pinky Abellada and Ballsy Cruz join family and friends during a mass marking the 86th birth anniversary of former president Corazon Aquino at the Manila Memorial Park in Parañaque yesterday.
Bernardo Batuigas
Family, friends mark Cory Aquino's 86th birthday
Ghio Ong
(The Philippine Star) - January 26, 2019 - 12:00am
MANILA, Philippines — The family and friends of the late former president Corazon Aquino remembered her on her 86th birthday yesterday with one of her daughters saying that the world would know a life that was well lived.
Pinky Abellada, the second child of Cory, said the praises for their mother "keep coming" long after she was gone.
"So this tells me, when you live your life according to God's will, you accept the trials that come your way as graciously as you can – and she did accept all the many trials that came her way, that is what is right. And in the end, the whole world knows about it and will keep praising it," Abellada said.
Abellada, along with sisters Ballsy Cruz and Viel Dee, their children and friends, heard mass presided over by the family's spiritual adviser, Fr. Catalino Arevalo, at her grave, lying side-by-side with her husband and slain former senator Benigno Aquino Jr. at the Manila Memorial Park in Parañaque City yesterday.
Former president Benigno Aquino III was not present as he was down with the flu, while youngest child Kris had a prior commitment.
After the mass, Dee called on those present to "pray" to Cory "to help our country as we are going through much difficult times."
Born on Jan. 25, 1933, Aquino took over the presidency on Feb. 25, 1986 after mass protests, now called the EDSA people power revolution, helped overthrow the late dictator Ferdinand Marcos.
Cory died after battling colon cancer on Aug. 1, 2009 at age 76.