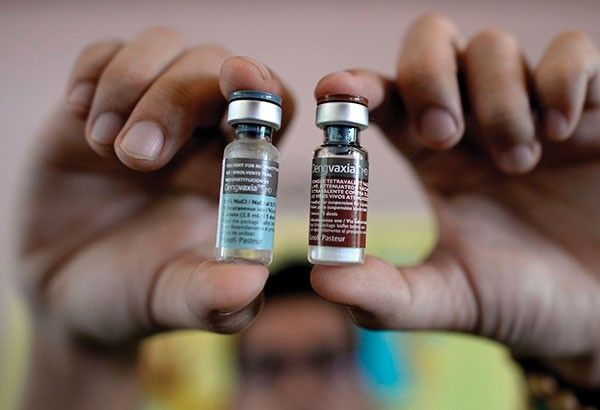 This is the 31st complaint filed by the Public Attorney's Office over the controversial anti-dengue vaccine.
AFP, file
31st PAO Dengvaxia complaint is over doctor's death
(Philstar.com) - January 24, 2019 - 4:20pm
MANILA, Philippines — The Public Attorney's Office on Thursday filed its 31st criminal complaint related to the controversial anti-dengue vaccine Dengvaxia, which it said is to blame for the death of a 33-year-old doctor.
The mother of Kendrick Gotoc, a 33-year-old doctor, and PAO trooped to the Department of Justice to file obstruction of justice, reckless imprudence resulting in homicide, torture and violation of Consumer Act against Health Secretary Francisco Duque, former DOH chief Janette Garin and 37 others.
Gotoc died on April 22 last year, and the complainants said that he was inoculated with Dengvaxia three times prior to his death.
READ: PAO files 30th Dengvaxia case vs Janette Garin, 38 others
PAO conducted a forensic examination on the body of Gotoc, where tissue samples of the body were used for a hispathological examination. The examination showed that the doctor died due to multi-organ failure.
"The foregoing finding is consistent with the findings on the autopsies conducted on the other Dengvaxia victims; particularly that the children became sick after vaccination," PAO said.
PAO called the DOH order to conduct an autopsy on bodies of alleged victims of Dengvaxia as a "counter-measure to challenge and contest the PAO Forensic Team's findings—undoubtedly a defense strategy."
Dengvaxia 'scare'
Doctors for Truth and Welfare had earlier warned against the outbreaks of potentially deadly diseases in "epic proportion" unless the Dengvaxia scare is stopped.
"We call for a halt to the continuous spread of unproven claims of deaths caused by the dengue vaccine by the same unqualified but noisy people, who are largely responsible for the fall in the vaccine confidence in the country," the group of doctors said in a statement last December.
DOH also said that the Dengvaxia controversy has, in part, caused a decline in measles vaccination and an outbreak of the deadly disease in the Philippines.
Health Undersecretary Eric Domingo said last December 12 that they do not see the lifting of the suspension of Dengvaxia's Certificate Product Registration despite it lapsing on December 29.
Duque suspended the dengue vaccination program after Sanofi disclosed in November 27 that it could cause severe dengue of given to those who have not had dengue.
State prosecutors have yet to issue a resolution on the first batch of Dengvaxia cases consisting of nine complaints. — Kristine Joy Patag