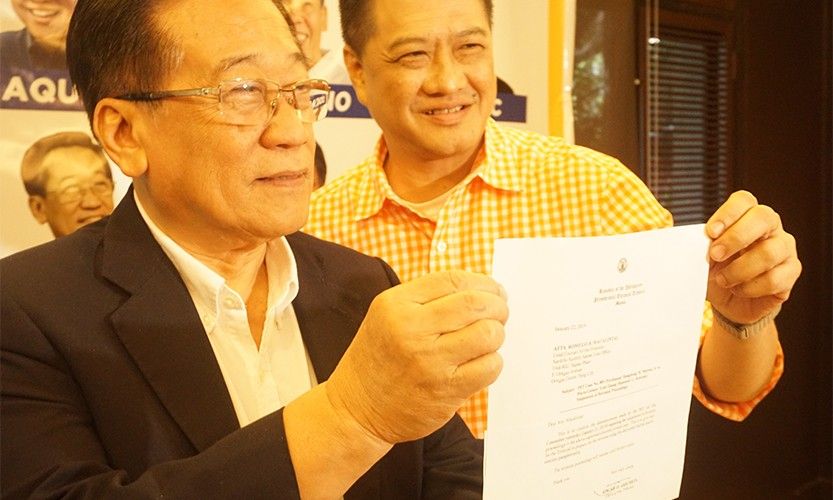 Opposition bets voice solid opposition to lowering the age of criminal responsiblity.
Ryan Macasero/Philstar.com
Opposition bets oppose lowering age of criminal responsibility
MANILA, Philippines — If elected to the Senate, lawyer Romulo Macalintal and former Deputy House Speaker Lorenzo "Erin" Tañada, both running under opposition banner "Otso Diretso" (eight straight), said they would oppose legislation lowering the age of criminal responsibility.
"Bakit mag-fofocus tayo sa mga krimen na ginagawa ng 2 percent ng ating populasyon?" Tañada told reporters during a press conference on Wednesday.
(Why are we focusing on crimes committed by less than 2 percent of the population?)
Under the bill — which was approved at the House committee level — children as young as nine years old who commit serious crimes would be mandatorily confined for rehabilitation and reform at "Bahay Pag-asa" — youth care facilities that, under Republic Act 9344 or the Juvenile Justice and Welfare Act, are built and run by the local government unit.
"Alam naman po natin ay muli ay distraction na mas mabibigat na problema na hinaharap ng taumbayan. Pagtaas ng presyo ng mga bilihin at pagkain," he added.
(We all know that this is just another distraction of bigger problems that the country faces).
Current opposition Sen. Francis Pangilinan was the principal author of RA 9344, the law that the current measure being discussed in the House seeks to amend.
Duterte called Pangilinan the "dumbest lawyer" over this and blamed him for creating a law that, he says, let's kids get away with crimes.
READ: Duterte calls Pangilinan 'dumbest' lawyer over Juvenile Justice Law

After being approved on the panel level in the House of Representatives on Monday, the bill moved to the plenary the following day.
Tañada believes that the people can still change the outcome of the bill — a legislative priority of the Duterte administration — if they make their outrage heard.
"Dito natin makikita ang reaksyon ng taumbayan, tulad ng posisyon na binigyan ng P1,000 ang CHR, baka kung makita ng outrage ng taumbayan maiba ang outcome," Tañada said.
(Here we'll see the reaction of the people, like when they took the position of giving only P1,000 to the CHR, maybe if we see the outrage of the people, the outcome change.)
Tañada was referring to when the House of Representatives voted to only give the Commission on Human Rights — an agency that frequently butts heads with the administration — a budget of only P1,000 in 2017. The budget was restored later after the public expressed outrage over the move.
READ: House gives CHR a P1,000

The Senate is also tackling a similar bill, proposing that the age of criminal responsibility be raised from 9 to 12 years old.
READ: Senators eye crime liability threshold of 12 years

Macalintal said that he agreed with Tañada's view and that if ever he'd be elected to the Senate he'd fight for "rights and benefits" of children.
"If ever you put me in the Senate, I can assure the children, I can fight for your rights and benefits," Macalintal said. "They said this law is so children can't be used (by syndicates), why not run after the criminal syndicates then?" he added.
Macalintal is a longtime election lawyer, currently representing Vice President Leni Robredo in the election protest by defeated candidate Bongbong Marcos.
Macalintal is running on a platform of campaign finance reform and senior citizens rights; while Tañada, a former Quezon representative, is focusing on economic reform and developing the agricultural sector.
"Otso Deresto" is the official opposition slate and will launch their campaign in Bicol next month.

A statement from the "Otso Deresto " candidates said that all of them oppose lowering the age of criminal responsibility for the same reason Tañada cited.
Other candidates on the slate include re-electionist Sen. Paolo Benigno Aquino IV, Magdalo Rep. Gary Alejano, lawyer Jose Manuel "Chel" Diokno' Marawi advocate Samira Gutoc Tomawis, ex-Interior Secretary Manuel "Mar" Roxas and former Solicitor General Florin Hilbay.