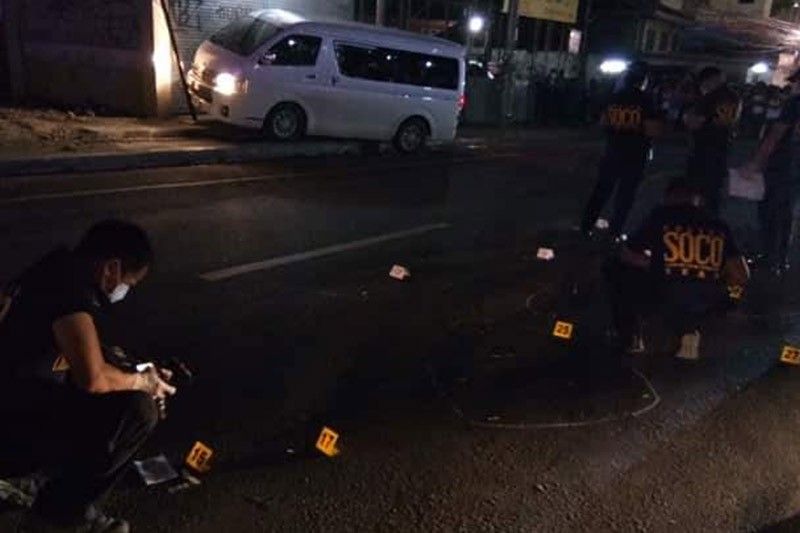 Members of the Scene of the Crime Operatives arrived on the ambush site on Tuesday night.
The Freeman/Aldo Banaynal
Politics may be behind Cebu town mayor ambush
(Philstar.com) - January 23, 2019 - 3:41pm
MANILA, Philippines — Politics may be behind the ambush of San Fernando, Cebu Mayor Lakambini Reluya, police said on Wednesday.
Philippine National Police chief Oscar Albayalde gave regional police two weeks to resolve the ambush of San Fernando, Cebu mayor.
The Freeman reported that Central Visayas police director Debold Sinas admitted that he feels pressured by the timeframe but said they would do their best to resolve the case within two weeks.
LATEST: Ambush of San Fernando, Cebu Mayor Lakambini Reluya politically motivated, police say. PRO-7 Director Debold Sinas said Reluya received death threats as the election is nearing. He will talk to Comelec to allow them to provide Reluya police security. | via @camilleTFBanat pic.twitter.com/5Dj25GvIW9

— The Freeman (@TheFreemanNews) January 23, 2019
The police created a special investigation task group to look into the killing.
Sinas said they are eyeing politics as the motive, explaining that Reluya earlier reported to police that she was receiving death threats as the election nears.
Reluya is seeking re-election in the coming midterm polls.
The town mayor's vehicle was ambushed on Tuesday night in Linao, Talisay City, Cebu. The white van was riddled with bullets, the police said.
Her husband, Ricardo Reluya Jr., and two of their companions, Allan Bayot and Ricky Monterona, were killed in the incident.
LATEST: Children of Allan Bayot, slain driver of San Fernando, Cebu Mayor Lakambini Reluya in an ambush yesterday, seek justice for the death of their father whom they said was merely earning a living to provide for their needs. | via Rowena Capistrano #TheFreeman100 pic.twitter.com/Wth5DCy7dl

— The Freeman (@TheFreemanNews) January 23, 2019
Giovani Perez and Tolentin Jefer, who were in the vehicle with Reluya, were later brought to the hospital.
There have been at least 19 local executives killed since the start of the administration of President Rodrigo Duterte. Malacañang, meanwhile, condemned the attempt on the life of Reluya.
With the elections nearing, presidential spokesperson Salvador Panelo warned politicians against employing illegal methods to win in the elections.
"We urge even as we warn the candidates to cease and desist employment of undemocratic and illegal methods to win for the law on accountability shall be applied to them with full force and effect," he added.
The PNP earlier said they are monitoring 18 areas on their list of possible election "hotspots," but the Comelec last January 15 has so far placed Daraga, Albay and Cotabato City under its official hotspot list.
The two areas would be under the control of the poll commission until the end of the 2019 midterm election period. — Kristine Joy Patag with reports from The Freeman