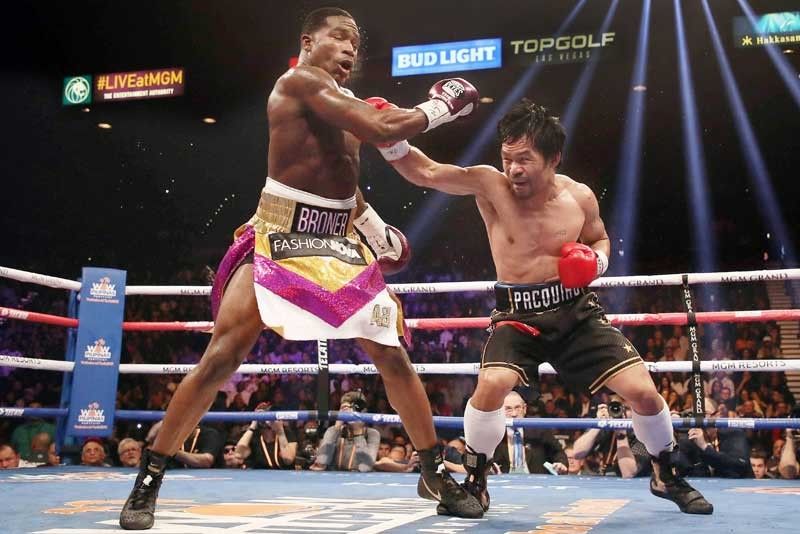 Manny Pacquiao throws a right on Adrien Broner during the WBA welterweight championship in Las Vegas.
AFP
Pacquiao dominates Broner
Abac Cordero
(The Philippine Star) - January 21, 2019 - 12:00am
LAS VEGAS – Manny Pacquiao could not deliver the knockout his fans had hoped for, but he delivered a lopsided win against Adrien Broner in his first fight as a 40-year-old champion Saturday night in this city.
A crowd of 13,025 packed the MGM Grand and watched as Pacquiao chased Broner around the ring. There was no knockdown although Pacquiao rocked his younger opponent at least a couple of times.
It was a unanimous decision for Pacquiao, who defended the WBA welterweight crown, which he won in July last year by way of a seventh-round TKO of Argentine Lucas Matthysse in Kuala Lumpur, Malaysia.
Judges Tim Cheatham and Glenn Feldman both scored it 116-112 while Dave Moretti had it 117-111 – all for Pacquiao. The STAR scored it 119-109 for the Filipino boxer and senator. ESPN.com, Yahoo! Sports and The Associated Press had it a complete shutout for Pacquiao.
The eight-division champion wanted to prove the world that at 40 he can still give his best and entertain the fans.
Well, he just did.
"I proved in my last fight against Matthysse and now I proved it again. The Manny Pacquiao journey will still continue," said Pacquiao while his supporters chanted his name from their seats.
The victory fanned the fire surrounding a possible rematch with Floyd Mayweather Jr. But Mayweather's adviser, Leonard Ellerbe, said it's not going to happen because Mayweather "is retired."
Pacquiao told mediamen he's ready for the rematch of the 2015 showdown with boxing's biggest star.
"Tell him (Floyd Mayweather) to come back to the ring and we will fight. I'm willing to fight again Floyd Mayweather if he's willing to come back to boxing," said Pacquiao.
Pacquiao felt he hurt Broner a number of times, and had wanted to go for the kill. But he was advised by his corner to be careful of Broner's counterpunches.
"Although I wanted to be more aggressive, my camp told me not to be careless and to just counter him and wait for opportunities. My trainer said, 'Don't be careless. Wait for him, counter,' and that's what I did," said Pacquiao.
Pacquiao almost had Broner in the ninth round.
"There was a round that I wanted to finish him. But Buboy said, 'Be aggressive but don't be careless,'" added Pacquiao.
He seemed happy with the victory, his 61st against seven defeats and two draws. He was denied a 40th knockout just over a month after his 40th birthday. Broner dropped to 33-4-1.
One of Pacquiao's handlers, Sean Gibbons, said during the post-fight press conference, "Forty is the new twenty."
Pacquiao, wearing dark glasses, liked what he heard. During the press conference, he sneezed a lot and held on to a face towel. He climbed the ring with a cold.
"I got the cold from the weather here. I went to the ring with the cold but I still focused and did my best," he said.
Mayweather was in the house from start to finish. But the American boxer did not comment on Pacquiao's performance.
Mayweather, who retired last year with a 50-0 record, visited Pacquiao in his dressing room prior to the fight. Pacquiao said they just exchanged "hellos."
Inside the ring, after the decision was announced, Broner moved around like he was disappointed with the result.
"I beat him. Everybody out there knows I beat him. I controlled the fight. He (Pacquiao) was missing. I hit him clean more times. I beat him," said Broner over the microphone.
Pacquiao fans booed.
"You know I beat that boy. They are just trying to get that money with Pacquiao and Floyd. I beat him. That's smart boxing," Broner added.
Compubox numbers, however, would say otherwise.
Pacquiao threw a total of 568 punches and landed 112 while Broner, who was often flat on his feet, threw a total of 295 and landed only 50.
Broner arrived at the press conference a few minutes after Pacquiao did. He wore fashion glasses and showed off his unmarked face to the media.
"I swear to God that I feel good and look good," said the former world champion in four weight classes. "But he hurt me a couple of times."
"As you can see I wear glasses for fashion. I ain't got any mark on my face. I'm happy with my performance," said Broner.
Pacquiao left the room ahead of Broner. They hugged in front of reporters.
Pacquiao was quick on his feet and quicker with his hands. He may not be as fast as he was before but certainly he was faster than Broner, who seemed to have focused more on defense than offense.
Broner looked to counter against Pacquiao, and while he landed some shots here and there, he never had the champion in trouble. The 29-year-old from Ohio used the size of the ring to stay alive.
He got into trouble against the ropes a number of times. Pacquiao fans went wild and cried for a knockout. In the ninth round, Pacquiao caught Broner with a hard left to the chin. Broner almost fell backwards.
That was the best punch of the evening.
But Broner survived the round the way he did each time he got hurt during the fight. In the closing rounds, he was on survival mode. In the 12th, he danced away from Pacquiao like he was ahead on points.
In the undercard, two other Filipinos climbed the ring with high hopes but left the arena with battered egos.
Rey Perez of Santa Rosa City could not handle Pacquiao's sparring partner from Australia, George Kambosos Jr. in their eight-round lightweight contest.
Kambosos, now 16-0, won via unanimous decision. Perez dropped to 24-11.
Welterweight Jayar Inson of Davao City went down twice in the first round against Jonathan Steele of Dallas, Texas and lost on points.
Inson staged a comeback after getting stung in the opening round. But the most he could do was last eight rounds.
It was a split decision for Steele, who moved up to 9-2-1 while Inson took only his second loss in 20 fights.