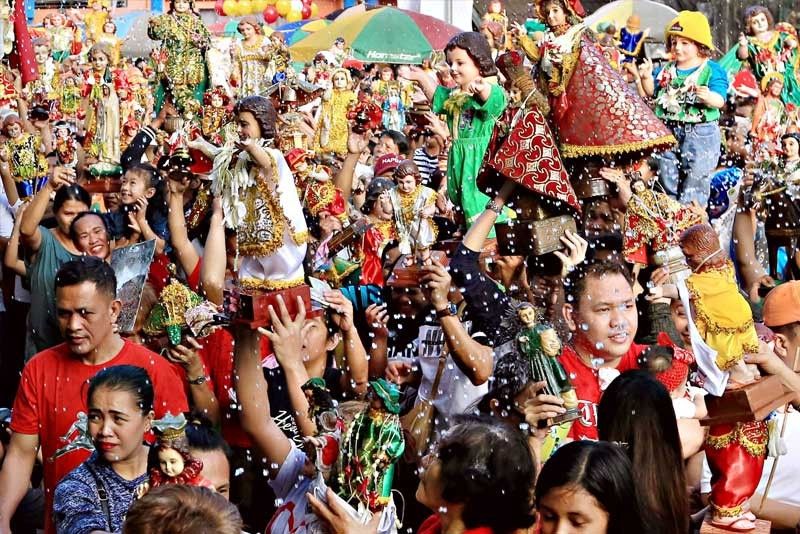 Catholic devotees wave the image of the Child Jesus during a procession marking the Feast of the Sto. Niño in Tondo, Manila yesterday.
Edd Gumban
Catholics told: Protect faith from attacks
Edu Punay
(The Philippine Star) - January 21, 2019 - 12:00am
MANILA, Philippines — A Catholic prelate yesterday called on devotees to defend their faith that has been subject of attacks.
In leading the observance of the feast of Sto. Niño in Tondo, Manila, Auxiliary Bishop Broderick Pabillo urged Catholic Filipinos to shield the Church from attacks the way they would protect children.
"A child must be protected from the evils. That is what we should do also to our faith. Let us protect our faith, especially during this time when our Christian beliefs are being opposed," Pabillo said in his homily during the mass at Sto. Niño de Tondo Church.
"Let us protect and defend our faith especially at this time when our Christian belief is being contradicted," he appealed to the faithful.
The country's strong devotion to Sto. Niño or Child Jesus is attributed to the Filipino's love and fondness for young children.
Although the prelate did not specifically name the attackers of the Church, he referred to those who called God stupid, those who discourage people from going to mass, and those who urge people to steal and kill.
"Are these correct? These are contrary to our faith that's why we should defend it," the bishop stressed.
Pabillo, who heads the Catholic Bishops' Conference of the Philippines (CBCP) – Episcopal Commission on the Laity, said the faithful can protect the faith by regularly reading the Bible and by joining activities of the Church.
He suggested that people manifest their faith by helping and loving one another, and encouraged them, especially the young, to attend mass.
"Surely, we know many who do not go to church. Those in our own homes, in our communities, the children, let us encourage them to go to Christ," he appealed.
President Duterte has recently revived his attacks against Catholic Church leaders and insinuated that people attack and kill their bishops.
He also questioned the teachings on the Holy Trinity and the Sacred Scriptures, while discouraging people from going to churches.