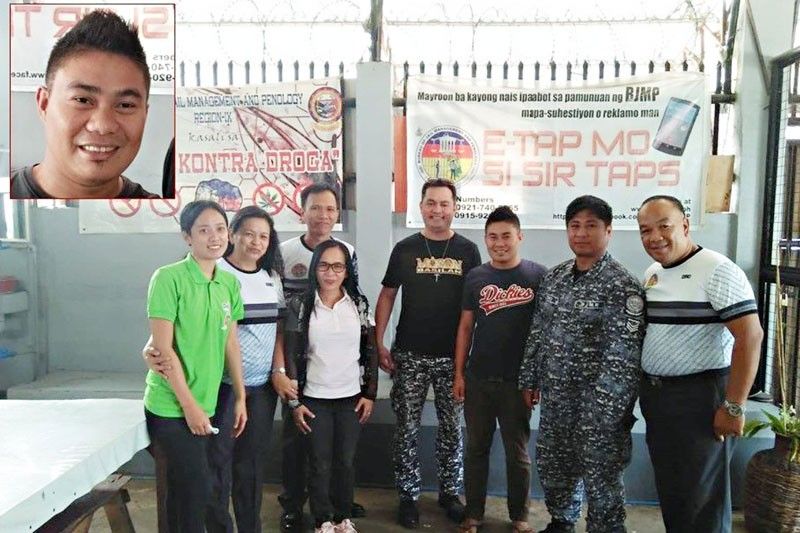 Jumar Ullang visited his former custodians at the Isabela City Jail early this week.
John Felix M. Unson
Ex-inmate now criminologist, wants to join BJMP
John Unson
(The Philippine Star) - January 19, 2019 - 12:00am
COTABATO CITY , Philippines — Accused of murder when he was in high school, a Basilan resident detained for several years is among the recent criminology board exam passers, and wishes to become a jail officer.
"My ambition now is to join the Bureau of Jail Management and Penology (BJMP) so I can also help watch over inmates and help them reform for good," Jumar Ullang said.
Life as an inmate was difficult, Ullang recalls, but it did not weaken his resolve to earn a college degree.
He said he was grateful to the jail officers who helped him overcome the challenges.
Ullang finished high school while detained at the Isabela City Jail for multiple murder. But the charges against him were
dismissed for lack of merit shortly after his graduation.
His relatives claimed that he was implicated in the killing by witnesses who were allegedly coerced.
Ullang visited the Isabela City Jail this week and spoke briefly with the jail officers and inmates.
Senior Insp. Zacarias Dagupan, jail warden, said he and his subordinates were surprised by Ullang's visit.
"It feels good to see that our local psycho-social intervention thrusts for inmates have produced a person like Jumar, now a licensed criminologist," Dagupan said.
Jail Officer 3 Joel Zanoria, information officer of the jail, noted yesterday that Ullang attended secondary school through the Alternative Learning System program of the Department of Education.
Zanoria added that the BJMP officers in the Isabela City Jail are proud of having helped Ullang with his schooling.
Inspired by the story, Maguindanao Gov. Esmael Mangudadatu said he could facilitate a master's degree program for Ullang.
The Maguindanao Program for Education and Community Empowerment (MagPEACE), according to Mangudadatu, has produced a lawyer, a physician, veterinarians and more than 2,000 college graduates.
Among those who availed themselves of MagPEACE for graduate study was retired Army Col. Modesto Asto, now a professor in Baguio City.
Asto finished his master's degree at the Cotabato City State Polytechnic College while he was spokesman for the Army's 6th Infantry Division at Camp Siongco in Datu Odin Sinsuat town in Maguindanao.
"Our MagPEACE mission transcends boundaries. It is aimed at promoting education, which is so necessary in the propagation of lasting peace in troubled southern provinces," Mangudadatu said.