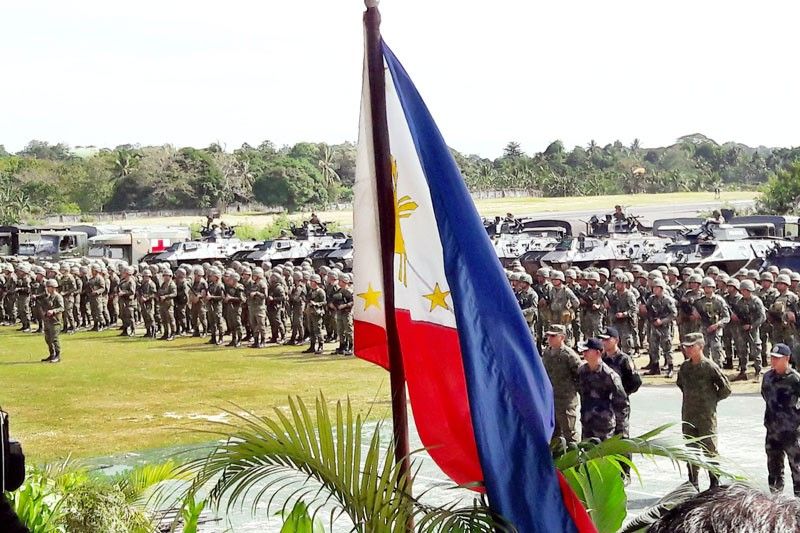 Military and police forces are seen at the 6th Infantry Division headquarters in Datu Odin Sinsuat, Maguindanao yesterday prior to their deployment for the Bangsamoro Organic Law plebiscite on Jan. 21.
Jaime Laude
Campaign period for Bangsamoro Organic Law ends
MANILA, Philippines — Today is the last day of the campaign period for Monday's plebiscite on the ratification of the Bangsamoro Organic Law (BOL), the Commission on Elections (Comelec) said yesterday.
Comelec spokesman James Jimenez said interest groups should no longer push their position after today's deadline. The plebiscite – to be held in provinces within the Autonomous Region in Muslim Mindanao or ARMM – will determine if the public will accept or reject the BOL.
The law, if accepted by the public, will create a Bangsamoro Autonomous Region in Muslim Mindanao (BARMM) to replace ARMM.
"It will already be a prohibited activity by Sunday to promote whether you're on one side or the other… Campaigning and rallies are banned after Saturday," he told reporters.
But Jimenez said campaigning is not prohibited in non-ARMM areas covered by the second leg of the plebiscite on Feb. 6.
"The end of the campaign period is counted from Election Day. Therefore, the end of the campaign period for Jan. 21 plebiscite would not be the same as the end of campaign period for Feb. 6," he added.
If the Jan. 21 plebiscite yields a positive result, the Comelec will conduct a second plebiscite in 28 barangays in North Cotabato that are outside ARMM but contiguous to the areas covered by the BOL.
Meanwhile, the National Research Council of the Philippines (NRCP) of the Department of Science and Technology has expressed support for the BOL, citing its potential to usher in peace and prosperity in Muslim Mindanao.
In a statement, the NRCP said the law comprehensively addresses many aspirations and issues affecting the region.
"However, we are aware that the BOL's passage is only the beginning, though a very important one, of a much longer journey ahead for our country," it said.
"We note that political transitions anywhere, in any form, carry with them challenges such as a reversal of powers to long established dominant groups, or the slow pace of policy execution, or the lack of support from citizens," NRCP pointed out.
"Cognizant of these challenges, those who trust in the pursuit of the BOL see the need to utilize appropriate communal resources during the difficult transition period," it said.