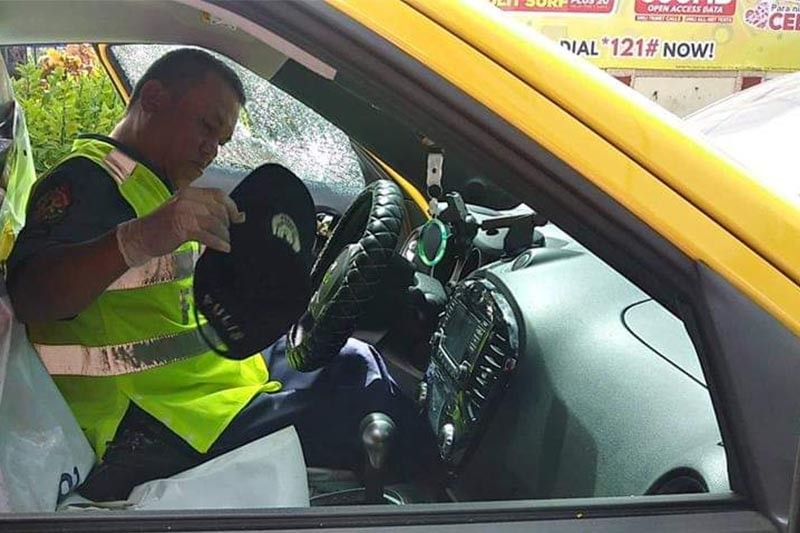 A police inspects the car of former prosecutor Mary Ann Castro, who was killed in Cebu City on Thursday night.
The FREEMAN/Clydyl Avila
NBI to probe killing of former Cebu fiscal
MANILA, Philippines — Justice Secretary Menardo Guevarra said on Friday that he ordered the National Bureau of Investigation to look into the killing of former prosecutor Mary Ann Castro, who was slain in an ambush on Thursday night.
"I have immediately directed the NBI to investigate the ambush of [Castro] and to identify the perpetrators at the soonest possible time," the Justice secretary told reporters in a message.
LOOK: Police inspect the car of slain former Cebu City prosecutor Mary Ann Castro, who was killed by unidentified suspects on Escario Extension, Brgy Kamputhaw, Cebu City 10 p.m. Thursday. | via @clydylavilaTF #TheFreeman100 pic.twitter.com/4dtC9ovTp6

— The Freeman (@TheFreemanNews) January 18, 2019
Meanwhile, The FREEMAN reports that police believe Castro's killer may be an expert gunman because the initial trajectory of bullet was precise and consistent.
Chief Inspector Eduard Sanchez, chief of the Guadalupe police station, said police had not been complacent in implementing the election gun ban. He said, though, that the killers, who used a .45-cal pistol, had been "creative" in carrying out the crimes.
Police are looking into the possibility that Castro was killed over a personal grudge, over work-related matters, or over links to slain SPO1 Adonis Dumpit.
READ: Cop was Mayor Osmeña's former bodyguard: Dumpit killed in drug bust
The FREEMAN reported members of the police's Scene of the Crime Operatives went to the ambush site to look into the incident.
Sanchez was quoted in an earlier report as saying police initially looked into "work, love angles" as motives behind the crime.
First lawyer killed in 2019
Castro is the first lawyer to killed in 2018.
In November last year, human rights lawyer Benjamin Ramos was killed while he was taking a break from work, near his residence.
In December, Rep. Rodel Batocabe (AKO Bicol party-list), also a lawyer, was killed by unidentified gunmen in a gift-giving event. Police have identified several persons of interest in the case.
Chief Justice Lucas Bersamin, last year, said that he would seek his colleagues' agreement to conduct an independent probe into the killings of lawyers in the country.
At least 78 lawyers have signed a petition asking the SC to ensure a "thorough, prompt, impartial and independent investigation" into killings of lawyers since the administration of President Rodrigo Duterte.
The Integrated Bar of the Philippines urged the SC to conduct an investigation and suggested to convene a dialogue between the SC, IBP, State security force including the police and army, civil society organizations and other lawyer groups to ensure the security of lawyers.
Since the start of the administration of President Rodrigo Duterte, more than 30 members of the Bar, including prosecutors and judges, were killed. — with a report from The FREEMAN/Mae Clydyl L. Avila