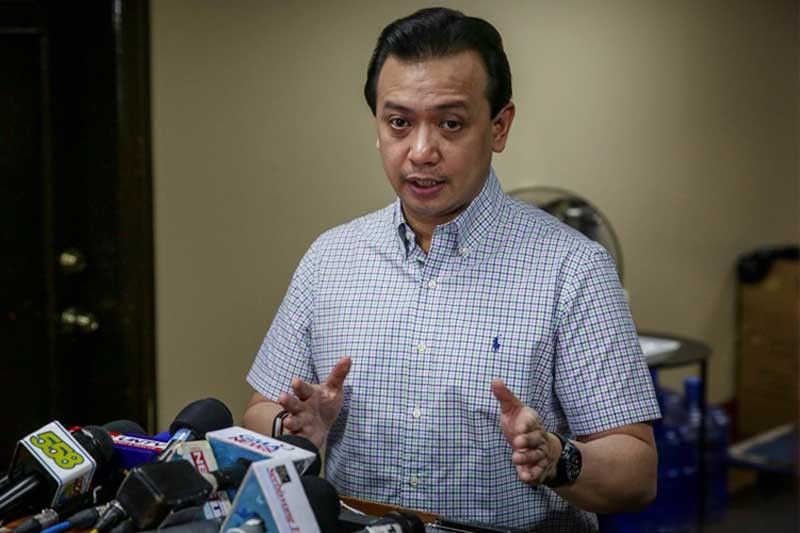 RTC Branch 54 Judge Melinda Dayanghirang said Trillanes "is not a flight risk and that he will abide by conditions imposed for his provisional liberty, including his appearance before this Court when required."
Geremy Pintolo
Davao court rejects hold order for Trillanes
DAVAO CITY, Philippines — A regional trial court (RTC) here has denied the petition of the Department of Justice for a hold-departure order against Sen. Antonio Trillanes IV, saying he is not a flight risk.
RTC Branch 54 Judge Melinda Dayanghirang said Trillanes "is not a flight risk and that he will abide by conditions imposed for his provisional liberty, including his appearance before this Court when required."
Trillanes, a critic of President Duterte, arrived here on Tuesday and pleaded not guilty in the arraignment of four libel charges filed against him by presidential son Paolo Duterte and presidential son-in-law Manases Carpio.
The senator reiterated his position that the cases against him were "purely political harassment" as P5 million was also sought in damages.
"Despite (the cases being harassment,) we are here in Davao (City) to face these, so we can show that we are not running away or turning our back on these," he said.
Meanwhile, Trillanes decried the harassment, saying the Dutertes should also be prepared for the same challenges they have thrown at him.
"Just be ready," Trillanes said.