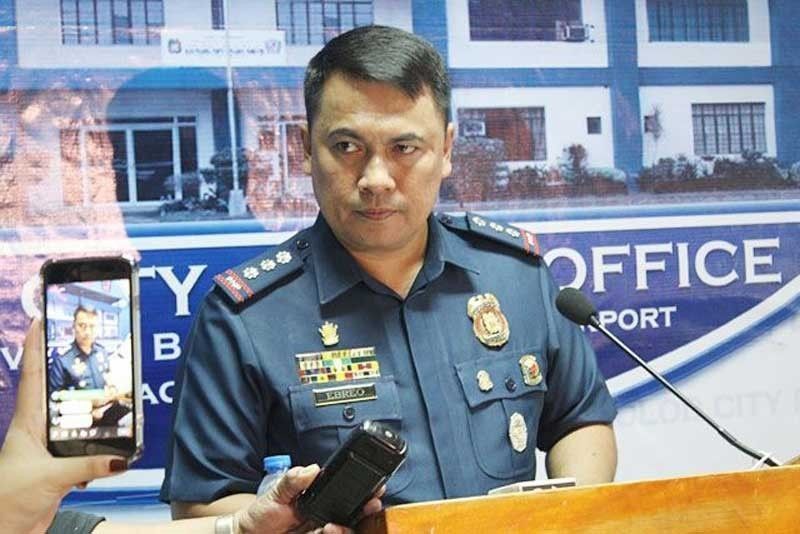 President Rodrigo Duterte accuses Bacolod's former top cop of being a "drug protector"
Bacolod City Police Office
Duterte claims sacked Bacolod police chief a 'drug protector'
MANILA, Philippines — President Rodrigo Duterte accused recently-fired Bacolod City police chief Senior Superintendent Francis Ebreo of being a drug protector on Wednesday afternoon.
"It seems to me, at the very least he's a drug protector," Duterte told reporters. "He might not be into the trafficking business."
He was asked by reporters about the firing of Ebreo on the sidelines of the official state visit of Sri Lanka President Maithripala Sirisena.
Duterte fired Senior Superintendent Francis Ebreo on Saturday over his alleged drug links at a private birthday celebration.
READ: Duterte fires Bacolod police chief for drugs

"I can't believe with all the information available, chief of police available, assigned, that they would not review the record of the province in terms of criminality and drug trafficking," Duterte said.
On Monday, Philippine National Police chief Director General Oscar Albayalde said that Ebreo was not on any drug watch lists.
"[But] if that is the wisdom of the President, we should implement the order," Albayalde said.
Duterte pointed to an alleged hospital visit to a local politician he said has been on the Philippine Drug Enforcement Agency's watchlist as evidence that Ebreo is a "protector."
"There were about three ambushes before that incident, he went to the hospital, him [Ebreo] and his deputy," he said, referring to the December 14 ambush of Councilor Ricardo "Cano" Tan and his wife Nita. "What's your f*** business going to an ambushed drug lord at the hospital?"
"I would understand if he sent a top investigator, but if they themselves — the first and second highest police officials — I am bewildered why that happened?" Duterte said in a mix of Filipino and English. He called it "strange behavior."

The couple came from a resort in nearby Talisay City when they were ambushed by three assailants in another vehicle.
The couple managed to survive the ambush.
When Duterte began his term in 2016, he named five alleged "narco" police generals including: current Daanbantayan Cebu Mayor Vicente Loot; Quezon City Police District chief Edgardo Tinio; former National Capital Region Police Office chief Superintendent Joel Pagdilao; ex-Western Visayas police Chief Superintendent Bernardo Diaz; and Police Deputy Director General Marcelo Garbo Jr.
They all denied their involvement in the drug trade.
Last August 2018, Duterte threatened to "neutralize or terminate" police officers involved in extrajudicial killings or in the drug trade.
READ: Duterte to criminal cops: 'I'll neutralize or terminate you'

Duterte linked Ebreo—along with his deputy for administration Supt. Allan Macapagal, deputy for operations Supt. Ritchie Yatar, Supt. Nasruddin Tayu-an and former Station 3 chief Senior Inspector Victor Paulino — to the illegal drugs trade in Negros.
Albayalde said that due process will be given to Ebreo and the other officials.