Security tightened as poll period starts
January 13, 2019 | 12:00am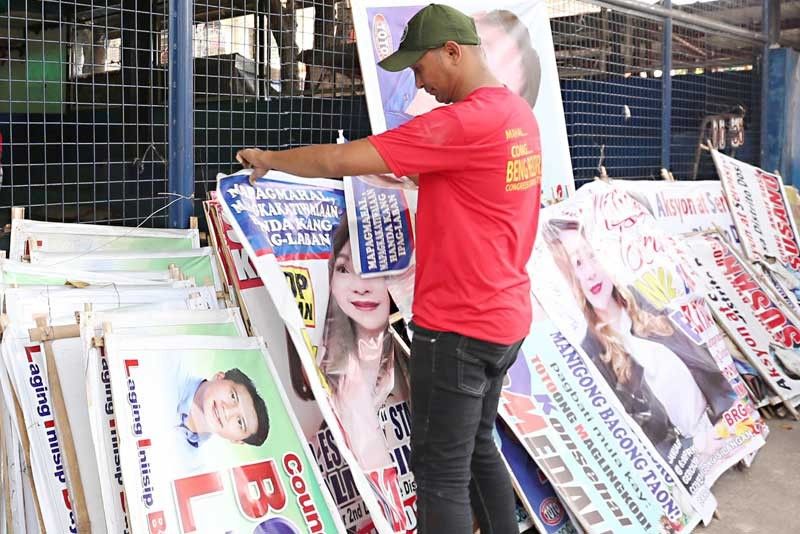 MANILA, Philippines — The Philippine National Police (PNP) has strengthened security nationwide as the election season for the midterm polls starts today.
In his memorandum, PNP chief Director General Oscar Albayalde directed all field commanders to establish strict checkpoints across the country to intercept suspected criminals in possession of loose firearms, explosives and other weapons that could be used to disrupt the elections.
"The memorandum directed regional directors to establish at least one checkpoint in each of the country's 1,600 cities and municipalities in coordination with the local Comelec (Commission on Elections) officer and AFP (Armed Forces of the Philippines) territorial unit in the area," PNP spokesman Chief Supt. Benigno Durana Jr. said in a statement over the weekend.
Checkpoint operations commenced at the start of the 150-day election period at 12:01 a.m.
The PNP has also imposed a nationwide gun ban, which will last until the end of the election season on June 12. The ban bars licensed gun owners from carrying or transporting their firearms outside their residence unless the Comelec grants them an exemption.
Albayalde said lawmen on duty and in uniform are exempted from the gun ban. Also excluded are personnel of the AFP, Philippine Coast Guard, National Bureau of Investigation, Philippine Drug Enforcement Agency and other law enforcement agencies. Private security agencies may also be exempted from the ban.
Politicians with threats may apply for security escorts from the PNP Police Security and Protection Group.
Comelec spokesman James Jimenez reminded policemen manning checkpoints that they can only do a visual search on motor vehicles they are inspecting.
"Officers can look but they shouldn't touch. There is the plain view doctrine in effect – if something is in plain view and arouses reasonable suspicion then the police can do something other than look," he told reporters.
He also said that officers "can only look, shine their light on your car but you are under no obligation to open anything up for them."
"If you volunteer, open compartment, trunk, that's your call. Be aware that if you do that, anything that they see there, they can search. They can't force you to open up compartments," he added.
Based on Comelec Resolution 10468, "no person may be subjected to a physical or body search in the absence of any reasonable ground to believe that a person has just committed or is about to commit, or is committing a crime."
In a checkpoint inquiry, the occupants can also not be compelled to step out of the vehicles. However, when approaching Comelec checkpoints, motorists are required to slow down and dim the headlights and turn on the cabin lights.?Jimenez said all checkpoints must be in well-lit areas and clearly marked. They must have signboards that contain the name and contact information of the election officer in-charge of the area as well as the name and contact of the police-in-charge.
Aside from the gun ban, the following are prohibited acts during the election period: suspension of elective official; use of security personnel or bodyguards by candidates unless authorized by Comelec; giving of donations or gifts in kind or in cash; illegal release of prisoners; transfer or movement of civil servants; alteration of territory of a polling precinct or establishment of new precincts.
1.7 million OFW voters
Comelec noted an increase in the number of Filipino overseas absentee voters (OAVs) as it reported a total of 1,789,823 Filipinos overseas who have registered for the May 13 midterm polls.
Jimenez said the number represents a 77.78 percent increase in the number of OAVs when compared to the 2016 polls, which only had 1,005,747 OAVs.
"For 2019, we have a total of 783,076 new voters and this is because of the greater interest in electoral system. The perception (of) overseas voters is very relevant, they were reinvigorated and they are very active recently," he told reporters.
Jimenez described it as a "good development" as he hopes that the trend will continue until the elections in 2022.
The biggest increase was recorded in the Middle East and Africa, which account for 889,114 of the total OAV population (including the 437,779 new registrants), followed by Asia and the Pacific with 388,619 voters, the Americas with 337,060 and Europe with 175,030.
"But still overall, the area with the most OAV is Middle East and this region has been consistent on this because they have the biggest contingency of Filipinos," the poll spokesman said.
He added that, unlike in the Philippines where voting will be automated, the modes of voting in OAV are either personal or postal using either automated or manual system, depending on location.
In the European region, for instance, voting is mostly postal using both automated and manual system, except in the Vatican which is manual. In Athens, it will be automated through personal and postal voting.
There are 87 Philippine posts across the globe that will participate in the overseas voting.
He added that OAV voting will start on April 13 but the ballots will be kept at the posts until they are sent to Comelec for counting at the end of voting on election day. – With Sheila Crisostomo