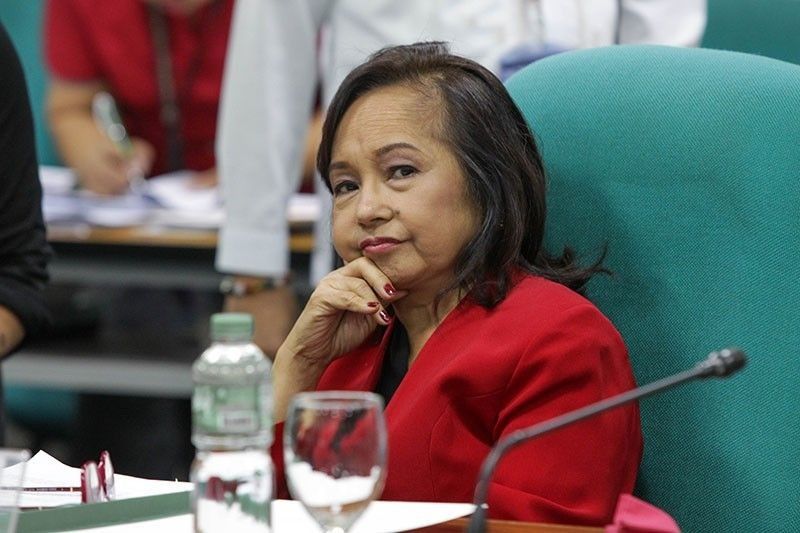 Speaker Gloria Macapagal-Arroyo also said she has just signed the clean copy of the Congress-approved bill replacing volume restrictions on rice importation with tariffs.
Geremy Pintolo/File
House to focus on oversight function — GMA
Jess Diaz
(The Philippine Star) - January 13, 2019 - 12:00am
MANILA, Philippines — The House of Representatives will focus on doing its oversight function in the months ahead by looking into how state agencies are implementing laws and doing their job, Speaker Gloria Macapagal-Arroyo said yesterday.
"We already finished the legislative agenda that President Duterte asked for in his SONA (State of the Nation Address last July 23). So now we will spend more time on oversight, because there are laws and the laws are good. Now they have to be implemented…oversight will be a lot of the work," she told reporters.
She said there are only a few proposed laws that are pending either in the Senate or in bicameral conference (bicam) committees.
"If ever, we will have ratification of bicam reports, but that is dependent on when the Senate will be able to finish them. So it is mainly waiting for what the Senate will bring back to us. The House has already done its part," she said.
Arroyo also said she has just signed the clean copy of the Congress-approved bill replacing volume restrictions on rice importation with tariffs.
She added the measure would now be sent to President Duterte for his signature.
Rep. Michael Romero of 1-Pacman, an assistant majority leader, said another proposed law that is up for the President's signature is the tax amnesty bill.
"It's among the President's legislative priorities. It aims to give delinquent taxpayers the opportunity to have a clean slate by paying an amnesty tax and to be fully compliant on their tax obligations moving forward," he said.
He said based on previous amnesty grants, the government could generate tens of billions of pesos from the planned new reprieve.
"It's a one-time grant that we hope taxpayers with delinquencies would avail themselves of," he added.
Romero, one of the authors of the tax amnesty bill, pointed out that "even if just half or one-fourth of the revenue target is collected, it would be a big boost to government resources that could fund vital services."
He said he expects thousands of families with inherited properties to take advantage of the amnesty offer since the estate tax has been cut from as high as 20 percent to just six percent under the Tax Reform for Acceleration and Inclusion law.
Aside from the reduced tax, the law increased the standard deduction from P1 million to P5 million and exempts a family home worth up to P10 million (the previous limit was P1 million) from the estate levy, he stressed.
The proposed amnesty would cover 2017 and prior years. An applicant would be required to file with the Bureau of Internal Revenue (BIR) an amnesty return accompanied by a notarized statement of total assets as of Dec. 31, 2017. The applicant would pay an amnesty tax of two percent of such assets. On estate tax liabilities, the amnesty levy is six percent.
Romero said he expects the planned new amnesty offer to be in place in time for the first quarter tax-filing period.
Deputy speaker and Batangas Rep. Raneo Abu said the proposed estate tax liabilities amnesty "will promote the interest of heirs in developing inherited real properties and boost revenues of local government units."