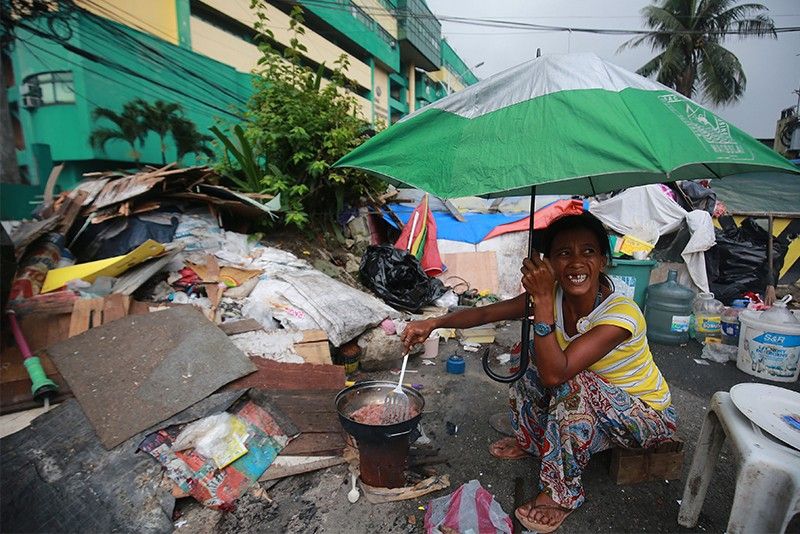 A woman cooks fish paste for their lunch beside their shanty Along NIA Road in Quezon City on Sept. 6, 2018.
The STAR/Michael Varcas
11.6 million Pinoy families consider themselves poor in Q4 — SWS
(Philstar.com) - January 12, 2019 - 10:42am
MANILA, Philippines — The proportion of Filipino families who consider themselves poor declined in the fourth quarter, according to a new Social Weather Stations survey, marking the first such decline in two consecutive quarters.
Results of a December 16 to 19 SWS poll of 1,440 adults showed 50 percent — or an estimated 11.6 million families — consider themselves "mahirap" or poor, down by two points from 52 percent (estimated 12.2 million families) recorded in the September survey.
Of the 50 percent who classified themselves as poor, 7 percent were "newly poor" while 6 percent were "usually poor," SWS reported. The remaining 37 percent said they were "always poor."
The slump in self-rated poverty in December was recorded following a 10-point spike registered in two straight quarters. Families who said they're poor rose to 48 percent in April-June period from 42 percent in the first three months. In the third quarter, it jumped by four points to 52 percent.
"The two-point nationwide decline in Self-Rated Poverty in the fourth quarter of 2018 was due to a sharp decrease in Mindanao and a slight decrease in the Visayas, offset by increases in Metro Manila and Balance Luzon," SWS said.
Despite the decline, SWS said self-rated poverty averaged 48 percent in 2018, two points up from 46 percent in 2017 and the second consecutive increase since 2016.
The pollster also found 34 percent (estimated 7.9 million) of Filipino families rated their food as poor in the last three months of 2018, two points below the 36 percent (estimated 8.5 million families) in the preceding quarter.
That yielded an annual "self-rated food poverty" average of 33 percent that was unchanged from the previous year but two points above the record-low 31 percent in 2016.
"The two-point nationwide decrease in Self-Rated Food Poverty in the fourth quarter of 2018 was due to decreases in Mindanao and the Visayas, combined with a slight increase in Metro Manila and unchanged value in Balance Luzon," the pollster said.
According to SWS, a low-income household needs a monthly budget of P10,000 to not consider itself poor in general. Of that amount, respondents in the December poll said they lack P5,000 in monthly home expenses, or half of the amount they said they need.
Meanwhile, SWS said a family needs P6,000 per month to not classify their food as "poor." But in the fourth quarter, poor households said they lack P2,500 of that amount. — Ian Nicolas Cigaral