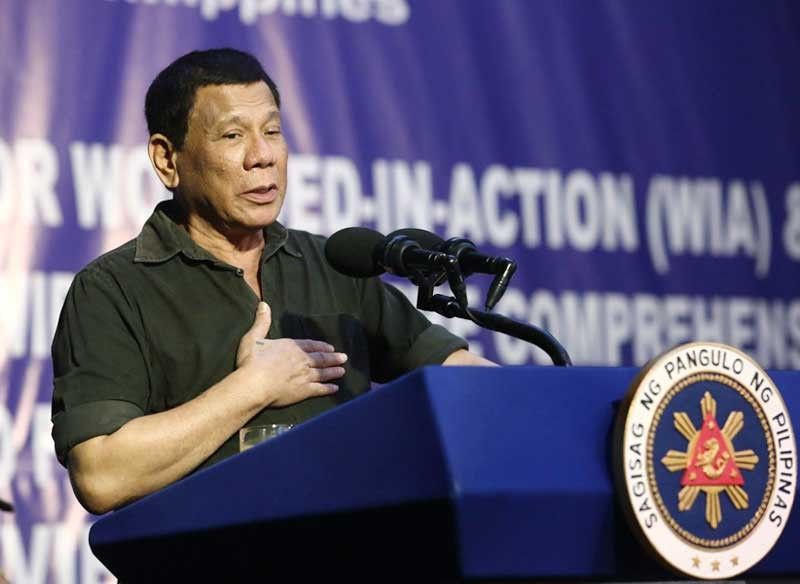 Duterte's approval rating rose to 81 percent in December from 75 percent in September last year.
Duterte ends 2018 with higher approval rating
Helen Flores
(The Philippine Star) - January 12, 2019 - 12:00am
MANILA, Philippines — Most Filipinos still approved of President Duterte's performance and continue to trust him, according to a latest survey by Pulse Asia.
Duterte's approval rating rose to 81 percent in December from 75 percent in September last year.
The President obtained the highest approval scores among respondents from his bailiwick Mindanao, at 96 percent and among class ABC and E, at 87 percent and 86 percent, respectively.
Disapproval of the President's work, meanwhile, dropped from 10 percent in September to seven percent in December.
Trust in Duterte also increased to 76 percent in December from 72 percent in the previous quarter.
Most of the Mindanaoans (91 percent) and class E (82 percent) find the President trustworthy.
Distrust in Duterte fell from nine percent to six percent.
The survey was conducted from Dec. 14 to 21, using face-to-face interviews of 1,800 adults nationwide.
"The survey results underscore that our people fully believe in the methods undertaken by the President in running the bureaucracy and the country, including formulating judgments during particular situations and events where Filipino people's lives and the country's economy are at stake," presidential spokesman and chief legal counsel Salvador Panelo said in a statement yesterday.
Panelo added that the Pulse Asia survey is another repudiation of the critics and detractors of Duterte.
"The survey was taken at a time when the Church, human rights groups, the opposition, the critics and the detractors were taking turns in lambasting the President's hyperbolic style of delivering his narratives on certain issues and groups," Panelo said.
It appears that the tirades against Duterte have been ignored by a huge majority of Filipinos, Panelo added.
"While the President is pleased with the survey results, such excellent acceptance and performance rating shall not stop him from excelling further to meet the expectations of the people he has sworn to serve and protect," Panelo said.
Duterte's heart and mind will be focused on performing his constitutional duties faithfully and courageously, Panelo added.
Like Duterte, Vice President Leni Robredo and Senate President Vicente Sotto III also continued to receive majority approval and trust ratings in the Pulse Asia poll.
Robredo's approval score, however, barely moved from 61 percent in September to 62 percent in December last year.
Those who were not satisfied with her performance dropped a point to 16 percent.
The Vice President's trust rating, meanwhile, stayed at 56 percent.
Distrust in her also remained at 17 percent.
Robredo expressed yesterday her gratitude to Filipinos for their continued trust and support.
"Her high approval and trust ratings in the latest Pulse Asia survey will serve as inspiration for her to work harder to serve the voiceless Filipinos, especially those in the fringes of society," Robredo's spokesman Barry Gutierrez said in a statement.
In the case of Sotto, 74 percent of Filipinos expressed approval of his job, up by one point from September's 73 percent.
Disapproval of the Senate President's performance remained at six percent.
The approval ratings of the country's top institutions also rose in the last quarter of 2018.
The Senate received an approval rating of 69 percent from 63 percent and trust score of 65 percent from 61 percent.
The Supreme Court registered an approval score of 64 percent from 52 percent.
Its trust rating also rose to 62 percent from 54 percent.
The survey has sampling error margin of plus or minus 2.3 percentage points.
According to Pulse Asia, the only notable changes between September 2018 and December 2018 were the eight-point increase in the approval ratings of Duterte, Robredo and Sotto in the rest of Luzon.
In terms of trustworthiness, Sotto also obtained an eight-point increase in the rest of Luzon.
Trust in the Vice President dropped by 16 points to 60 percent in the Visayas, Pulse Asia said.
Sotto welcomed the favorable ratings he and the Senate obtained that he attributed to the hard work of his colleagues.
"(The trust and approval ratings were) most probably because of the performance of the Senate and our shepherding (of the legislation) that gets the approval and trust of our people," Sotto told reporters.
He vowed that the Senate will remain independent and sensitive "to the pulse of our people."
Sotto was elected to the leadership of the chamber in May last year.
GMA scores low
Meanwhile, House Speaker Gloria Macapagal-Arroyo received approval and trust ratings of 27 percent and 45 percent, respectively.
The former President's trust rating slightly increased from 43 percent in September 2018.
The House of Representatives, on the other hand, registered an approval rating of 66 percent, up by 10 points from 56 percent in September.
Trust in the House also increased from 58 percent to 64 percent.
Arroyo was included for the first time in the survey since taking over last July from former speaker Pantaleon Alvarez.
Pulse Asia noted a distrust in Arroyo from those surveyed in the rest of Luzon, the Visayas and Class D.
The survey indicated that the only majority figure obtained by Arroyo was her 52 percent distrust rating in Metro Manila.
Arroyo said low trust ratings do not distract her from doing her job.
"Remember I already answered that the last time. Those trust ratings are not new to me. Remember I was pilloried very much when I was president so I haven't done much to overcome that because I just have to do my work," she told reporters.
"My thrust is to concentrate on my work. I already said it the last time: I am not a stranger to those kinds of ratings," she said.
For his part, Communist Party of the Philippines founding chairman Jose Ma. Sison called the survey "stupid," adding that it was "deceptive, mercenary and obsequious to those in power and those agents who pay for the poll."
"Asking people whether they hope for the better this year is confusing them on some abstract and vague notion and playing on their tendency to hope for the better and to be hospitable, careful and even fearful of those in power, especially when they are extremely intimidating," Sison said in a statement posted on the National Democratic Front website. – With Paolo Romero, Edith Regalado, Jess Diaz, Jose Rodel Clapano