Batocabe slay suspect surrenders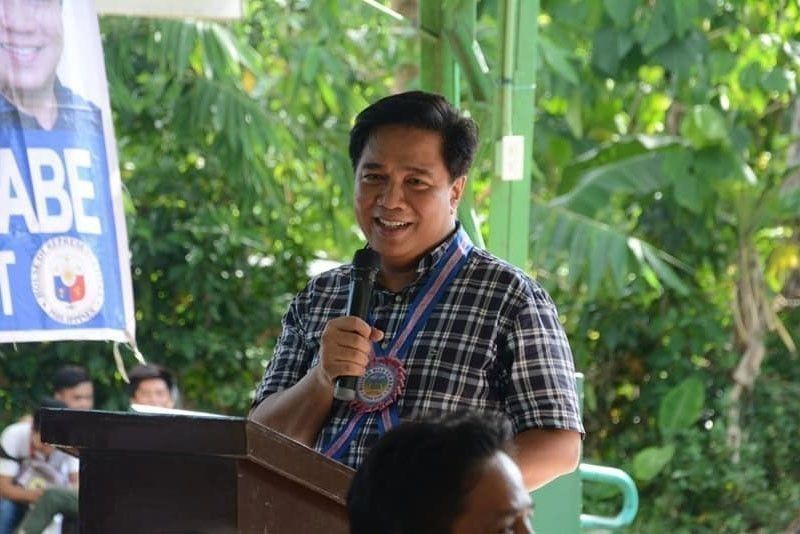 MANILA, Philippines (Updated 10:09 a.m.) — The alleged gunman who shot Rep. Rodel Batocabe (Ako Bicol Party-list) and his security escort surrendered himself to authorities.
According to a report from radio dzBB, suspect Henry Yuson presented himself to the military in Sorsogon on Thursday.
Yuson, a former member of the New People's Army, is now under the custody of the Philippine National Police in Daraga, Albay.
The alleged gunman also tagged Daraga Mayor Carlwyn Baldo as the mastermind of the murder. Yuson told the police that the mayor did not give their group the promised P5 million after killing Batocabe.
Related video:
Batocabe was supposed to run for mayor in Daraga in the May 2019 elections.
The lawmaker and his security escort SPO2 Orlando Diaz were shot dead three days after Christmas while attending a gift-giving event in Daraga. Seven bystanders were also wounded in the incident.
Baldo, Yuson and five other suspects are facing muder charges, the police said.
The Daraga mayor, on the other hand, had insisted that he had no hand in the murder of Batocabe. The PNP earlier identified Baldo as the alleged mastermind in the killing.
A suspect claimed that Baldo hired a six-man team to kill Batocabe, which the Daraga mayor has denied.
"I assert my innocence. Let us not forget that while I'm being used as convenient scapegoat, those who are truly responsible for the crime remain free and blameless," Baldo said in a press conference. — Patricia Lourdes Viray
Related video:
As It Happens
LATEST UPDATE: August 31, 2019 - 4:30pm
Rep. Rodel Batocabe (AKO Bicol party-list) has been reportedly shot dead while attending a gift giving program in Brgy. Burgos, Daraga, Albay.
Reports say Batocabe — who was running for mayor of Daraga, Albay in the 2019 midterm elections and was serving his last term as congressman — was rushed to the hospital with his escort, SPO1 Orlando Diaz, but the two were pronounced dead on arrival.
August 31, 2019 - 4:30pm
Lawyer Justin Batocabe expresses dismay that former Daraga Mayor Carlwyn Baldo, tagged as the mastermind in the murder of his father and Ako Bicol party-list representative Rodel Batocabe will be allowed to post bail.
"Pinaghalu-halong galit, panlulumo, at pagkagimbal ang nararamdaman ngayon ng aming pamilya sa kautusan ng Legazpi City RTC Branch 10 na palayain si Carl 'Awin' Baldo," the younger Batocabe says.
"Ang murder charges laban kay Baldo ay non-bailable kaya't matinding dagok ang kautusang ito sa aming pamilya, sa alaala ng aking ama, at sa mga taong nananalig sa sistema ng hustisya sa Pilipinas," he adds.
May 10, 2019 - 11:04am
Daraga Mayor Carlwyn Baldo, tagged to be behind the killing of Ako Bicol party-list Rep. Rodel Batocabe, turns himself to the authorities early Friday, according to reports.
He was accompanied by his family and lawyer to the Legazpi City Regional Trial Court.

January 23, 2019 - 8:12am
Daraga, Albay Mayor Carlwyn Baldo was rushed to the hospital Tuesday night for asthma, state-run Radyo Pilipinas reports.
Baldo was arrested earlier Tuesday after police executing a search warrant found unlicensed firearms and explosives in his house.
Radyo Pilipinas says the Criminal Investigation and Detection Group has confirmed that Baldo was brought to the UST hospital in nearby Legazpi City past 11 p.m.
Baldo, who has been accused of being behind the killing of Rep. Rodel Batocabe (Ako Bicol party-list) is being guarded by police while he recovers.
Batocabe was a candidate for mayor of Daraga in the May elections.
January 22, 2019 - 4:53pm
Police arrest Daraga Mayor Carlwyn Baldo after firearms and ammunition were recovered inside his residence. Police say he failed to show necessary permits.
January 3, 2019 - 2:28pm
A party-list solon urges the Department of Justice to issue a hold departure order against Daraga Mayor Carlwyn Baldo after he was identified by the police as the alleged mastermind in the killing of Rep. Rodel Batocabe.
"Now that the murder and frustrated murder charges have been filed against the Daraga mayor, the DOJ has enough basis to have the hold departure order issued against him," Rep. Francisco Datol Jr. (Senior Citizen party-list) says in a statement.