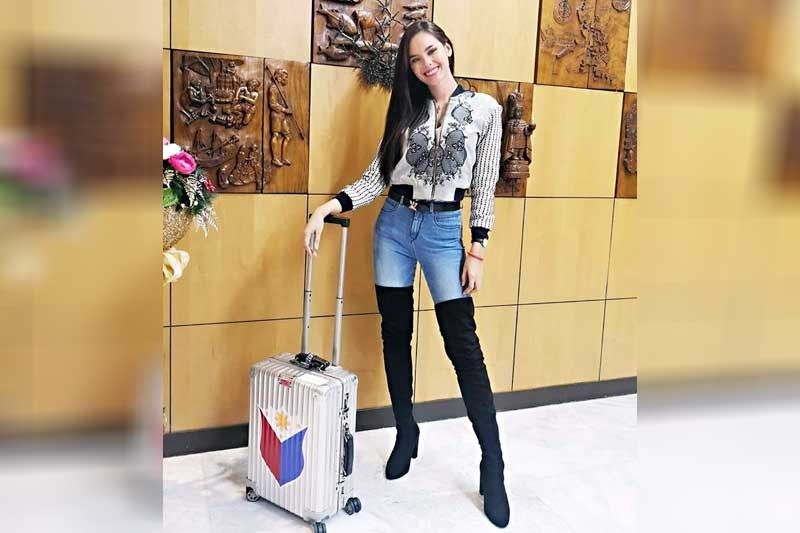 Miss Universe 2018 Catriona Gray poses at a lounge of the NAIA Terminal 2 as she prepares to board a flight for New York to start her duties as the reigning queen. She left last Wednesday night after spending the holidays in Manila. She later posted a photo on Instagram showing her apartment in New York. 'Someone pinch me. In my new home for the next year,' she said in her post.
Rudy Santos
Miss Universe 2018 Catriona Gray leaves for New York
Rudy Santos
(The Philippine Star) - January 4, 2019 - 12:00am
MANILA, Philippines — Miss Universe 2018 Catriona Gray flew to New York City Wednesday night to start her duties as reigning queen after spending Christmas and New Year in the country.
Gray posted a photo of herself on Instagram wearing a modern barong, jeans and above-the-knee boots with the caption: ?"Refreshed from a quiet holiday season with my loved ones, I've packed up my home in Manila and now I'm ready to move to my new home in New York City!! I still can't believe it."
"I have to say I'm most nervous about experiencing the chill of NYC in winter but would love to know, what are your recommendations to see, do and eat?!" Gray asked her Instagram followers that have soared to 3.8 million since she won the crown in December.
On board Philippine Airlines flight PR 126, Gray left the Ninoy Aquino International Airport Terminal 2 past 9 p.m. accompanied by some pageant organizers.
Gray was originally scheduled to leave last Dec. 20 but for unknown reasons, her flight was rescheduled to Jan. 2.
She arrived at Terminal 2 three hours ahead of her scheduled flight and was seen at the pre-departure lounge replacing her high-heel shoes with black above-the-knee boots. She was seen carrying a winter jacket along with her carry-on luggage with a Philippine flag on it.