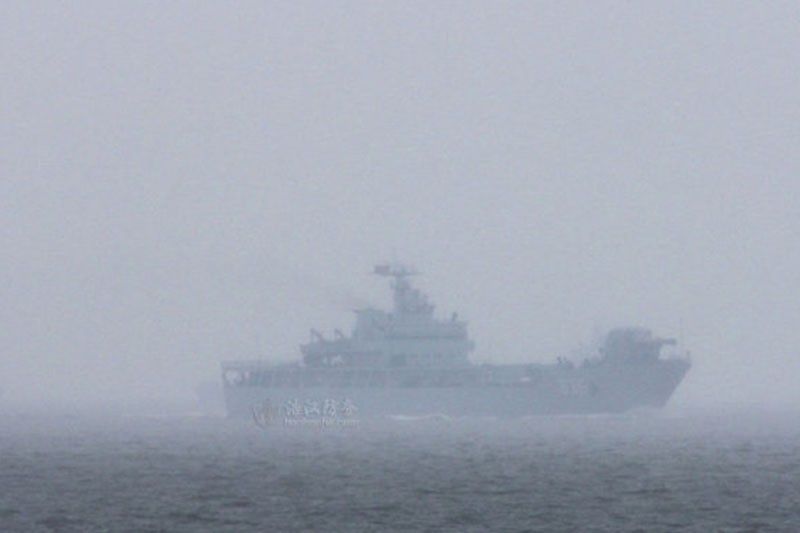 A People's Liberation Army Navy ship was seen carrying what appears to be an electromagnetic railgun that can fling cannons five times the speed of sound.
Weibo/RedShark
China's 'next generation' electromagnetic railgun spotted at sea — reports
MANILA, Philippines — China appears to have beaten the United States and the rest of the world into testing a new generation weapon capable of shooting hundreds of kilometers away from a warship.
Photos of what appears to be an electromagnetic railgun mounted on the Chinese Navy's Yuting-class tank landing ship Haiyangshan surfaced online last week.
Weibo user Haohan-Red Shark, a defense blogger, posted the photo of the navy ship with the weapon on Dec. 29, 2018.
A report from ABC News indicated that such weapon could fire at hypersonic speeds of at least Mach 5, which is five times the speed of sound.
Twitter user Dafeng Cao, an observer of the People's Liberation Army, posted similar photos captioned "Long time no see, the railgun test ship spotted undergoing sea trials these days."
Long time no see, the railgun test ship is spotted undergoing sea trials these days. pic.twitter.com/WdxXkyYWrF

— dafeng cao (@dafengcao) December 29, 2018
The railgun's 3D model made by ????. pic.twitter.com/pNVG2PPwBr

— dafeng cao (@dafengcao) February 3, 2018
The Haiyangshan, a Type 072II Yuting-class landing ship, has been converted to become an experimental testbed, according to a report from Australia-based News.com.au.
The 119-meter long amphibious assault ship of the Chinese Navy used to carry 10 tanks and is now being used to carry the electromagnetic railgun.
The railgun, still without a warship, uses intense bursts of energy to build a magnetic field capable of throwing out cannon shells at hypersonic speeds, giving the weapon greater speed, range and accuracy than conventional cannons, the report read.
In 2015, the China Aerospace Science and Industry Corporation announced the development of the advanced weapon.
"Railguns use electromagnetic energy to attack targets and are considered an advanced technology that offers greater range and more lethality, while the cost is even cheaper than traditional guns," CASIC said.
Beijing's testing of its electromagnetic railgun comes as the Chinese military prioritizes "drilling soldiers and war preparations" as its work focus for the new year.
In its New Year's Day editorial, the PLA said they should be "well prepared for all directions of military struggle and comprehensively improve troops' combat response in emergencies … to ensure we can meet the challenge and win when there is a situation."
According to US intelligence reports, China's weapon could strike up to 200 kilometers away with projectile velocity of 2.5 kilometers per second or 9,000 kilometers per hour, News.au.com reported.
The report also noted that the US Navy has been testing its own land-based railgun for about a decade but power generation, size and stability of electronics and resilience of its rails have delayed its development.
A report from ABC News stated that Washington's priority remains to be the development of a hypervelocity projectile that would enable missiles to fire at hypersonic speeds.
The railgun, however, is not high on the agenda, US Strategic Capabilities Office spokesperson Chris Sherwood told website Task and Purpose.
"SCO shifted the project's focus to conventional powder guns, facilitating a faster transition of HVP technology to the warfighter," Sherwood said.