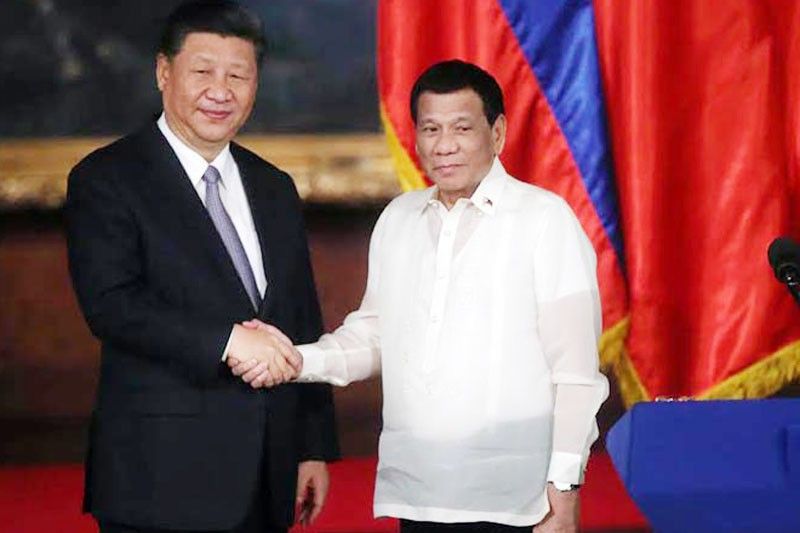 President Duterte welcomes Chinese President Xi Jinping at Malacan?ang in November
File
The year 2018 in review, rewind, repeat
MANILA, Philippines — Of late, President Duterte must have been getting sage advice to intersperse his rambling adlibs with bits from the main text of his prepared speech, a kind of anchor so he doesn't get too carried away with laughter and applause that are usually the fuel of standup comics. It's been that kind of roller coaster year, par for the course in terms of never a dull moment but with pit stops of predictability: Magellan, Lapu-Lapu, original K-12, valedictorian, war on drugs, whiff of corruption, if you destroy my country I will kill you.
It was hardly a coincidence that 2018 ended with a double whammy of auspicious news – the return of the Balangiga bells after more than a century, and the country winning its fourth Miss Universe title courtesy of Catriona Gray.
The year didn't begin with such good tidings, as in February the body of overseas Filipina worker (OFW) Joanna Demafelis was discovered in a freezer in Kuwait months after her slaying, triggering a diplomatic row with the Persian Gulf country and serving as grim reminder of the perils faced by OFWs. In March she had a tearful homecoming in her town of Sara, Iloilo, while her Syrian-Lebanese employers were collared after an Interpol manhunt and sentenced to death by hanging.
Tourism suffered a hit with the six-month closure of Boracay from April to October after the President described the world famous resort as a cesspool, and the rehabilitation required establishments to comply with sewerage treatment standards as well as rules on easement. The new tourism secretary presided over its reopening with much pomp, even as other tourist spots were also placed under observation if they weren't also deteriorating: El Nido in Palawan and a beach in Panglao, Bohol named after an actress recently passed away.
In May chief justice Maria Lourdes Sereno was ousted via quo warranto filed by the solicitor general, marking the second forced removal of a Supreme Court head in six years. The year would see the high court with three chief justices, perhaps another first in Philippine judicial history, for after Sereno was Teresita Leonardo de Castro, followed by Lucas Bersamin. By yearend miniskirts and scandalous cellphones were banned in Padre Faura premises.
By the time the 17th Congress began its third and last regular session in July, lawmakers suddenly had a new speaker in Pampanga Rep. Gloria Macapagal-Arroyo, the former president. Though not entirely unexpected, the removal of Davao Rep. Pantaleon Alvarez showed the influence of presidential kin on other branches of government. The reinstitution of Arroyo seems to be a given with the present administration, as late in the year her old Lakas partymate former senator Bong Revilla was acquitted of graft charges by the Sandiganbayan.
Typhoon Mangkhut (Ompong) hit the northern part of the country in September, bringing days of hard rain that loosened the soil and triggered a landslide in the mining town of Natonin, Mountain Province. Barely a day or two later, in Naga City, Cebu a similar landslide occurred after continuous days of rain caused by the monsoon. Scores died and many remained missing in both incidents, and a geologist lamented that while Filipinos now have the technology to foresee such tragedy, there is little one can do to avert it.
The Sandiganbayan in November convicted former first lady Imelda Marcos of multiple graft for funneling up to $20 million to Swiss foundations, sentencing the Ilocos representative to six to 11 years for each count. There was instant clamor for her being placed behind bars, especially from victims of her late dictator husband's martial law regime. Sheriffs though weren't exactly stumbling over themselves to put the 89-year-old in jail, even as guardians of justice argued that if ignorance of the law is no excuse, neither should age be a hindrance to serve time.
Will the federalism train ever get rolling? One of the pet projects and campaign promises of the present-day Palace was to shift the form of government to a federal type, and this included forming a consultative committee to draft a charter for such purpose, as well as outreach and educational campaigns to better brief the people on benefits of the setup. But the Arroyo-led House seems to have come up with its own version of federal draft charter which the Concom found to be a mere monkey wrench in the proceedings already marked by false starts.
There was better collaboration on lawmakers' part when it came to extending martial law in Mindanao for yet another year, its third lease since the original declaration in May 2017 following the IS-inspired siege of Marawi. While businesses and residents reportedly hailed the perceptively improved peace and order, critics rued that the so-called new normal of military rule for the country's south can only be detrimental in the long run. The executive secretary was also quick to point out that the Mindanao ML of Duterte was a whale of difference from that during Marcos.
The anti-illegal drug campaign, year 3 continued its bloody onslaught with bodies piling up and alarming human rights advocates, who along with the clergy are the President's pet peeve. The killer cops of teen Kian delos Santos were found guilty and sentenced to life imprisonment, serving as exhibit A that due process is still being followed despite the wild west atmosphere and the billion pesos worth of shabu that slipped past Customs into the streets. The narcs, however, were hoping for a more humane war on battery water in the new year.
Stop that TRAIN law we want to get off, may well have been the battle cry as runaway inflation hit the country in the 3rd quarter, prompting economic managers to consider holding in abeyance the second tranche of excise tax on fuel in January 2019, only to backtrack and maintain the original schedule when gasoline and diesel prices eased toward yearend. But how long the plateau while funding Build Build Build? And what else to expect in 2019 aside from the usual price hikes and horrendous traffic?
More insults and colorful language in the vein of making the bishops eat their false teeth and tying the necks of the corrupt to the wheels of an airplane. Not to forget that this is an election year for added fun, games and ambush of local officials.