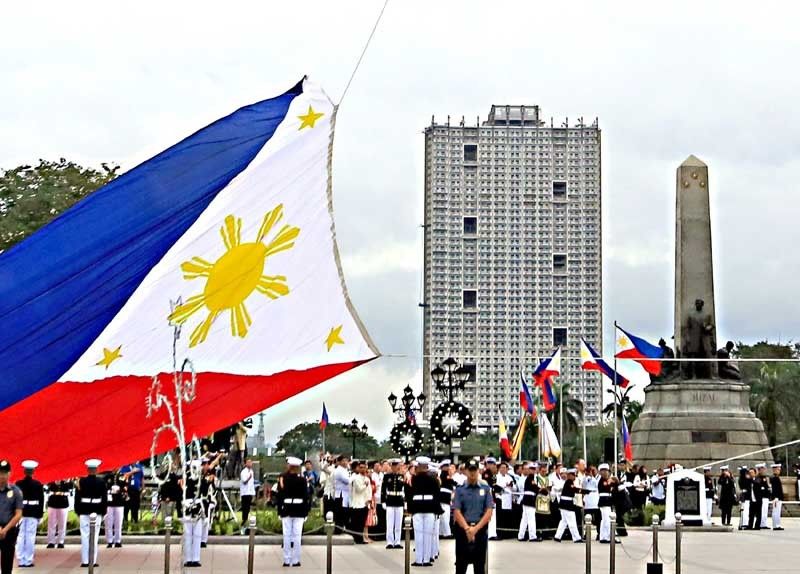 A Philippine flag is torn during a flag-raising ceremony to comme-morate the 122nd anniversary of the death of national hero Dr. Jose Rizal in Rizal Park yesterday.
Edd Gumban
Duterte: Honor Rizal through patriotism
DAVAO CITY, Philippines — President Duterte is urging Filipinos to embody the patriotism of Dr. Jose Rizal in the effort to build the society that the national hero had envisioned for the country.
"Let this be an opportunity to honor Rizal for shaping our history as a nation," the President said in a one-page statement issued by Malacañang in commemorating the 122nd anniversary of Rizal's martyrdom yesterday.
"We remember him as a beacon of valor and solidarity at a time when darkness, injustice and tyranny prevailed over our land. Even in his death, his example continues to encourage us as we pursue ways to address the social ills that confront us up to this day," he added.
Duterte, however, skipped the Rizal Day rites in Davao City, adding to the list of key events that he missed.
Palace sources said Duterte skipped the event to rest. Former presidential aide Christopher Go confirmed this, saying the doctor had advised the Chief Executive to take a rest because he was "very busy" in the past days.
Malacañang has yet to release an official statement on the President's absence as of press time.
Presidential daughter and Davao City Mayor Sara Duterte-Carpio represented the President during the 122nd anniversary of the death of national hero Rizal in ceremonies that were held in the city's Rizal Park yesterday afternoon.
The President said Rizal Day was an "auspicious occasion to reflect on the legacy of our national hero."
"Rizal's courageous life and inspiring works have been instrumental in awakening our collective consciousness to foster our Filipino identity and take a stand against our oppressors," he said.
Rizal's ultimate sacrifice, according to the Chief Executive, "awakened the entire Filipino race from its peonage to a colonial master for more than 30 decades."
He said 122 years have passed since Rizal died yet his influence on the nation remains relevant.
Presidential spokesman Salvador Panelo urged Filipinos to take inspiration from Rizal's life story and emulate the principles that made him the country's greatest hero. He echoed Rizal's remark that a life not consecrated to a vision and fulfillment of a great ideal is useless.
Rizal, whose writings fueled the Philippine revolution against Spain, was executed by firing squad on Dec. 30, 1896 in Bagumbayan, now known as Rizal Park, in Manila.
Meanwhile, Vice President Leni Robredo called on yesterday Filipinos to work together against hate, division and tyranny as the nation commemorated Rizal's martyrdom.
"In these times when ruthless practicality is foisted on us as virtue, and when respect for individual dignity is maligned as weakness, Rizal stands as a reminder that true freedom always goes hand in hand with kindness and integrity," Robredo said.
"And may we find in ourselves the courage and serenity to work for his vision of a Philippines free from hate, division and tyranny, and where the dignity of every Filipino is upheld," she added.
The Vice President led the wreath-laying ceremony in Rizal Park yesterday morning.
She also quoted a passage from Jose Rizal's novel El Filibusterismo, citing the difference brought about by hate and love.
"Hate never produces anything but monsters and criminals! Love alone realizes wonderful works, virtue alone can save! No, if our country has ever to be free, it will not be through vice and crime, it will not be so by corrupting its sons, deceiving some and bribing others, no! Redemption presupposes virtue, virtue sacrifice, and sacrifice love!"
The opposition leader is a critic of Duterte's anti-illegal drug campaign that has killed thousands. – With Alexis Romero, Paolo Romero