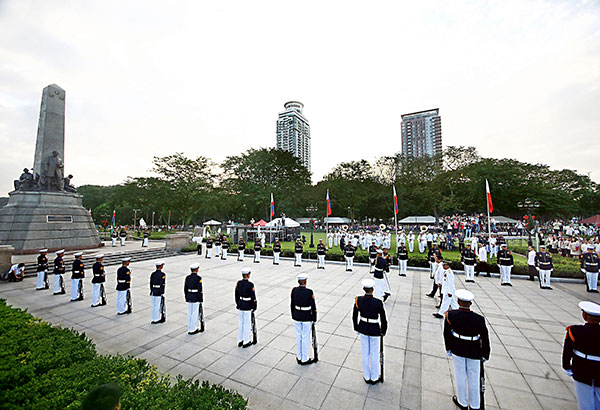 In this Dec. 30, 2017 file photo, Marine honor guards stand at attention during a wreath-laying ceremony to commemorate the death anniversary of national hero Dr. Jose Rizal at Rizal Park in Manila.
Miguel De Guzman
Leni on Rizal Day: True freedom comes with kindness, integrity
(Philstar.com) - December 30, 2018 - 12:06pm
MANILA, Philippines — The Filipino people should work together against hate, division and tyranny, Vice President Leni Robredo said on Sunday, Rizal Day.
Robredo, in a statement on the anniversary of the martyrdom of national hero Jose Rizal, cautioned against hate and said that the change Filipinos want to see should start from within.
"In these times when ruthless practicality is foisted on us as virtue, and when respect for individual dignity is maligned as weakness, Rizal stands as a reminder that true freedom always goes hand in hand with kindness and integrity," she said.
Quoting from Rizal's "El Filibusterismo", the vice president's statement read: "Hate never produces anything but monsters and criminals! Love alone realizes wonderful works, virtue alone can save! No, if our country has ever to be free, it will not be through vice and crime, it will not be so by corrupting its sons, deceiving some and bribing others, no! Redemption presupposes virtue, virtue sacrifice, and sacrifice love!"
Robredo said she hopes the nation "[finds] in ourselves the courage and serenity to work for his vision of a Philippines free from hate, division, and tyranny, and where the dignity of every Filipino is upheld."
RELATED: Duterte joining Rizal Day rites in Davao
In a related statement, Sen. Leila de Lima, who is in detention on drug-related charges that she claims are motivated by politics, called on Filipinos to emulate Rizal and stand up against "intimidation, injustices and hopelessness."
She said that: "During this dark chapter in our history, when there is a prevailing culture of impunity and blatant attempts to desensitize us to violence and corruption, we are called upon to speak up, stand up and fight back."
The government has rejected the senator's claim that she is being persecuted for being a critic of President Rodrigo Duterte—she had launched investigations into Duterte and the supposed Davao Death Squad while Justice secretary and as Commission on Human Rights chair before that.
The Palace has repeatedly said that she was charged for her involvement in the illegal drug trade at the New Bilibid Prisons while she was head of the Department of Justice during the administration of President Benigno Aquino III.