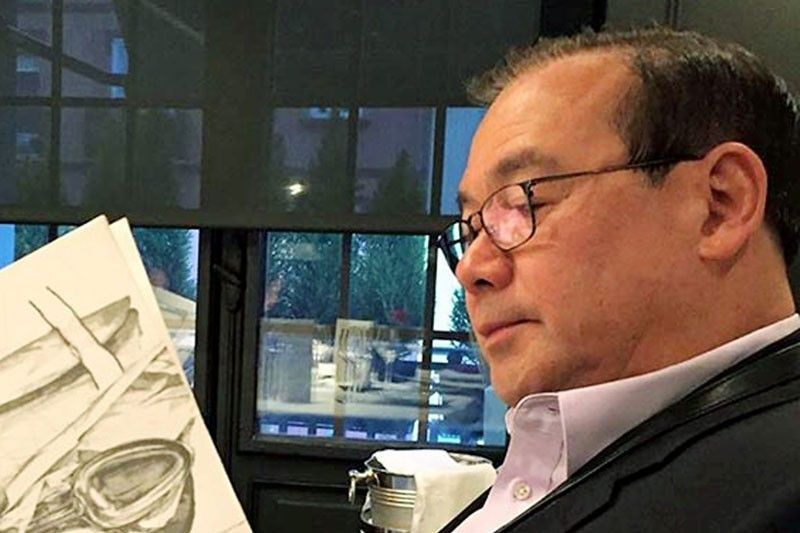 "President is a bully? My ass. He speaks strongly at you; then speak strongly at him. Don't whine," Foreign Affairs Secretary Teodoro Locsin Jr. wrote. "Watched video of him running his fingers down the names of the killed at Balangiga; realized he lives as much in our terrible past as in our present. A man of strong real feelings."
File
Locsin: Duterte not a bully
(The Philippine Star) - December 23, 2018 - 12:00am
MANILA, Philippines — President Duterte is not a bully but a man of strong feelings, Foreign Affairs Secretary Teodoro Locsin Jr. said on Twitter Friday night.
Engaging netizens over the bullying incident involving Ateneo junior high school students, the outspoken secretary was asked for his views on claims that Duterte himself is a bully.
"President is a bully? My ass. He speaks strongly at you; then speak strongly at him. Don't whine," he wrote. "Watched video of him running his fingers down the names of the killed at Balangiga; realized he lives as much in our terrible past as in our present. A man of strong real feelings."
Locsin said he did not realize how strong the President's feelings are about the country's past until he saw that scene during the formal handover of the Balangiga bells in Samar last week.
The secretary drew mixed reactions to his statement that parents of the bullied student should take the law into their own hands and beat the bully senseless.
"The parents of the bullied kid should take the law in their own hands. The only way to teach a bully is to beat him senseless. Psychiatric help? He should get traction," wrote Locsin.
"The bullied kid may be haunted by this abuse. (The abuser) should be beaten senseless. Trust me, this works –sometimes permanently. Jesus, what's the world coming to when bullies are babied instead of beaten," he added.
Various groups have cautioned the public about dealing with the issue, noting that it involves minors whose privacy should be protected.
Cyber bullying
Wilma Banaga, children protection advisor of Save the Children Philippines, said sharing of the bullying act and calling for harsh punishments for the child who committed the bullying constitute "cyber-bullying."
"Save the Children Philippines believes that bullying should be taken seriously and immediately addressed by the school or community, and by the families of the children who are involved in this," she said.
"We need to understand that a child might bully another due to difficulties in managing anger, aggression, non-tolerance for individual differences, experiences of violence at home, or the lack of good role models at home," she added.
Banaga said adults should learn that interventions should be for both the bullied and the bully.
"Parents need to find the time to build a loving relationship with their children, provide them the necessary guidance for them to grow up to be caring and non-violent individuals and not children who accept that it is alright to hurt others," she said.
"Although schools can impose suspensions or expulsions if circumstances warrant it, we hope that this will be the last resort as such disciplinary measures have been found to increase the risk of children experiencing negative outcomes later in life and do little to deter a student from misbehaving," added the child protection officer.
'False calls, text messages'
Meanwhile, more than a hundred "false calls and text messages" bombarded Filipino-Canadian Joseph Perez Otazu after he posted on his Facebook account the other day his mobile numbers inviting the father of the Ateneo junior high school bully to a fistfight and the victim to take free self-defense lessons from him.
"Due to hundreds of phone calls and text messages that I received after the video, it was hard for me to distinguish the real father of the bully and the victim," Otazu told The STAR yesterday.
He admitted that at first he was excited to hear from the first caller who identified himself as the father of the bully. "I actually managed to talk to one. Then more text messages and phone calls started coming, pretending to be the father of the victim. So I stopped and just ignored the calls and text messages. I gave up after about a hundred or so false claims."
He added, "In fact, we talked for 15 minutes before I realized it wasn't him. Then three seconds after hanging up, another one called pretending to be the father of the bully. It happened about a dozen times before I gave up."
He said he also got calls and text messages from people pretending to be the victim of the bullying incident. "Again after about a dozen or so similar text messages, I gave up."
Otazu said, "It was a very frustrating day yesterday trying to reach out to them only to be met with false claims. So, after I gave up, I just went Christmas shopping and turned off the phone."
Because of these false claims, Otazu said he is beginning to lose interest in making good on his offer of P100,000 to the father of the bully if he defeats Otazu in a fistfight.
Otazu, in his video that has gone viral, blamed the father for the misbehavior of his son. He offered to give the father P100,000 if he beats Otazu. But if Otazu defeats him in the fight, the father, who reportedly has remained unapologetic about the misdeeds of his son, must apologize to the victim and his parents in front of Otazu.
"Now, I just want to focus on helping the victim," said Otazu, a close quarters battle (CQB) instructor in the Canadian Army, where he has been serving for more than 20 years. He said he is also a combat veteran of Afghanistan.
"To be honest, with all the media hype and all the messages and calls I get, I am starting to lose interest in making my offer with the father of the bully stand. I am a very impatient and easily annoyed guy, so if I get a bunch of false claims I just lose interest and move on. That's army nature for me," he said.
Otazu asked for help to locate the victim because "I really want to be of service to him. I want to teach him self-defense techniques."
He did not say what techniques he would teach the victim if ever he agrees to "one-on-one private sessions."
"I only have a couple of days left in Manila. Then I will go back to Canada. If the victim, his family and friends are interested in my free service, I will spend about three days training them. I will teach them the same techniques I teach to my soldiers in Canada."
"I would really appreciate it if anyone can help me locate the victim and his family," he said.
Otazu said he experienced physical and verbal bullying when he moved to Canada when he was 12 years old.
"I was 12 when I moved to Canada. I didn't speak English well and I looked different from the rest of the kids so I was bullied constantly. It was in the '80s and there was no internet and cellphones to record the bullying I got," he said.
"I had to fend for myself. It was hard growing up in a new country when you were 12 and had no friends. It took me a while to overcome that but eventually I managed and learned self-defense techniques from a family friend."