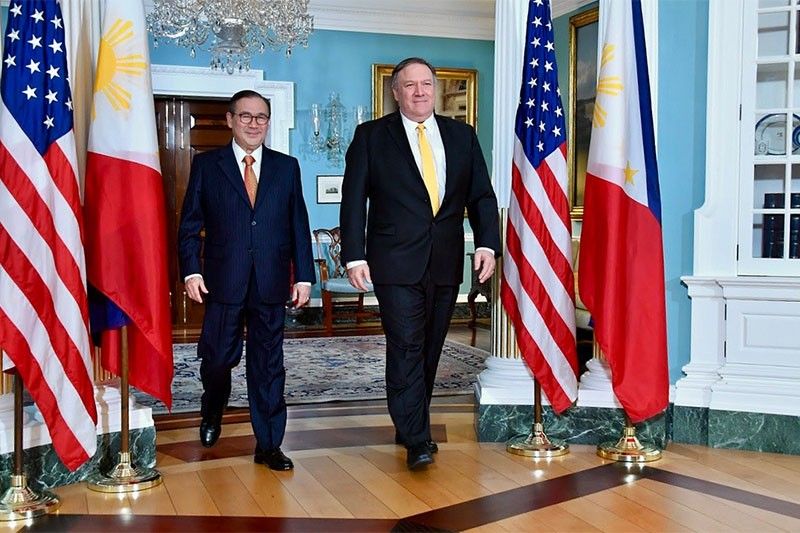 Foreign Affairs Secretary Teodoro Locsin Jr. meets with US Secretary of State Michael Pompeo at the US Department of State in Washington.
US Department of State/Released
Locsin, Pompeo reaffirm US-Philippines alliance, discuss South China Sea
MANILA, Philippines — Foreign Affairs Secretary Teodoro Locsin Jr. met with United States Secretary of State Michael Pompeo in Washington to discuss issues of mutual concern, including the South China Sea issue.
Pompeo reaffirmed the alliance between the two countries, including Washington's commitment to the 1951 Mutual Defense Treaty, US Department of State deputy spokesperson Robert Palladino said in a statement.
The US has been conducting freedom of navigation operations in the South China Sea, part of which is the West Philippine Sea, in a bid to challenge China's aggression in the region. Beijing has installed military outposts on its artificial islands that lie within the Philippines' exclusive economic zone.
A recent survey from Social Weather Stations found that 61 percent of Filipinos believe that the United States will defend the Philippines in case of invasion by another country. The two countries have been allies for more than seven decades now.
"Secretary Pompeo and Secretary Locsin also explored opportunities to increase people-to-people ties between our two countries, our longstanding commitment to human rights, and our cooperation to strengthen the Philippines' energy security," Palladino said.
The meeting between Locsin and his American counterpart on Thursday was a follow-up to their phone conversation in October, Department of Foreign Affairs spokesperson Elmer Cato said.
The two top diplomats also discussed cooperation on counterterrorism, as well as regional concerns such as the situation in the Korean Peninsula.
Locsin also conveyed the Philippines' appreciation for the recent return of the Balangiga bells to the country.
The historic church bells of Balangiga, Eastern Samar were taken by American soldiers as war booty in 1951. The bells are now back in its home at the Church of San Lorenzo de Martir.