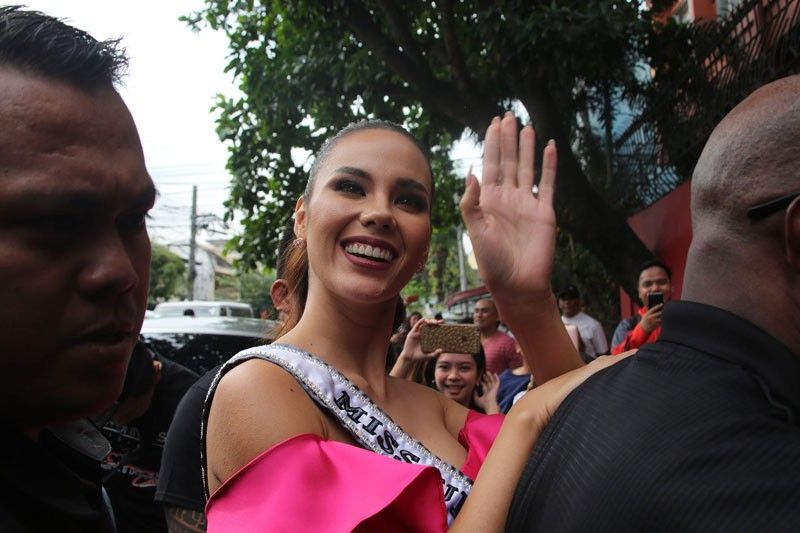 Miss Universe 2018 Catriona Gray, sources said, will stay in the Philippines for Christmas. She was supposed to leave for New York last night.
Michael Varcas
Catriona Gray: Will she stay or will she go?
(The Philippine Star) - December 21, 2018 - 12:00am
MANILA, Philippines — The queen is home, but not for a homecoming. Not yet anyway.
Miss Universe 2018 Catriona Gray, sources said, will stay in the Philippines for Christmas. She was supposed to leave for New York last night.
Conflicting reports, however, said she would leave on Dec. 22 "to sign important documents for her Miss Universe crown." An airport source said she is set to leave Manila in January.
At a press event yesterday morning, Catriona said she came home to fulfill a charitable commitment for the gift-giving project of Frontrow Cares, the social advocacy arm of multi-level marketing company Frontrow.
"We are here today for an amazing cause, which is the partnership of Frontrow with Miss Universe Organization (MUO) for Gentle Hands, a charity for children," said Catriona at the Christmas Charity for Kids event at the Shangri-La at the Fort in Taguig City.
A spunky, radiant Catriona, despite lack of sleep, greeted the press wearing her Miss Universe sash over an off-shoulder fuchsia corset and high-waist black pants. Just like when she arrived in Manila on Wednesday afternoon, Catriona did not wear her Miss Universe crown yesterday. She will wear her crown, a Miss Universe insider said, once she starts her official duties in New York.
Catriona will begin her official duty as Miss Universe on Jan. 2, 2019 in New York, where her first few activities, according to Jonas Gaffud, reportedly the "trusted person" of Miss Universe Organization in the Philippines, include guesting in different radio stations.
"This commitment for charity at Gentle Hands with Miss Universe 2018 had been pre-arranged with the Miss Universe Organization since five months ago. Whoever won the competition would be flown to the Philippines, that's our company's agreement with Miss U. It so happened, and we are very glad, that Catriona won. So, she's here," said Raymond Francisco, president and co-owner of Frontrow.
"We are giving the gift of giving; we are giving gifts to the children today. This is so important because it's Christmas! Ang saya ng season na 'to (It's such a happy season)," the 24-year-old beauty queen said in Filipino an Australian twang.
Later yesterday afternoon, Catriona proceeded to the pre-arranged gift-giving activity at Gentle Hands in Quezon City.
Catriona is the only daughter of Ian Gray, an Australian retired civil engineer, and Normita Ragas Magnayon, an accountant who originally hails from Oas, Albay.
"And just to give a bit of background, I'm so happy to be here because I really do work with children. Why am I drawn to work with children specifically? Because I'm an only child, so growing up I always wished for siblings. I guess growing up, when I became an adult and I reach out to charity, working with children really touched my heart because they are so pure and they come into this life and it is simple things that make them happy," Catriona explained.
She added, "Giving is so important, especially to children who may have been dealt a poor-handed life. What is wonderful is that they are going to experience joy and happiness this season, which I hope will inspire every one of you and all of your readers in all of your platforms to open up your hearts and give, whether it is small, large or anything to make someone's Christmas season happy."
"Of course, I'm so happy to be here with a Miss Universe crown para sa Pasko ng Pilipinas," Catriona said in her message that lasted two minutes and 18 seconds.
The 8:30 a.m. press conference started at 9:36 a.m. As early as 7:30 a.m., due to strict security, members of the press started to trickle in at the Bonifacio Hall of Shangri-La at the Fort. The press was not allowed to ask questions. Queries were directed to Francisco and vice chair of the Luis Chavit Singson Group of Companies Richelle Louise Singson-Michael, who both shared the stage with Catriona.
The STAR asked Singson-Michael, who was one of the all-female judges at the Miss Universe coronation night in Bangkok on Monday, if her father Chavit Singson's company would now own the franchise of Miss Universe-Philippines.
She answered: "There are no talks settled right now about the franchise. Right now, we're just focused on Catriona coming to the Philippines and congratulating her for her winning."
Catriona took center stage at 9:52 a.m. A little after 10 a.m., after a quick photo op on stage, the beauty queen headed back stage.
On the sidelines, when The STAR asked Catriona if she would be home for Christmas, she just winked and blew a kiss.