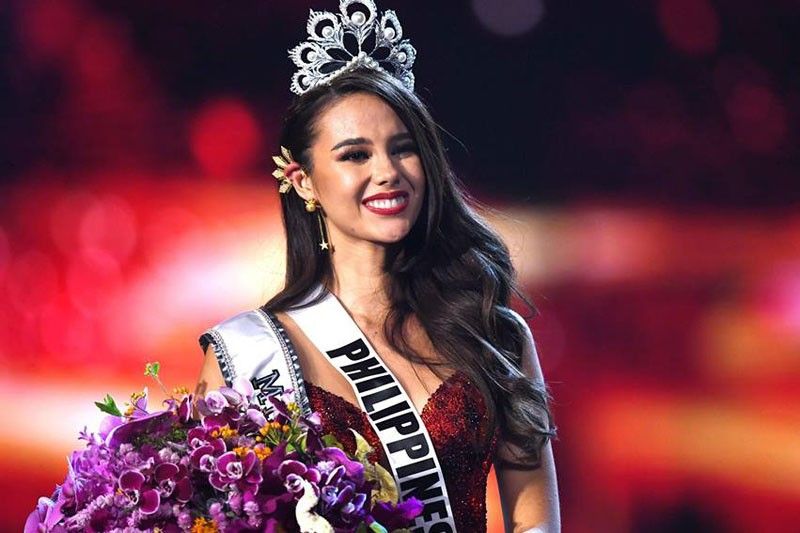 In her mother's home province of Albay, a hero's welcome awaits the beauty queen.
AFP
4th Filipino Miss Universe Catriona Gray gets messages of praise
Cet Dematera
(The Philippine Star) - December 18, 2018 - 12:00am
MANILA, Philippines — Like lava that inspired her dress, messages of congratulations and praises for Catriona Gray flowed from all over the country.
In her mother's home province of Albay, a hero's welcome awaits the beauty queen.
"Truly an Albayana, she was the most prepared candidate ever – if you prepare to fight calamities, the more you are prepared for victory," Albay Rep. Joey Salceda posted in his Facebook account.
Gray's mother Normita Ragas Magnayon is from Oas town.
Salceda said Catriona is "regal as Mayon is majestic. She is beautiful, truly Daragang Magayon."
"The entire Albay is happy and proud of her achievement as proud she is of her roots. I worked with Catriona in her previous quests and she was excited about her role as tourism champion for Albay," the former Albay governor recalled.
Gray's aunt Salve Ragas said local officials of Oas and Albay are already making arrangements with them for a grand welcome for Catriona.
She said Catriona last visited Oas in November when some of the Miss Earth beauty pageant events were held in Albay.
"My niece Catriona is a very kind person. She is always humble and funny," Ragas recalled.
Newly formed Bicol regional political party Kusog Bicolandia announced it would organize a grand welcome party for Gray in January.
"Catriona deserves such recognition as she gives us Bicolanos as well as Filipinos pride and prestige when she bagged the crown as Ms. Universe 2018," Noel De Luna, Kusol Bicolandia chairman, told The STAR.
Senate Majority Leader Juan Miguel Zubiri filed a resolution congratulating and commending Gray not only for her victory but also for her various advocacies.
Zubiri cited Gray's work on promoting HIV/AIDS awareness and education, as well as her efforts to put up a three-story shelter for impoverished children in Manila slums.
Sen. Grace Poe called Gray "a woman of style, substance and brave heart deserves the crown."
"Thank you for flying the Philippine flag high. The Filipinos will be by your side in your Miss Universe journey," Poe said.
Sen. Cynthia Villar said she joined the nation and Filipino communities around the world in celebrating Gray's victory.
She also thanked her for "successfully raising the Philippine flag and championing Filipino pride in the global stage."
"I commend her for sending out a very powerful message of looking for opportunities to help even in the most desperate situations," Villar said.
"I look forward to Catriona's meaningful and uplifting reign as Miss Universe," she said.
Sen. Nancy Binay said Gray made the country proud as she displayed grace and beauty amid the pressure of competing in the pageant.
"She is proof that one can rise through adversity if one believes in herself, as well as displays her abilities and dedication," Binay said.
"I had a rare opportunity to have met and talked to Ms. Gray. From that moment, I already sensed her heart and passion to serve. Being Miss Universe will amplify her true value to want to help the marginalized children and far-flung IP communities not only in the Philippines, but in other countries as well," she said.
Sweetest Christmas gift
She said being Miss Universe is Gray's sweetest Christmas gift to the Filipino people.
"As our exchange gift to one another, I hope we will help Ms. Gray to realize her dream 'for a world with less negativity where everyone is grateful'," Binay said.
Sen. Joseph Victor Ejercito described Gray as "the epitome of the intelligence, talent and beauty of a Filipina."
Sen. Sonny Angara said her well-deserved win "is surely a source of great inspiration and happiness for the millions of Filipinos all over the world, the universe rather."
Sen. Paolo Benigno Aquino IV said Gray showed the world that Filipino beauty is intelligent, creative and full of heart.
"May your reign be a compelling platform for positive change and women empowerment, and also an opportunity to promote our country's tourism and everything our beloved country has to offer," Sen. Joel Villanueva said.
Leyte Rep. Yedda Marie Kittilstvedt-Romualdez, a Binibining Pilipinas International contestant in 1996, also praised Gray.
"Your victory is a testament to the faith and resiliency of the Filipino spirit. The resounding triumph of Gray demonstrates to the world the hard work, courage and strength of Filipinos as trademarks in winning any battle," she said.
"Miss U Gray's heart for the poor and marginalized, especially the children, shone through. Her win serves as inspiration to Filipinos and the rest of the world to care more for the less fortunate, especially this Christmas season," said Rep. Mikee Romero.
Rep. Ace Barbers said Gray's "sacrifices and triumph inspire Filipinos to continue fighting on amidst the challenges and difficulties."
"Her victory is our victory. This is such an amazing Christmas gift to the country," he said.
"My fellow Bicolano Catriona showed how the Filipino is the best asset of the Philippines. Catriona, true to her words, represented each Filipino with great honor, grace, brains, and beauty," said 1-Ang Edukasyon party-list Rep. Salvador Belaro.
Rep. Bernadette Herrera-Dy, chair of the House committee on women and gender equality, said she was elated to hear Gray pushing children's rights and welfarte advocacy.
Rep. Geraldine Roman, a transgender, said Gray "brought immense pride and honor to the Filipinos all over the world not only with her beauty but also with her intelligence, integrity and her heart for the poor."
"She would make a great ambassador for peace, love and compassion in the international community," the Bataan lawmaker said.
Work for the poor
Vice President Leni Robredo, who is from Bicol like Gray's mother, also joined in congratulating Gray.
"Your victory has brought happiness to millions of households throughout our nation. Regardless of different backgrounds and allegiances, in this, you have brought us together," Robredo said in a statement.
The Vice President also praised Gray for highlighting her work for the poor in the pageant's Q&A portion.
"With the eyes of the world and the entire Filipino nation on you, you chose to highlight your work with the poor and to send a much-needed message of hope to all. With those inspiring words, you already became a winner in my heart and, I am certain, in those of many others," she said.
"I wish you the best, and may you make full use of your new role as an ambassador to continue bringing the message of hope to the world. Mabuhay ang mga Bicolana," Robredo said.
Former solicitor general Florin Hilbay also thanked Gray for being an inspiration to millions of Filipinos.
Veteran eletion lawyer Romulo Macalintal extended his congratulatory message to Gray on behalf of the senior citizens.
"We are one with the Filipino people in congratulating Catriona Gray as Miss Universe 2018," he said.
The Department of Tourism (DOT) also praised Gray for being a "true ally of Philippine tourism and a partner of the DOT in and out of the Miss Universe stage."
"Throughout the Miss Universe competition, Miss Gray evoked the Filipino people's essential attributes of friendliness, cheerfulness, hospitality and kindness, especially when she was around the representatives of different nations," Tourism Secretary Bernadette Romulo-Puyat said in a text message.
"She has single-handedly led more people all over the world to discover that, indeed, it is more fun in the Philippines," Puyat said.
The tourism secretary also cited Gray's commitment to showcase what the country has to offer through a series of video clips featuring some of the country's destinations.
"Amidst Ms. Gray's busy preparations prior to heading for Thailand, she took precious time to do a series of video clips promoting some of the country's best destinations and diverse cultures: Luzon's Rizal Park and world-renown El Nido, Palawan; the resilience of the Visayan people particularly in Tacloban City and Mindanao's multi-faceted South Cotabato," Puyat said. with Paolo Romero, Delon Porcalla, Helen Flores, Catherine Talavera
Related video: