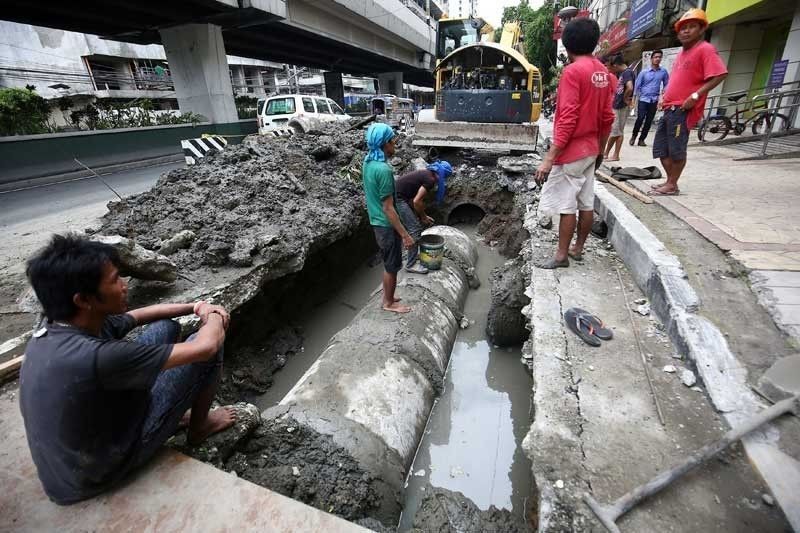 It was a similar scheme used in the infamous fertilizer fund scam in 2004, where funds were allotted supposedly to purchase fertilizers for local government units, some of which turned out not to have any agricultural activity.
Miguel De Guzman/File
Surge of flood control projects questioned
MANILA, Philippines — In 2004, there was the fertilizer fund scam. This time, funds for numerous "flood mitigation projects" have reportedly led to a huge increase in national budget allocation from 2017 to 2018.
House of Representatives Majority Leader Rolando Andaya Jr. confirmed the observations by some lawmakers of a huge spike in allocations for flood mitigation projects.
"From P79 billion in 2017, the budget for flood mitigation projects ballooned to a whopping P133 billion. This means P54 billion was added," according to Andaya, a former budget secretary.
He pointed to the "parking scheme" used by the executive department in putting insertions in the national outlay.
Parked funds are supposedly appropriations of doubtful purposes included in the proposed National Expenditure Program before it is submitted to Congress, as opposed to insertions or amendments made by senators and congressmen to the national budget.
It was a similar scheme used in the infamous fertilizer fund scam in 2004, where funds were allotted supposedly to purchase fertilizers for local government units, some of which turned out not to have any agricultural activity.
The Department of Public Works and Highways (DPWH), for instance, has a P544.5-billion budget for 2019, when its original proposed allocation was only P488 billion – or a difference of P56.5 billion.
"There are many flood control projects that are not included in the P488-billion outlay originally proposed by the DPWH. The amount was added in the level of the Department of Budget and Management, which is why the budget (of the agency) for 2019 increased to P544.5 billion," Andaya said.
"Out of the proposed P544.5-billion budget of the DPWH for 2019, P114.4 billion is for flood control projects. Almost 24 percent (increase)," he pointed out.
Andaya, a Camarines Sur congressman, said the "flood-related" projects in the Bicol region alone surged by P2.2 billion.
Andaya disclosed yesterday that a mayor in Bicol region approached him over the weekend telling him that a former Cabinet official was "responsible for parking at least P300 million in infrastructure projects in the proposed 2019 national budget."
"The mayor, who requested not to be named in the meantime, disclosed that the Cabinet member 'parked' the allocation in flood-mitigation projects for the region. Anytime, the fund would be released. There was this site visitation already," he said.
As it turns out, the mayor remarked "more local government executives want to seek an audience with me to shed light on the so-called parking scam in the budget allocations in the region."
The House Rules Committee under Andaya will start its investigation into the issue in Naga City on Jan. 3.
"The House rules committee will begin its investigation on the budget anomalies and anomalous allocations in the National Expenditure Program on Jan. 3. We will include these allegations in our investigation," Andaya said.
Illegal parking
Senate President Vicente Sotto III also said they would be looking into allegations that some officials secreted billions of pesos worth of appropriations for projects that implementing agencies were apparently unaware of.
Sotto said this would come before approval of the national budget when Congress resumes session on Jan. 14.
"We'll remove them (parked and padded funds). The lingo there is 'padded' (funds). Apparently there are some in the budget," Sotto told radio dzBB.
"We'll see if they (Budget department) can give us a satisfactory explanation, if not, we'll cut it," Sotto said.
If such cuts would be made, it could help reduce the deficit, he added.
Sotto said the same fate might befall the P75 billion included in the proposed budget of the DPWH that Andaya earlier alleged were padded by Budget Secretary Benjamin Diokno to favor certain contractors.
Public Works Secretary Mark Villar was reportedly unaware of the additional funds included in the proposed DPWH budget.
Sotto, however, wondered aloud why congressmen were not able to detect such funds before submitting the General Appropriations Bill (GAB) to the Senate, or excised them if they found the questionable allocations.
Sotto and Senate Minority Leader Franklin Drilon said it was unlikely that Diokno would be summoned by senators for a Question Hour as what happened in the House.
Drilon earlier discovered around P16.18 billion in lump-sum appropriation supposedly for assisting local government units that he said was "parked" in the proposed budget of the Department of the Interior and Local Government (DILG).
The DILG, during budget deliberations at the Senate last week, however, disowned the fund, claiming no knowledge of how the outlay will be implemented.
Sen. Joseph Victor Ejercito, who defended DILG's budget, confirmed during the deliberations that the agency has nothing to do with the implementation of P16.18-billion provision.
"These are funds parked without the implementing agency's knowledge," Drilon said.
He pointed out that in such a situation, it would be unclear who will be managing or implementing the parked funds.
"This budget (for 2019) is full of mysteries waiting to be uncovered. Each day we discover something new. Hence, the Senate should intensify its scrutiny of the spending bill," he said.
Drilon expressed confidence the proposed budget would still be passed, despite the controversies, within the first two weeks after the resumption of session.
Juicy contracts
During the Question Hour, Andaya joined the Public Accounts or Oversight Committee of House Minority Leader Danilo Suarez as they tried to uncover a total of P75 billion in "insertions" that no less than Diokno has admitted.
Andaya confronted Diokno when lawmakers discovered a total of P52 billion in insertions.
Diokno's daughter Charlotte Justine is married to Romeo "Jojo" Sicat Jr., the son of incumbent Sorsogon Vice Governor Esther Hamor from her first marriage. In short, Hamor is an in-law of Diokno.
Hamor's second husband, Mayor Edwin Hamor of Casiguran town, admitted that his children own a construction company called Aremar Construction Corp. and may know the controversial CT Leoncio Construction and Trading owned by Consolacion Leoncio from Bulacan.
"Apparently, they not only know but have entered into a joint venture with the said company, which cornered a chunk of the P10 billion allocated by the DBM for Sorsogon in the 2018 national budget," Andaya said.
"Suarez's revelation during the congressional Question Hour was proven to be true. The Hamors are in-laws of the budget secretary, who happens to be the Cabinet official responsible for allocating budgets in the National Expenditure Program of government."
Andaya identified Maria Minez Hamor, who owns Aremar, as the daughter of the Hamor couple who partnered with the CT Leoncio company that bagged 30 projects all over the country worth billions of pesos.
The provinces of Sorsogon and Catanduanes were among the recipients of billions of pesos in government projects bagged by Consolacion T. Leoncio, proprietor of CT Leoncio Trading and Construction, which Diokno allegedly favored.
The House oversight committee headed by Suarez has summoned CT Leoncio to attend its hearing.
"We have received official records showing that billions of pesos in public funds were funneled from DBM to C.T. Leoncio Construction and Trading in official transactions of unparalleled proportion," Andaya said.
Upon closer scrutiny of the 2019 national budget, the House leadership discovered that the company – which he likened to a mere "sari-sari store" – bagged contracts in Makati, Samar, Cebu, Iloilo City, Davao City, Saranggani, Camarines Sur, Pangasinan, Tarlac and Batangas.
CT Leoncio Construction also got projects in Ilocos Norte, Subic, Quezon province, Marinduque and, not surprisingly, Bulacan.