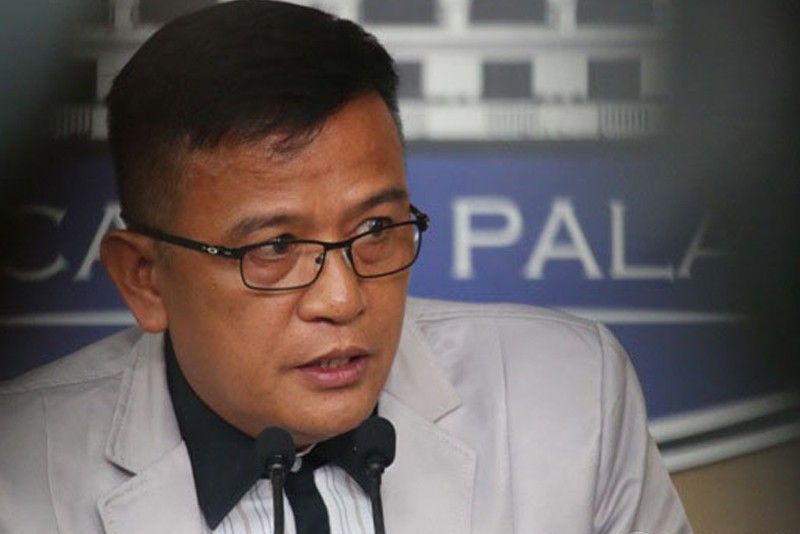 File photo shows Bureau of Corrections director Nicanor Faeldon. His son and namesake was nabbed along with three others during a raid on a suspected drug den in Naga City, Camarines Sur.
File photo
Nicanor Faeldon son nabbed in Naga drug den raid
Cet Dematera
(The Philippine Star) - December 15, 2018 - 12:00am
Dad: I'll quit, kill that idiot if…
LEGAZPI CITY – A son and namesake of Bureau of Corrections (BuCor) director Nicanor Faeldon was arrested along with three others during a dawn raid yesterday on a suspected drug den in Naga City.
The younger Faeldon, 32, and his companions did not resist arrest when elements of the Philippine National Police (PNP) and the Philippine Drug Enforcement Agency (PDEA) arrived brandishing arrest warrants issued by Iriga City Regional Trial Court (RTC) Branch 60 Judge Timoteo Panga Jr.
Reacting to the arrest, the elder Faeldon vowed to quit as BuCor chief and kill his son if the latter is proven to be using or trading drugs.
"What I can assure everybody is that if my son is involved, even if just as a user, I will resign immediately and hunt him down. I will kill that idiot if he is involved," Faeldon declared in an interview with ABS-CBN News Channel.
He also offered to take a leave of absence while his son's case is pending, but was rebuffed by Justice Secretary Menardo Guevarra. BuCor is under the Department of Justice (DOJ).
Arrested along with Faeldon were Russel Lanuzo Bermundo, alias Bubbles, 47; and Manuel Nebres, 39, both of Barangay Mabolo; and Allan Valdez, 44, of Sampaloc, Manila. Faeldon was not a subject of the warrants. He claimed he was in the house to visit his girlfriend Sandra, daughter of Bermundo. She was also taken into custody.
Chief Insp. Malou Calubaquib, Bicol police spokesperson, said at least seven sachets containing suspected shabu were recovered from the suspects. No drugs were found in Faeldon's possession, she added.
The alleged drug den was on San Miguel street, Barangay Mabolo.
Naga City police chief Felix Servita said they launched the raid after receiving information that the house was being used as venue for drug activities. The raiding team, he added, was not aware of Faeldon's presence in the house prior to the raid.
Senior Police Officer 4 Tobias Bongon, Naga City police spokesman, said they decided to take custody of Faeldon because he was found in the company of drug offenders even if he is not subject of an arrest warrant.
Authorities said Faeldon could be criminally charged for a lesser offense of visiting a drug den, a violation under Section 7 of the Comprehensive Dangerous Drugs Act of 2002.
"In short, he was arrested for being a visitor in the drug den when the raid was conducted," Bongon told The STAR at Camp General Simeon Ola.
Bongon clarified that while Faeldon was not a subject of the arrest warrants, he would be subject to drug test.
He said the younger Faeldon had told them he was in the house to visit his girlfriend.
Calubaquib said they would investigate further to determine Faeldon's real purpose for visiting the house.
"They did not resist arrest but at first they tried to question the arrest warrants when served to them," Bongon added.
Clueless
In the television interview, the elder Faeldon emphasized that he had no idea that his son would be linked to drug-related activities.
The last time he and his son talked was six or seven months ago when the latter told him that he and his girlfriend would resume schooling at the Ateneo de Naga University where he also works as student assistant.
The BuCor chief said he does "not intend to talk to" his son "so that whatever involvement he has, I don't want to interfere."
He appealed to police to "spare his son," as "he does not smoke nor has any history of misbehavior."
Before his appointment as BuCor chief, Faeldon was Bureau of Customs (BOC) commissioner under whose watch more than P6 billion worth of shabu entered the country.
President Duterte ignored calls for Faeldon's dismissal or prosecution.
In a statement released by his lawyer Jose Diño Jr., the BuCor chief said he was "totally clueless on that incident, as neither my son nor the police authorities have contacted me."
Faeldon, in his statement relayed through Diño, said "there is no need to prosecute or to jail" his son as he "will personally obliterate him from the face of the earth" if his guilt is proven.
DOJ's Guevarra, meanwhile, said he sees no need at the moment for Faeldon to go on leave.
"I told him that until and unless a reasonable ground to believe that his son is involved in drug use has been shown, I see no reason why Chief Faeldon should go on leave," said Guevarra.
"As to the BuCor chief's offer to go on leave, the department will have to study the matter, taking into consideration a number of facts, among which are: the chief has just been recently appointed, and the independence and integrity of the investigation on the matter is not likely to be affected by his stay in the BuCor," DOJ spokesman Markk Perete said.
He added they would wait for clearer picture from the PNP's investigation before making their next move.
"We await the outcome of such investigation," he said. – With Ghio Ong, Romina Cabrera, Evelyn Macairan