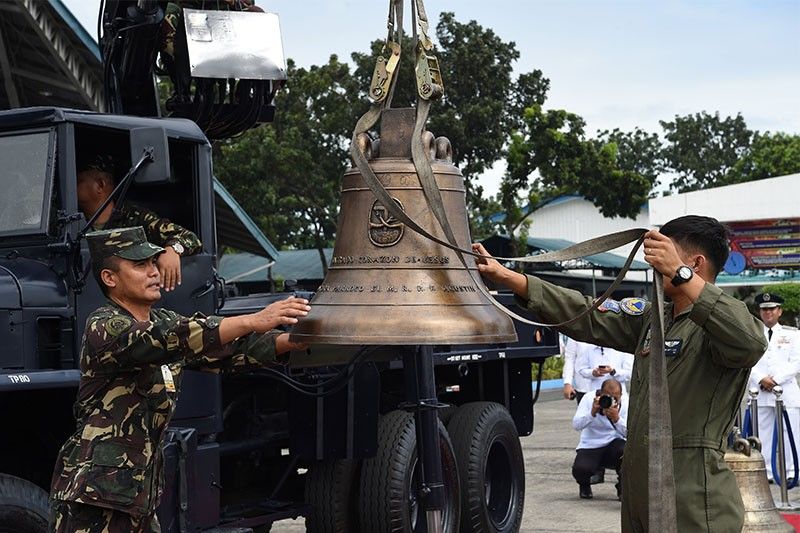 Philippine military personnel unload one of the three Balangiga church bells after it arrived from the US at a military airbase in Manila on Dec. 11, 2018. Church bells seized from the Philippines by the US as war trophies over a century ago were returned on December 11, in a bid to turn the page on a difficult chapter between the historical allies.
AFP/Ted Aljibe
Duterte to attend Balangiga bells turnover due to 'persistent requests'
(Philstar.com) - December 13, 2018 - 10:23am
MANILA, Philippines — Malacañang initially announced that President Rodrigo Duterte would not be able to attend the turnover of the Balangiga bells to Eastern Samar on Saturday but the president appears to have changed his mind hours after.
Presidential spokesperson Salvador Panelo said the president decided to attend the turnover ceremony of the historic church bells "due to the persistent requests from the people of Eastern Samar."
"The president has made changes in his schedule of activities to join the Filipino community in welcoming the return of the bells," Panelo said in a statement.
In the initial statement announcing that Duterte would not be able to attend the event, Panelo said the president had to attend to "pressing matters of governance that require his utmost and immediate attention."
The three Balangiga bells, which were taken by American soldiers as war booty in 1901, landed at Villamor Air Base in Pasay aboard a US Air Force C-130 last Tuesday.
A handover ceremony took place upon the arrival of the bells but Duterte did not attend it. US Ambassador to the Philippines Sung Kim officially handed over the bells to Defense Secretary Delfin Lorenzana.
"They are going back to where they belong. It is time for healing, it is time for closure, it is time to look ahead as two nations should with shared history and as allies," Lorenzana said.
For the US, returning the bells was "the right thing to do," the American envoy said in his speech during the ceremony.
"The United States could restore to its friend and ally an important symbol of national independence and demonstrate our commitment to a relationship of two sovereign nations, two equal partners, and mutual respect," Kim said.
The three bells will be returned to their original home at the Church of San Lorenzo de Martir in Balangiga, Eastern Samar.
Replicas of the bells will be created to replace the original as a memorial at F.E. Warren Air Force Base in Cheyenne, Wyoming. — Patricia Lourdes Viray
Related video: