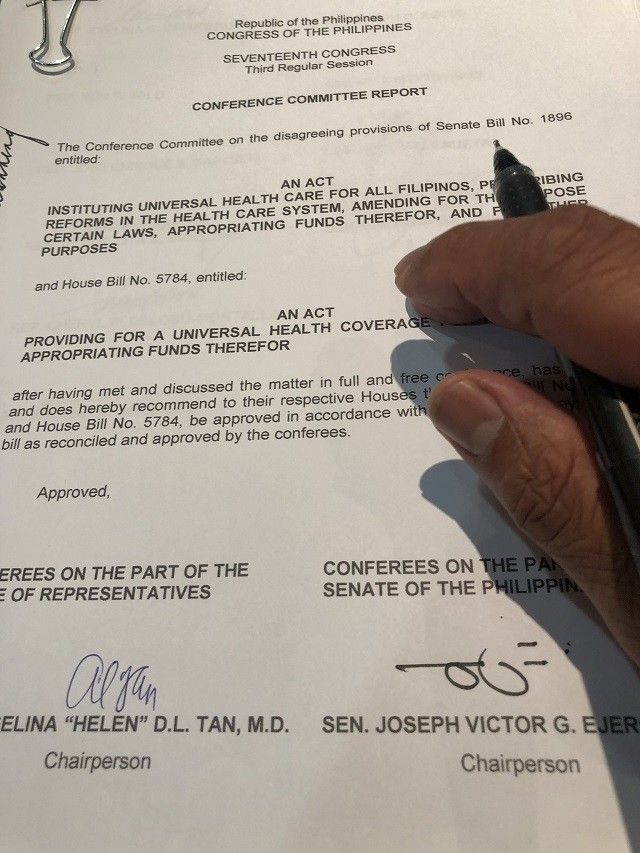 Senate ratifies Universal Health Care bill
Sen. JV Ejerecito's Twitter account
Ejercito hopeful for Universal Health Care bill enactment before Christmas
(Philstar.com) - December 10, 2018 - 4:31pm
MANILA, Philippines — The Senate ratified the Universal Health Care Bill on Monday afternoon, according to a report in The STAR.
Sen. Joseph Victor "JV" Ejercito, the bill's principal sponsor, said the House of Representatives will ratify the bill later Monday, the final step before it reaches the president's desk for his signature.

"I pray that before Christmas the president will sign the bill," Ejercito said. "Because this will be the best gift we can give the Filipino people."

"After not being given the opportunity to pass for a long time, the Senate became the way to deliver our countrymen guaranteed, accessible health services," Ejercito tweeted in Filipino shortly after the ratification of the bill.

Ejercito tweeted that he expects the House of Representatives to ratify the bill today as well so that it could be transmitted to the Office of the President "immediately" for review.

The Bicam Committee report on Universal Healthcare Bill is expected to be ratified by both the Senate & House of Representatives today. After which it will immediately be transmitted to Malacañang for review. Praying it will be signed before Christmas by the President. ????????

— JV Ejercito (@jvejercito) December 9, 2018
READ: Bicam OKs Universal Health Care bill
Senate ratifies the bicameral conference committee report on the Universal Health Care Bill. Principal sponsor Senator JV Ejercito says landmark bill will not only cover all Filipinos with health insurance but also fund the hiring of more doctors and nurses. | @PaoloSRomero pic.twitter.com/hG5qo16ow9

— The Philippine Star (@PhilippineStar) December 10, 2018
Automatic enrollment, better access
The bill mandates the automatic enrollment of all Filipinos into the National Health Insurance Program of the Philippine Health Insurance Corporation (PhilHealth), as either as direct or indirect contributors.

Direct contributors mean those who can pay premiums, while the indirect contributors are groups who may not have the financial capacity to contribute.

The bill also aims to improve the doctor-to-patient ratio, upgrade hospital bed capacities and equipment and establish hospital in far-flung areas.

The bill says funding for programs will be sourced from sin tax collections, 50 percent of the national government share from the income of Philippine Amusement and Gaming Corp, 40 percent of the charity fund from the Philippine Charity Sweepstakes Office, as well as contribution from PhilHealth and the Department of Health.

"The funds shall be transferred to PhilHealth and shall be used to improve its benefit packages," Ejercito said on November 28.

Prior to ratification, the Senate approved the bill last October, but the House of Representatives passed its own version in September last year. — Ryan Macasero