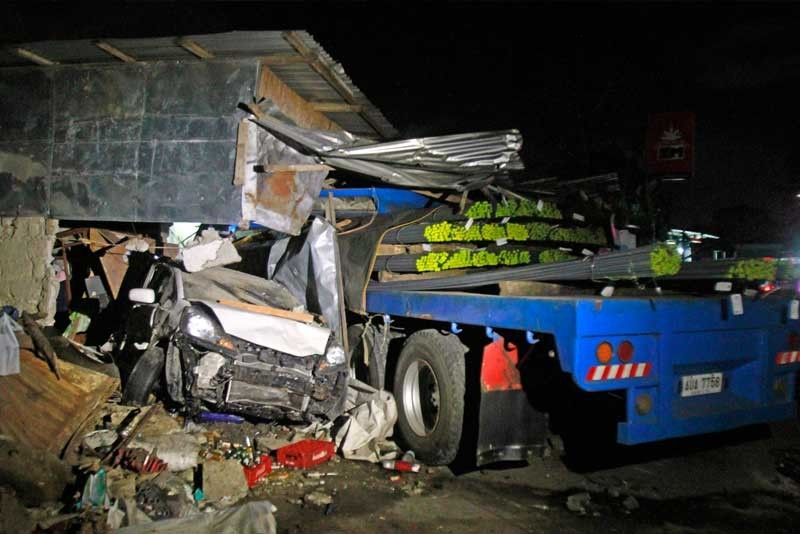 A 14-wheeler truck loaded with steel bars lies against the ruins of a bakery after the truck smashed into 19 vehicles in Sta. Rosa, Laguna Saturday night.
Joven Cagande
6 dead in 20-vehicle smashup
LAGUNA, Philippines — A truck careened and struck several cars parked along the road before smashing into a bakery and an apartment, leaving six persons dead in Sta. Rosa City in this province on Saturday.
An infant and a toddler were among the fatalities while 14 others were injured in the crash involving 20 vehicles along the Sta. Rosa-Tagaytay road in Barangay Sto. Domingo at around 11:30 p.m.
The fatalities were identified as Quelah Ayesha Velasco, one month old; Juvelyn Delizo, 21, and her daughter Ariane Kaye Delizo, 2; Lorelyn Rosel Sumadsad, 22; Jerome Baluya, 17, whose body was recovered at a bakery, and his brother Jayson, 25.
All were pronounced died on arrival at various hospitals.
A tracker team was dispatched yesterday to arrest the truck driver, Anthony Bernardo, after he and his unidentified helper escaped after the incident.
Senior Superintendent Eleazar Matta, Laguna police director, said Bernardo could have lost control of the wheel when the truck's brakes malfunctioned.
But the police, Matta said, are not discounting other possibilities leading to the accident.
"Bystanders told probers that the Isuzu truck (RBM-415) loaded with construction materials was zigzagging on the road," said Superintendent Eugene Orate, city police chief.
Orate said the truck and several of the vehicles that figured in the mishap were heading to Sta. Rosa from Tagaytay.
Charges of reckless imprudence resulting in multiple homicide, multiple physical injuries and multiple damage to property are being prepared against the suspect, Orate added.
The accident snarled traffic along the road toward midnight.
Magdaleno Sumadsad, Laiza Castillo, Reynalyn de Guzman, Ronaldo Serrano Sr., Ronalyn Serrano, Mark Ariel Dignos, Sarah May Dignos, Jerwin Baluya, Juanito Marquez, Ker Luis Garcia, Fherlyn Jane Delizo, Rodel Esquera, John Paul Bautista and Aileen Vallestero were reportedly discharged from the Sta. Rosa Hospital and Medical Center after they were treated.
Meanwhile, two others died when their motorcycle smashed a Toyota Hilux along the national highway in Barangay San Fernando, Alicia in Isabela on Saturday.
The driver of the truck, Elmer Reymund Mabbayad, 50, of Ilagan city claimed it was the driver of the motorcycle who rammed his vehicle at around 12:15 a.m.
The vehicles came from opposite directions, the police said.
The unidentified motorcycle driver and his passenger, both male, were rushed to a private hospital where they were pronounced dead on arrival.
Police officers took custody of Mabbayad after the accident. – With Non Alquitran, Emmanuel Tupas