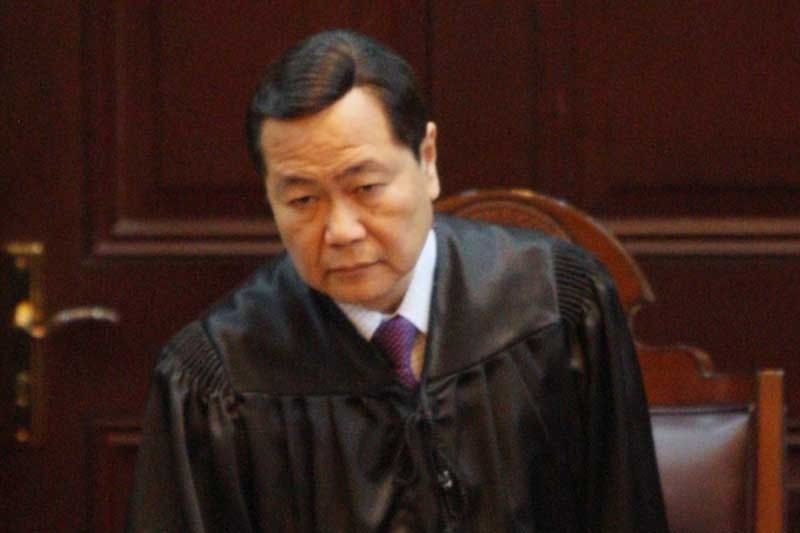 Senior Associate Justice Antonio Carpio, who is retiring from the judiciary in October next year, has served as acting chief justice three times.
Edd Gumban/File
Antonio Carpio accepts chief justice post not his fate
Edu Punay
(The Philippine Star) - December 7, 2018 - 12:00am
MANILA, Philippines — Senior Associate Justice Antonio Carpio is moving on.
Carpio, who has been bypassed for the top judicial post for the third time, said he sees no reason to know why President Duterte decided not to appoint him as chief justice despite his being the most senior justice in the Supreme Court (SC).
Carpio, who is retiring from the judiciary in October next year, has served as acting chief justice three times.
"There is no point discussing that anymore," he told The STAR when asked about being bypassed for the top SC post three times.
To show he has accepted his fate, Carpio even administered the oath of office of Chief Justice Lucas Bersamin last Nov. 28 at the SC session hall following Malacañang's announcement of his appointment.
A fellow magistrate – SC Associate Justice Marvic Leonen – called Carpio an "exemplary statesperson" following Bersamin's appointment.
The Palace has said that the President did not appoint Carpio due to supposed lack of interest for the position after he declined his automatic nomination following the ouster of former chief justice Maria Lourdes Sereno via quo warranto case last May.
During the vacancy for the chief justice post after Sereno's ouster, Carpio said he could not accept the nomination since he dissented from the SC ruling that ousted Sereno.
But after the retirement of Sereno's successor Teresita Leonardo-de Castro last October, Carpio accepted his nomination for chief justice, saying there were no more legal issues related to the appointment of chief justice.
Court observers, however, believed that Carpio's stance against Duterte's policy in the territorial dispute with China in the South China Sea doomed his chances to be appointed chief justice.
In an earlier interview, the senior magistrate said he would accept being bypassed anew due to his vocal position on the maritime issue.
"The President has the prerogative to appoint whoever he wants and I will respect that. But that will not stop me from continuing my advocacy (in the West Philippine Sea) because for me this is more important than anything else," he stressed.
Earlier, Carpio actively called on the Duterte administration to file a new protest against China before the Permanent Court of Arbitration (PCA) over the incident involving the harassment of Filipino fishermen by Chinese Coast Guard in Panatag or Scarborough Shoal off Zambales province.
He suggested that the Philippine government seek damages from China for violation of the PCA ruling in 2016 that favored the Philippines' claim over areas of the South China Sea.
More recently, Carpio expressed opposition to the plan for joint exploration and exploitation with China in the South China Sea, saying it would violate the Constitution.