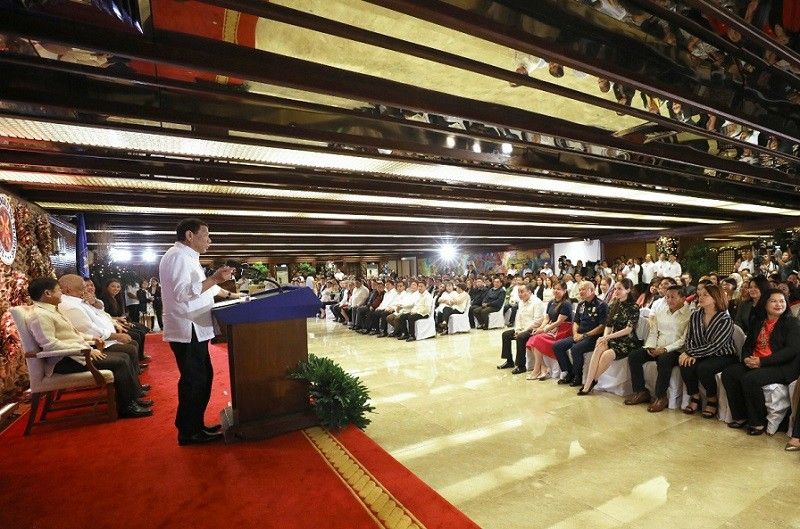 President Rodrigo Roa Duterte delivers his speech during the awarding ceremony for the 2017 Presidential Award for Child-Friendly Municipalities and Cities (PACFMC), at the Malacañan Palace on Dec. 5, 2018.
Presidential photo/Simeon Celi Jr.
Duterte takes blood test before hour-long speech at DOLE anniversary
MANILA, Philippines — At the 85th anniversary of the Department of Labor and Employment, President Rodrigo Duterte said he got his blood tested before going to the event in Pasay City.
"They took my blood. The media's going to say 'what is that illness I have?'" Duterte said.

Despite the controversy over his marijuana joke, Duterte took the opportunity to crack another joke.

"I'll give you an idea. I'll take this [the band aid] off... when they poked me, and tried to take blood, nothing came out, just air," Duterte said.
The 73-year-old president did not elaborate why he needed a blood extraction. Questions are frequently raised over the state of Duterte's health.
In November, Duterte was absent from several meetings during the Association of Southeast Asian Nations Summit in Singapore in November. Duterte explained that he skipped meetings to take power naps.
According to a Social Weather Stations survey last October, 45 percent of Filipinos believe that Duterte is facing health problems.
In October, he disclosed that he had undergone tests and announced that "it's my Barrett… It's badly eroded because I was told to stop drinking years ago." He previously said that he has a bad case of Barrett's disease, a chronic and usually severe gastrointestinal reflux disease or GERD.
READ: SWS most Pinoys believe Duterte has health problems
Noticeable discoloration of Duterte's skin has also been made an issue after changes in appearance were noted in several public appearances. On November 26, Duterte explained that the discoloration is due to aging. "As you grow old, your skin really darkens," he said.
Previously, he blamed it on skin creams, the desert air after a visit to Jordan, and weekly visits to military camps.
READ: Duterte explains skin color anew: 'As you grow old, your skin really darkens'

Duterte's more than an hour speech at DOLE touched on the usual topics such as the war against illegal drugs, tirades against critics from the Catholic Church and extrajudicial killings.