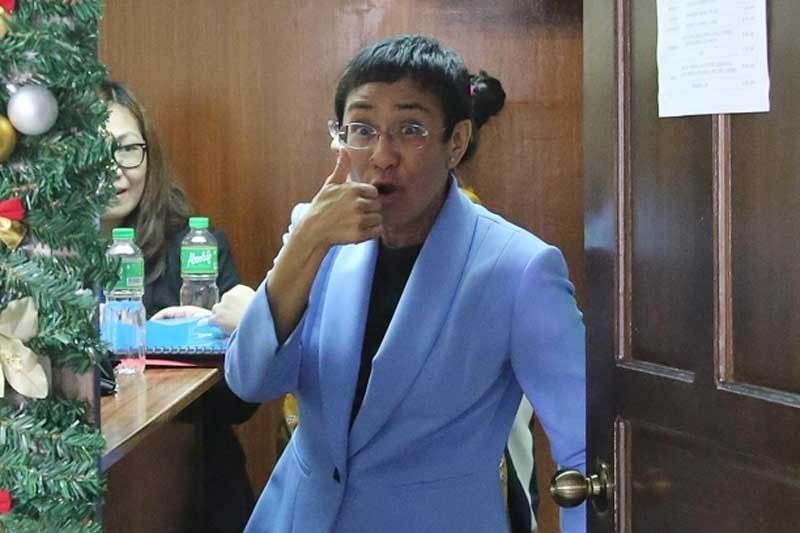 Rappler CEO Maria Ressa gives a thumbs up after posting bail of P60,000 at a court in Pasig City.
The STAR/Michael Varcas
Rappler CEO asks Pasig court to reject tax case
MANILA, Philippines — Rappler Holdings Corporation (RHC) and its Chief Executive Officer Maria Ressa asked a Pasig court to reject the Department of Justice's tax evasion charges filed against them.
RHC and Ressa filed this week an Urgent Motion to Quash Information before Pasig Regional Trial Court Branch 265. A copy of the pleading was made public only on Thursday.
The DOJ accused Rappler of "failing to supply correct and accurate information in the quarterly value-added tax return of RHC (Rappler Holdings Inc) for the second quarter tax year of 2015."
The Justice department also alleged the online news firm acted as a dealer in securities when it sold the Philippine Depository Receipts worth P2.4 Million.
The Pasig court released a warrant against Ressa on Monday morning. The news site's CEO posted bail in the amount of P60,000 the same afternoon.
They said that they were "deprived of their right to a full preliminary investigation" before the charge was filed to the court.
RHC and Ressa recalled that they received a copy of the DOJ resolution on November 15 but records showed that the department has filed the Information or charge sheet on November 14.
A preliminary investigation, Ressa said "is a constitutional requirement for this Honorable Court to acquire jurisdiction over the offense charge."
They also said that the Bureau of Internal Revenue "has not made a formal investigation or examination of RHC's books of accounts." The bureau also has yet to issue a Final Assessment Notice or Final Decision on Disputed Assessment since it "is still in the process of conducting the first notice of informal conference."
RHC and Ressa also asked the court to take judicial notice of executive branch's pronouncement against its coverage on the government's war on drugs. In his State of the Nation Address in July 2017, President Rodrigo Duterte claimed that Rappler is owned by foreigners and should be investigated.
But presidential spokesperson Salvador Panelo has earlier denied the case was a persecution. He stressed that "it is a question of tax evasion."
"You violate laws, then you will be prosecuted," he added.
RHC and Ressa then asked the court to remand or send back the case to the DOJ and suspend all proceedings until the department resolves their motion for reconsideration.
Ressa is set to attend her arraignment on Friday morning.