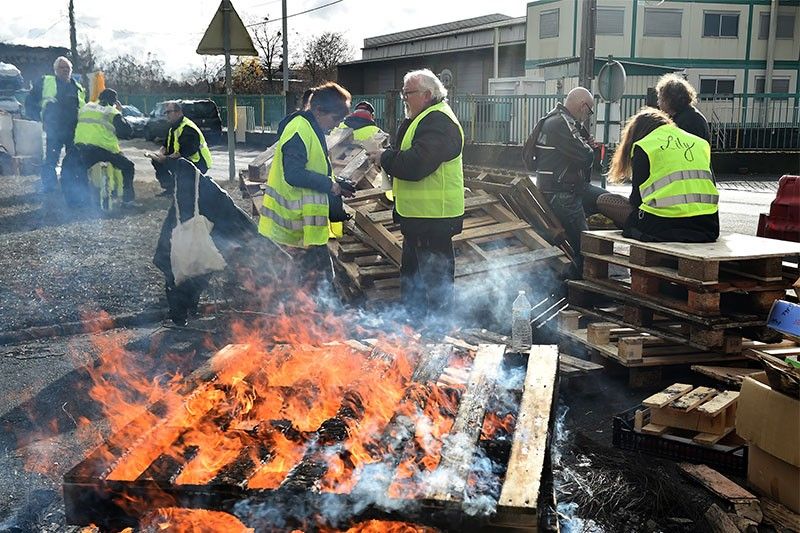 Yellow vests (gilets jaunes) protestors man a barricade as they block the access to the oil depot on Dec. 4, 2018 in Le Mans, northwestern France, as part of a protest against rising oil prices and living costs.
AFP/Jean-Francois Monier
Filipinos in France discouraged to join street protests
(Philstar.com) - December 6, 2018 - 4:49pm
MANILA, Philippines — The Philippine Embassy in France advised Filipinos to avoid participating in protests against the imposition of fuel taxes in the European country.
The Department of Foreign Affairs also warned Filipinos in France, as well as those in the Philippines traveling to Paris, to exercise caution due to violent protests that have erupted in the past weekends.
"The Philippine Embassy in Paris said Filipinos should avoid going to the Champs-Elysées, Arc de Triomphe, Louvre, Tuileries, Place Vendome, Avenue Friedland, Avenue Kléber, and other parts of France where demonstrations are expected to take place on Saturday," the DFA said in a statement released Wednesday.
The Philippine Embassy is closely monitoring the situation as 400 protesters have already been arrested and charged in connection to the street riots.
Filipinos in France who may need emergency assistance may call +33620592515, according to Ambassador to France Ma. Teresa Lazaro.
Meanwhile, the French government scrapped all petrol price hikes for 2019, French Minister of Ecology Francois de Rugy told BFM TV. This decision came weeks after violent protests against shrinking income blamed on the government of French President Emmanuel Macron.
The French government fears "major violence" from protests planned for Saturday, the presidency told Agence France-Presse.
"We have reasons to fear major violence," a source said Wednesday amid calls for fresh mobilization of the "yellow vest" movement countrywide this weekend. — Patricia Lourdes Viray with AFP