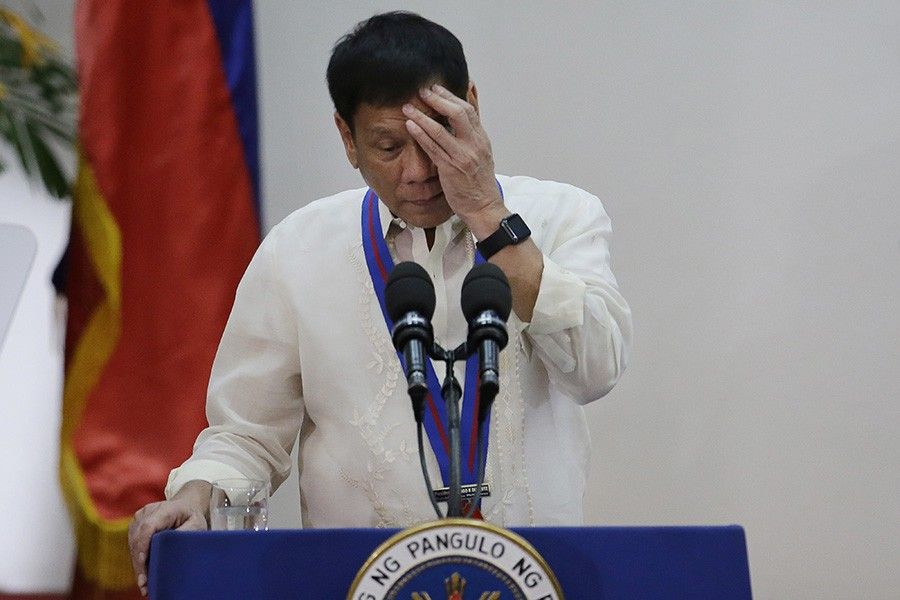 President Duterte blamed media over its spin on his marijuana joke.
AP/Aaron Favila/File
Rights group slams Duterte marijuana joke
MANILA, Philippines — International group Human Rights Watch (HRW) yesterday slammed President Duterte for "joking" about his use of marijuana amid the rising number of victims of extrajudicial killings (EJKs) in connection with his administration's war on drugs.
Duterte blamed media over its spin on his marijuana joke.
"If it's too ridiculous, it's a joke," he said during the awarding rites for child-friendly municipalities and cities at Malacañang last night.
"Duterte's supposed joke is not funny: since his 'war on drugs' began in June 2016, the police and unidentified assailants have summarily killed more than 12,000 people, mostly underemployed young men," HRW Asia director Brad Adams said in a post on the HRW website.
"Police put the figure at 5,000 deaths in what they claim were legitimate anti-drug operations. And while most victims of Duterte's drug war allegedly used shabu, many used or sold marijuana," he added.
In a speech to government officials last week, Duterte complained about his hectic schedule, particularly during the recent ASEAN Summit held in Singapore.
"It's a killing activity and I think the – my age, I'm not affected that much because I use marijuana to stay awake," Duterte said.
But a few hours later after his speech, Duterte told reporters that he was only joking about marijuana use.
"Marijuana is illegal in the Philippines, and Duterte's admission of using it – whether in jest or not – undermines the rationale for his drug war and exposes its murderous hypocrisy. It adds cruel insult to injury for the victims and their families," Adams said. – With Christina Mendez