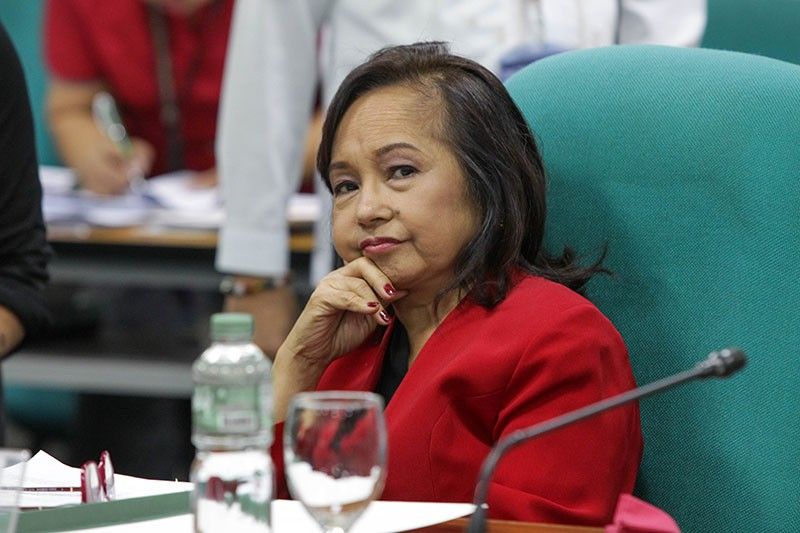 In this file photo, Rep. Gloria Macapagal-Arroyo attends a public works hearing at the Senate.
The STAR/Geremy Pintolo
Arroyo calls for speedy resolution of cases vs Ocampo, Castro
MANILA, Philippines — House Speaker Gloria Macapagal on Monday urged a speedy resolution of the matter concerning former Rep. Satur Ocampo (Bayan Muna) and Rep. France Castro (ACT Teachers party-lisy), who were detained last week on kidnapping and human trafficking charges.
Arroyo made the statement few days after Reps. Emmi De Jesus and Arlene Brosas (Gabriela party-list ) asked her to intercede in the release of Ocampo and Castro from police custody.
Ocampo, Castro and 16 others were released from jail on Saturday after posting bail.
"I understand that they have been given 10 days to file their counter affidavits in order to refute the charges against them and I would urge a speedy resolution of the matter within the framework of our judicial system," Arroyo said.
She also said that Castro is "entitled to a certain level of dignified and respectful treatment in situations such as this" as a member of the House.
"This is my position regarding any member of the House, regardless of political or ideological alignment," Arroyo said.
The House speaker also noted that she knows Ocampo personally.
"I pray that he, Rep. Castro and their co-respondents are well and will continue to be so until this matter is resolved," Arroyo said.
Ocampo and Castro, along with other members of the so-called Makabayan bloc of the House of Representatives, have been active in condemning the policies of the former president and her ascension as speaker following the ouster Rep. Pantaleon Alvarez (Davao del Norte).
Ocampo was also deputy minority leader at the 14th Congress when Arroyo was president.
The legal counsel of Ocampo earlier expressed confidence that the charges against her client will not "survive reasonable judicial or public scrutiny."