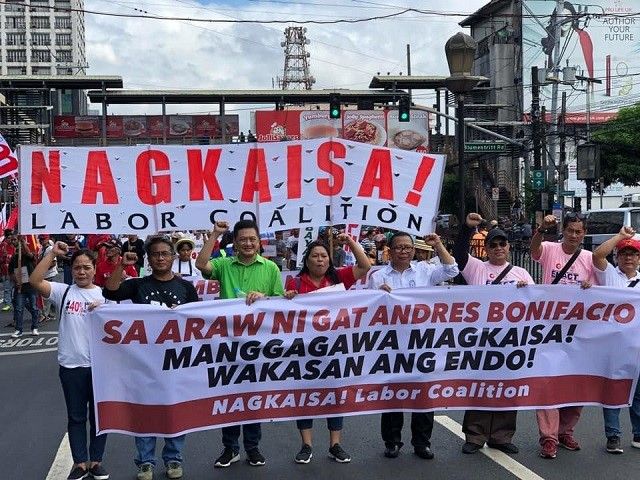 Opposition senitorial candidate Erin Tañada joins labor protestors on Bonifacio Day, Nov. 30, 2018.
Erin Tañada
Opposition tells Filipinos: Remember Bonifacio's 'life of political activism'
MANILA, Philippines — On the 155th birth anniversary of revolutionary hero Andres Bonifacio, Vice President Leni Robredo said that Filipinos should remember Bonifacio's life of "political activism."
"Bonifacio's life demonstrates how an ordinary Filipino can do extraordinary things for the country," Robredo said in a statement.
"At age 14, he had to stop schooling to provide for himself and his family because of the death of his parents. Almost 15 years later, Bonifacio began his life of political activism," the vice president said. "He revived the La Liga Filipina after Jose Rizal's arrest, founded the Katipunan, and eventually led the group through the Philippine Revolution."
While many monuments show the Filipino hero yielding a bolo, Bonifacio was also a prominent writer in the propaganda movement established by another national hero Jose Rizal.
READ: Separating the myth from the man on 155th birthday of Andres Bonifacio

"He showed us what it means to persevere in the midst of hardships and to sacrifice because Filipinos deserve better," Robredo said.
Rallyists marched from España Boulevard in Manila to Mendiola to protest against the Duterte administration during the 155th birth anniversary of Andres Bonifacio. pic.twitter.com/qbR31shxqY

— The Philippine Star (@PhilippineStar) November 30, 2018

Ralliysts took the streets on Friday afternoon to protest against the Duterte administration and policies such as junking the Tax reform for Acceleration and Inclusion Law (TRAIN), increasing the minimum wage and ending contractualization.
President Rodrigo Duterte, however, was absent during Bonifacio Day ceremonies in Caloocan City.
According to presidential spokesperson Salvador Panelo, Duterte had to fly to Mindanao to attend to "the problem of insurgency in Mindanao."

READ: Duterte skips Bonifacio Day ceremony

Jailed opposition Sen. Leila de Lima, meanwhile, said in a statement that Filipinos should "learn from his [Bonifacio's] values and follow his lead, especially during these challenging times."

"In our remembrance of his greatness and heroism, let us live his example, moreso our leaders should follow the principles of Bonifacio, the way he helped uplifted the poor and oppressed of society," De Lima said in Filipino.
The outspoken critic of Duterte has been in prison for almost two years on drug charges related to her stint as former Justice secretary.

READ: De Lima arraigned on second drug case
De Lima said Filipinos should follow the principles of Bonifacio like his "fearlessness in confronting the corrupt, regardless of how high their position is or how close to power; and his respect for life and the rights of citizens, whatever their status in life may be; as well as his defense of our sovereignty and national dignity."
'Honorable laborer'
Senatorial candidate Erin Tañada urged Filipinos to remember Bonifacio as an "honorable laborer."
Tañada called for the administration of Rodrigo Duterte to push for more progressive labor policies.
"We see things like DOLE the Department of Labor and Employment (DOLE) releasing lists of companies not complaint with the law," Tañada said.
"Meanwhile, laws legislation laborers have been calling for to be passed have not been passed like ending contractualization," he added.

"For our workers trying to create a rich country, let's not stop our fight with what we're saying here," Tanada said. "On the streets or inside of the senate, we shouldn't stop so we can give healing to those Filipino workers full of pain," Tanada added. "I'm with you in getting to know the hero of the workers."