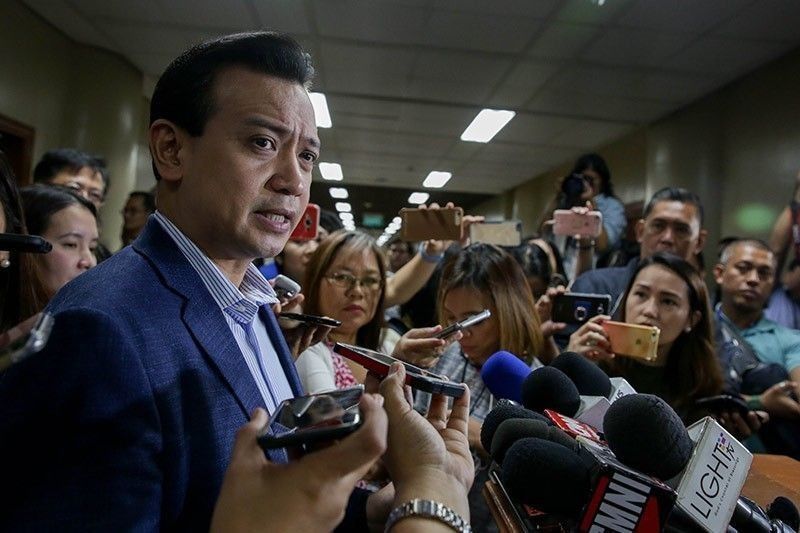 President Rodrigo Duterte himself said that the government is already investigating the said deals supposedly entered into by the parents of Sen. Antonio Trillanes IV.
The STAR/Mong Pintolo
Trillanes welcomes government probe into parents' supposed deals
(Philstar.com) - November 27, 2018 - 12:15pm
MANILA, Philippines — Sen. Antonio Trillanes IV remains unfazed as the government probes his parents' supposed deals with the Philippine Navy.
On Monday, President Rodrigo Duterte himself said that the government is already investigating the said deals supposedly entered into by Trillanes' parents: "We are looking into the paper. We're investigating the deals quietly, during the time of his father and mother."
"You can be very sure na lalabas lahat 'yan (that everything will come out)," Duterte added.
READ: Duterte: 'Probe on into alleged deals of Sen. Trillanes' parents'
Trillanes, in a statement, said that he "welcomes" the probe into the transactions supposedly entered into by his deceased father and his 84-year-old mother.
The senator further challenged: "In fact, I'll raise the ante. If he finds anything anomalous, again, I would voluntarily walk into any detention facility even in Davao."
Duterte earlier accused the senator, his fierce critic, of taking advantage of his father who was with the Armed Forces of the Philippines.
He also alleged that Trillanes' mother, Estelita, was a supplier for the Philippine Navy, which would be a case of conflict of interest as the senator was then a Navy officer, Duterte said.
He said the results of the investigation on Trillanes' parents would soon be out. Duterte declined to provide details.
Trillanes had earlier denied the accusations of corruption hurled against his mother Estelita, 84, who is suffering from advanced Parkinson's Disease.
"The public knows how low that blow was," Trillanes said in Filipino at a press conference last September.
Drug shipments
The senator, meanwhile, said that while the investigation is ongoing, the president "could pretend that he is angry and make it look like he is looking for the drug lord who let P6.4-billion, and P11-billion shabu shipments in the country."
"Napaghahalataan tuloy na siya ang nasa likod ng mga shabu shipments na yan (It appears obvious that he is behind those shipments)," Trillanes added.
Criminal and legislative probes are ongoing on the said shipments that slipped past the Bureau of Customs.
Past Customs chiefs Nicanor Faeldon and Isidro Lapeña were since transferred to new posts since the issue.
READ: Duterte defends Lapeña, Faeldon
Trial at the Manila court on the P6.4-billion shabu shipment that entered the country in 2017 is ongoing, but the traders named by Customs "fixer" Mark Taguba have yet to be brought to the court.
Meanwhile, the House of Representatives and the Senate are also conducting legislative probes into the P11-billion shipment that allegedly contain shabu, while the Philippine Drug Enforcement Agency, said in August, that they are pursuing leads into the case. — Kristine Joy Patag