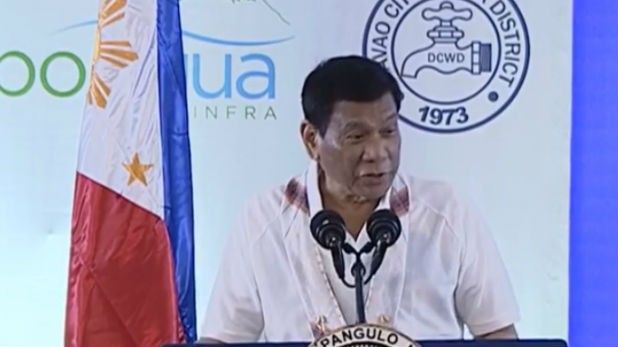 President Rodrigo Duterte says his skin discoloration is from aging
Screengrab from RTVM
Duterte explains skin color anew: 'As you grow old, your skin really darkens'
(Philstar.com) - November 26, 2018 - 9:49pm
Manila, Philippines — President Rodrigo Duterte, again addressing talk over his skin color on Monday, explained that "as you grow old, your skin really darkens."
"The opposition, they are waiting for the change in my face. Why is it black? They said it was kidney disease," Duterte also said.

While he blamed the discoloration on aging this time, in October, he said it was caused by whitening creams that his partner Honeylet uses, the desert air after a visit to Jordan, and weekly visits to military camps.
READ: Duterte says complexion due to visits to military camps, 'whitening' cream

"Those sons of bitches, 'Duterte has cancer of the kidney' – whatever they have to say — they speculate on my death — bet on it. They'll die first. Why do you have to dwell on an issue on someone's death?" he said.
Duterte was speaking at the groundbreaking of the Davao City Bulk Water Supply Project (DCBWSP) at the Apo Agua Infrastructura Project Site in Barangay Gumalang, Davao City on Monday.
The P12.6-billion project is expected to supply 30 million liters of water to Davao residents.
Duterte previously drew flak for missing several events at the Association of Southeast Asian Nations (ASEAN) Summit in Papua New Guinea. The Palace, which stressed that the missed events had nothing to do with the president's health, said he was taking power naps during those times.
"We assure the nation that his aforementioned absence has nothing to do with his physical health and wellbeing which have been the subject of speculation," Salvador Panelo, his spokesperson and chief legal counsel said then.
"The president's constantly punishing work schedule is proof that he is in top physical shape," he said to explain the president's absence at some ASEAN events.
In September, the president admitted that he had gone through endoscopy and colonoscopy, citing a family history of constipation.
Duterte also revealed that he has a bad case of Barrett's disease, a chronic and usually severe gastrointestinal reflux disease or GERD.
On Tuesday, the president is expected to inaugurate the P8.9 billion Panglao International Airport. —Ryan Macasero