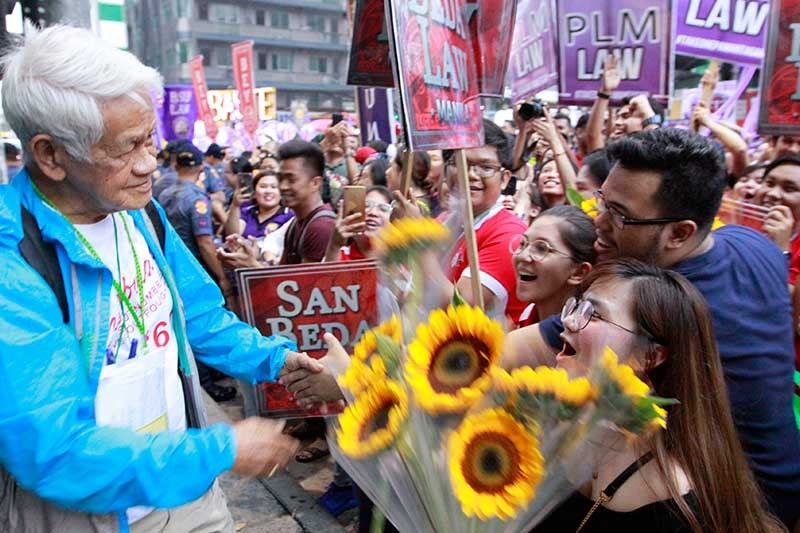 Bar operations dubbed "salubong" were held by law schools, fraternities, sororities, organizations as well as families and friends for the examinees on the last day of the exams on November 25.
The STAR/Edd Gumban
87-year-old Bar hopeful cheered on in yearly 'Salubong'
(Philstar.com) - November 26, 2018 - 12:12pm
MANILA, Philippines — Eighty seven-year-old Ibarra Mariano, one of the more than 8,000 bar hopefuls in 2018, hurdled the four-day grueling exam on Sunday.
This year's Bar exams drew a record-number of takers. 8,701 filed their applications, but the number dropped to 8,156 by the third day of the Bar exams.
READ: More than 500 Bar hopefuls fail to show up at exams
Mariano is one of those who finished the Bar exams on November 25, and was given cheer during the "Salubong," a tradition among law schools, fraternities and sororities to welcome their colleagues who had just finished the Bar.
According to a GMA report, Mariano obtained his law degree in 1967, but he was then called to duty as part of the Philippine Constabulary.
It was not until 1995, after retiring, that he was able to take the Bar exams but failed.
More than two decades later, Mariano took his chance and applied for this year's Bar examinations.
"It's only this year that I decided, because I know lots of poor people who are denied equal protection of the law because of poverty. I want to help and that's my vision in life," the octogenarian was quoted in the report.
READ: 2018 Bar exams end peacefully
'Is litigation still an attractive proposition?'
As the four-day Bar exam closed, lawyers' groups challenged their future colleagues on the challenging road they would forge on ahead.
The Integrated Bar of the Philippines, the national organization of lawyers, posed an existential question to the Bar aspirants: "Do we see our admission to the Bar as the gateway to riches and glory, or do we see it as an opportunity to serve, always mindful of Justice [Jose Benedicto Luna] Reyes' reminder that as lawyers we 'have no aster but law, no guide but conscience, no aim but justice?'"
IBP President Abdiel Dan Fajardo said that at least 35 of their colleagues fell to an assassin's bullets, since the killing of lawyer Rogelio Bato Jr. in August 2016 to the ambush of Benjamin Ramos early this month.
"That is more than one IBP member getting killed every month, which makes our profession one of the most dangerous professions to practice in this country," the IBP said.
The national organization of lawyers urged their future colleagues to join in the call for the arrest of the perpetrators of the "growing impunity in the violence, intimidation and harassment" against lawyers.
Meanwhile, the National Union of Peoples' Lawyers also posed a challenge for the future lawyers: "From today on, be the one who seeks to truly understand the spirit of the law, to correct the inequities, to make law and justice mean the same."
READ: 'Confusing' times call for more people's lawyers, NUPL says
The lawyers group, known for offering pro bono services to those who seek their help, expressed hope that the Bar candidates will join them in fighting against "ignorance, intolerance and historical revisionism."
"That in your practice, you will aspire for genuine service to the Filipino people, to have great pride and clean conscience with the clients you will take on. Beyond money, to earn respect. Beyond favorable judgment to win with integrity, to be the best lawyer for people that money cannot buy," the NUPL added. — Kristine Joy Patag