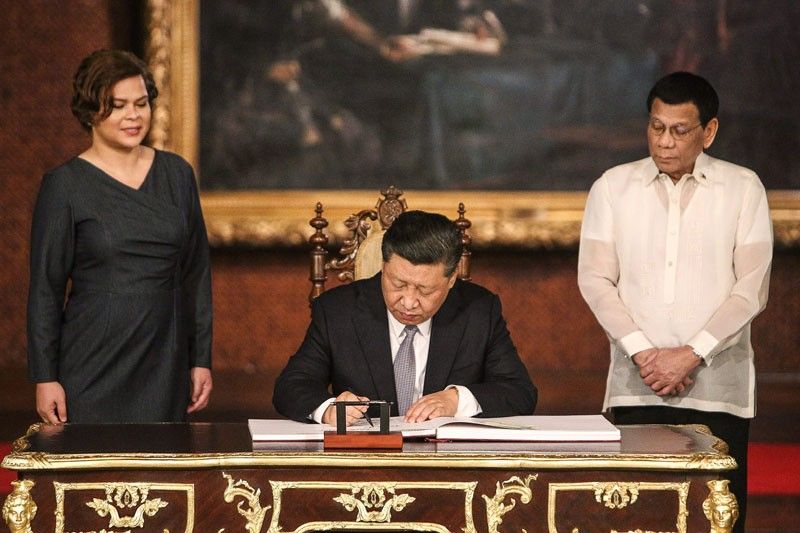 President Duterte and daughter Sara Duterte-Carpio looking on as Xi signs the Malacañang guest book.
'Friendship with Philippines the only right choice' – Xi Jinping
Pia Lee-Brago
(The Philippine Star) - November 21, 2018 - 12:00am
MANILA, Philippines — Maintaining "good neighborliness and friendship" is the only "right choice" for China and the Philippines to achieve their goals and mutual interests amid "profound and complex changes in the world," visiting Chinese President Xi Jinping said yesterday in his arrival statement.
"China stands ready to work with the Philippines for even greater progress in our relations," he said. "Our peoples have higher expectations for stronger ties and cooperation across the board between our two sides."
Later at Malacañang, Xi reiterated his government's promise to work on consensus as it joins the Philippines and the rest of the 10-member Association of Southeast Asian Nations (ASEAN) in crafting a code of conduct on the South China Sea within three years.
"China and the Philippines have a lot of common interests in the South China Sea. We will continue to manage contentious issues and promote maritime cooperation through friendly consultation," Xi said.
"And we will work alongside other ASEAN countries towards the conclusion of COC based on consultations, based on consensus within three years and continue our share to peace, stability and welfare in this region," the Chinese leader added.
Xi is in Manila for a two-day state visit upon the invitation of President Duterte. His visit to the Philippines is the eighth by a Chinese leader since the establishment of diplomatic relations between the two countries in 1975.
"I am convinced that this visit will cement the traditional friendship, deepen the mutually beneficial cooperation and enhance the joint effort of the two sides for common development," Xi, who was in Manila in 2015 for the Asia-Pacific Economic Cooperation summit, said.
"It will surely inject fresh, strong impetus into the good neighborly relations and friendship between the two countries for the benefit of our peoples," he added.
The Chinese leader said he was looking forward to meeting with Duterte for an in-depth exchange of views on further strengthening China-Philippine relations as well as on regional and international issues of mutual interest.
The two countries are embroiled in a maritime dispute but the Duterte administration has chosen to set it aside, saying the Philippines could not afford to antagonize a military power or be deprived of investments from an economic giant.
Beijing is claiming almost the entire South China Sea – including the West Philippine Sea – and has built island fortifications in areas within the Philippines exclusive economic zone (EEZ).
A United Nations-backed arbitral tribunal based in The Hague issued a ruling in 2016 invalidating China's massive maritime claim and reaffirming the Philippines' own entitlements.
Beijing, however, vowed not to comply with the ruling, while President Duterte said he would never insist on having it enforced.
In its ruling, the Permanent Court of Arbitration said China's nine-dash line claim does not have a legal basis and that Beijing violated its commitment under the 1982 United Nations Convention on the Law of the Sea (UNCLOS) when it built artificial islands and fortifications in areas also being claimed by other nations including the Philippines.
Beijing has not only rejected the arbitral tribunal ruling but has steadily moved to consolidate its presence in the South China Sea and West Philippine Sea, specifically through deployment of naval vessels and aircraft.
Experts have warned the Philippines against engaging in resource-sharing arrangements with China and lapping up Beijing's Belt Road Initiative, which aims to get some 60 countries to invest in infrastructure projects to develop land and maritime routes in the mold of the old Silk Road network that once connected China with Central Asia and Europe.
The country's joining the initiative is expected to usher in a "golden age of infrastructure," administration officials said.
Joining hands
In his speech at Malacañang, Xi called on the Philippines to "join hands to uphold the interests of the developing world, resist protectionism, unilateralism, and promote peace, stability and prosperity."
Xi's statement came as US Vice President Mike Pence said during the ASEAN summit in Singapore that South China Sea does not belong to any one nation and the US would continue to sail and fly wherever international law allows.
In his statement, Duterte talked about the positive momentum of Philippine-China relations.
"In the past two years, we have worked hard to lay the cornerstones for the continued advancement of our beneficial cooperation in a wide range of areas," he said.
"A lot of work remains, but President Xi's visit gives us new impetus to our mutual efforts to enhance collaboration in ensuring the well-being of our peoples and contributing to peace and stability in the region," Duterte added.
"There is a deepening trust and confidence [between] our governments, and we have greatly increased dialogue and interaction on many levels," he pointed out.
"With mutual respect, sincerity, and adherence to sovereign equality, I will continue to work closely with President Xi to deepen the relationship between our great countries so we may together secure a peaceful and prosperous future for both our peoples and for the entire region," Duterte said at the end of their bilateral meeting.
Xi described the relations between the two countries as coming "from winter to refreshing breeze," largely made possible by Duterte's much vaunted pivot to China and his "separation" from the US.
"As we speak, it is already winter in the northern part of the globe but here we are enjoying refreshing breeze and exceptional scenes. And this is exactly what the China-Philippine relationship is today. I'm satisfied to see the growth in our relations and indeed," Xi said. – With Christina Mendez
Related video: