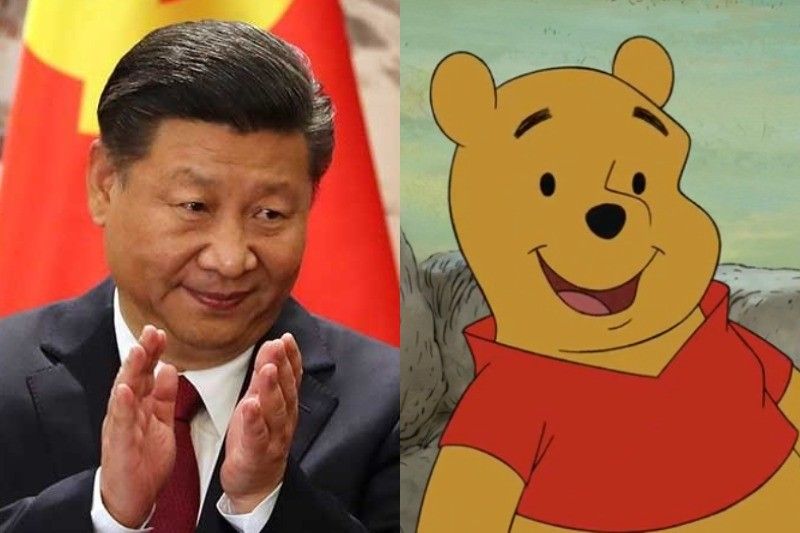 Online users flood their social media accounts with Winnie the Pooh memes to protest the state visit of Chinese President Xi Jinping.
AP/Ng Han Guan, File; Winnie the Pooh, Facebook page
#XiJinPooh: Filipinos flood social media with Pooh memes as Xi visits Manila
(Agence France-Presse) - November 20, 2018 - 6:51pm
MANILA, Philippines— Philippine Twitter and Facebook feeds were flooded Tuesday with Winnie the Pooh memes in a winking expression of anti-China sentiment stirred by President Xi Jinping's state visit to Manila.
The self-described "bear of very little brain" has been used in the past on social media to poke fun at portly Xi, a joke that has drawn crackdowns from Beijing's censors.
In one clip posted Tuesday, Pooh bows before a mirror while "Hail Satan" flashes across the screen, in another he floats near an artificial island built by Beijing in the disputed South China Sea.
"Because Winnie the Pooh is banned in China because he's the spitting image of Xi Jinping, let's protest his presence by posting memes and photos of him with his (lookalike)," Facebook user Wilfredo Garrido wrote.
Online users also used hashtag "XiJinPooh" as they expressed disapproval for the Chinese leader's visit in the country and called on other Filipinos to protest the two-day state visit.
Some online users also disapproved of President Rodrigo Duterte's alliance with China.
CALL TO ACTION!
CHANGE YOUR PROFILE PICTURE TO WINNIE THE POOH.

This is our act of defiance against the Duterte administration's continued subservience to the Peoples Republic of China and betrayal of our sovereignty.#XiJinPooh #ChinaLayas

(ctto) pic.twitter.com/GIIlB0dMHL

— AltSpox Harry Roque (@AltSpoxHRoque) November 19, 2018
Use the hashtag: #XiJinPooh
(SHARE THIS IMAGE FOR GOOD LUCK)

Chinese President Xi Jinping and the ruling Chinese Communist Party has banned images of Winnie the Pooh in their country because Chinese activists and dissidents have pointed out Xi looks like Winnie the Pooh. pic.twitter.com/dRHshpn45R

— MAD_Pilipinas (@MAD_Pilipinas) November 19, 2018
WARNING: A regional depression will hit Manila, specifically the BGC area today. The international name of the disturbance is #XiJinPooh

All are advised to stay indoors. Authorities in Manila have canceled classes in all levels.

— Jim (@Jimparedes) November 20, 2018
Many Filipinos resent Beijing's claim over most of the South China Sea, which an international tribunal ruled in 2016 was without basis.
The dispute led to a freeze in Beijing-Manila ties, but all that changed when Rodrigo Duterte won the presidency shortly before the judgement was handed down.
He has opted to set the key ruling aside in order to pursue billions in trade and investment from China, which many Filipinos see as a frittering away of territory that is rightfully theirs.
Comparisons between Xi and Pooh first emerged in 2013, after Chinese social media users began circulating a pair of pictures that placed an image of Pooh and his slender tiger friend "Tigger" beside a photograph of Xi walking with then-US President Barack Obama.
In 2014, a photographed handshake between Xi and Japanese Prime Minister Shinzo Abe was matched with an image of Pooh gripping the hoof of his gloomy donkey friend Eeyore.
And in 2015, the political analysis portal Global Risk Insights called a picture of Xi standing up through the roof of a parade car paired with an image of a Winnie the Pooh toy car "China's most censored photo" of the year. —Agence France-Presse with a report from Rosette Adel