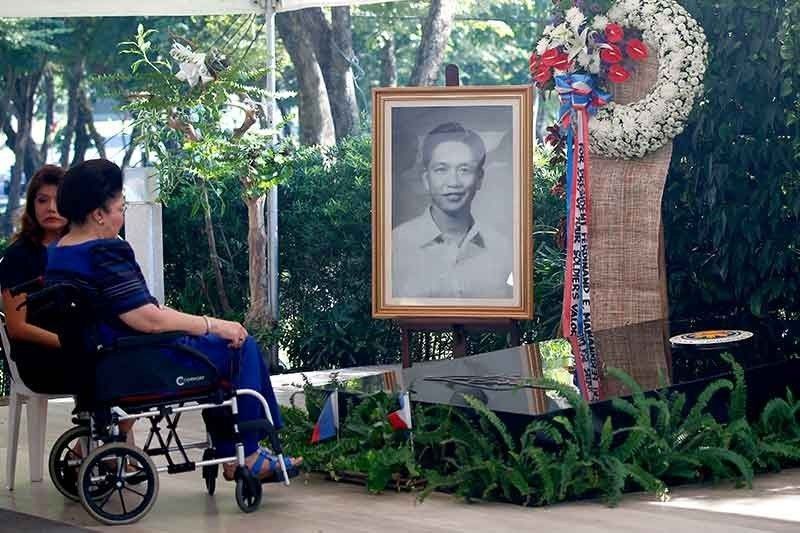 In her motion filed on Monday, the widow of the late strongman Ferdinand Marcos said she was under "strict orders" from her physician "to refrain from stressful conditions that will put her at risk for heart and brain attack and recurrence of seizure."
AP/Bullit Marquez/File
Ombudsman blocking Imelda's post-conviction remedies
MANILA, Philippines — For making "fictional" excuses for skipping the promulgation of Sandiganbayan's guilty verdict on her case, former first lady Imelda Marcos should be barred from appealing her conviction on seven counts of graft involving $200 million, while remaining free on P150,000 bail, according to the Office of the Ombudsman.
In an opposition paper filed on Nov. 15, the ombudsman's prosecution team asked magistrates of the Sandiganbayan Fifth Division not to give in to Mrs. Marcos' "fictional" excuses for failing to show up before the Sandiganbayan when her guilty sentence was read on Nov. 9.
The prosecution said Mrs. Marcos' alibi that she was "indisposed" during the promulgation due to "multiple organ infirmities" must not be given credit as the 89-year-old Ilocos Norte congresswoman was seen on the night after her conviction partying with several guests in their ancestral house in San Juan City for the birthday celebration of her eldest daughter, Ilocos Norte Gov. Imee Marcos.
In her motion filed on Monday, the widow of the late strongman Ferdinand Marcos said she was under "strict orders" from her physician "to refrain from stressful conditions that will put her at risk for heart and brain attack and recurrence of seizure."
Mrs. Marcos attached in her motion dated Nov. 12 a certification from her physician, Joven Cuanang of St. Luke's Medical Center, attesting to her being afflicted with several ailments, including diabetes, hypertension, mini strokes, sensorineural hearing loss, urinary tract infection, gastritis and respiratory tract infection.
"The said medical certificate is likewise bereft of merit because said 'strict orders' were just a fiction of the accused and her doctor's colorful imagination," the ombudsman said.
"Accused Marcos is the incumbent Representative of the 2nd District of Ilocos Norte since 2010. She occupies a very stressful position in the government for a patient suffering multiple organ infirmities and yet her doctor did not urge her to step down therefrom," the prosecution's motion read.
The prosecution also pointed out Mrs. Marcos' filing a certificate of candidacy for governor of Ilocos Norte in the 2019 elections. Being governor is "an equally stressful position in the government and yet again her physician never bothered to urge her not to run for public office anymore," the prosecutors said.
They said it was unbelievable that in the morning of Nov. 9, Mrs. Marcos suddenly "became so obedient and conveniently followed the alleged 'strict order' of her physician to avoid stressful conditions and purposely missed out the scheduled promulgation on these instant cases despite being duly notified of the same."
The prosecution urged the court to proceed with the issuance of an arrest warrant against Mrs. Marcos and to no longer allow her to file a motion for reconsideration on her conviction.
'Not proportionate'
In Cebu City, Vice President Leni Robredo expressed dismay at Mrs. Marcos' being allowed to post P150,000,which she argued was not proportionate to the enormity of her crimes.
"We are happy that after a long time, justice has been served for the people. But I am disappointed that we are seeing how justice is unevenly dispensed," she told reporters in Filipino.
"What will be its implication for our countrymen? Does it mean that if you have money, or you belong to a higher socio-economic class, you can evade punishment?" she added.
Robredo, who is also a lawyer, said she had seen former clients suffering because they could not post bail as low as P10,000.
"That P150,000 bail is very small considering the enormity of what was stolen. Second, that's just a meager amount for her," she said. "It is disappointing because she is already convicted… the people have already been victimized, and then they will again be victims of the improper dispensation of justice."
The Sandiganbayan Fifth Division allowed Marcos to post bail pending their decision on her motion to avail herself of remedies following her conviction.
She was earlier sentenced to serve six to 11 years in prison for each of the graft cases, which stemmed from the creation of foundations where she funneled ill-gotten wealth during her late husband's rule.
Robredo said Marcos insulted the Filipino people when she attended a party hours after the anti-graft court issued the ruling.
"And then she said she was not able to attend because she was sick. It looks like a mockery of the justice system," she said.
Mrs. Marcos' absence at the promulgation proceedings prompted the Sandiganbayan to order the forfeiture of the bail bond she posted in 1991 when the cases were filed.
The Fifth Division also ordered the issuance of an arrest warrant but no actual warrant was issued to law enforcement agencies.
Under Section 6, Rule 120 of the Rules of Court a convict who fails to attend the promulgation of the decision on his or her case, without justifiable cause shall "lose the remedies available in these rules against the judgment and the court shall order his/her arrest."
The same provision, however, also states that a convict may still avail himself of "post-conviction remedies," including applying for bail provided that he can justify his absence at the promulgation of decision. – With Janvic Mateo