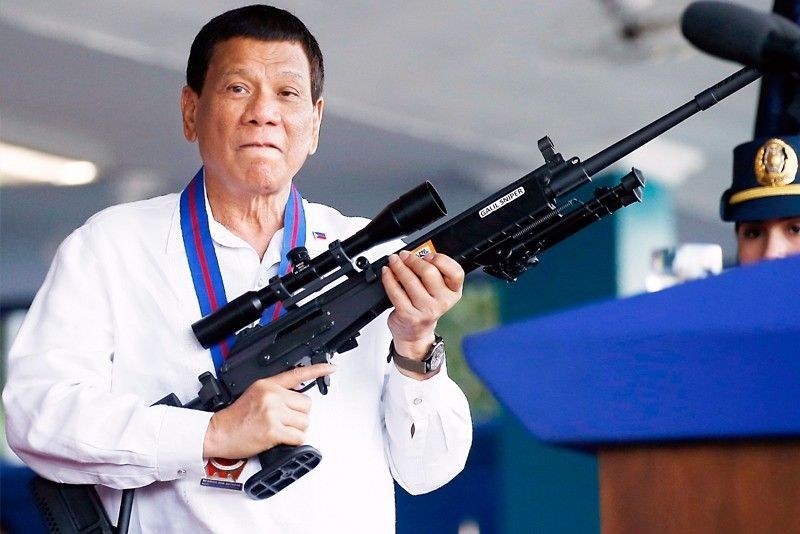 President Duterte, whose war on drugs has left more than 4,000 drug suspects dead, said he should not be bound by human rights if he were a monster.
AP/File
Duterte slams drug war critics anew
Alexis Romero
(The Philippine Star) - November 18, 2018 - 12:00am
PORT MORESBY – President Duterte hit back at critics who demonize him for launching a brutal war on illegal drugs.
Duterte, whose war on drugs has left more than 4,000 drug suspects dead, said he should not be bound by human rights if he were a monster.
"They say Duterte... is not human. He is a monster. Then I am not bound by human rights. Look for a court where you can try monsters," the President said during a meeting with the Filipino community last Friday here.
He reiterated that he does not recognize the International Criminal Court, which is looking into the alleged extrajudicial killings tied to his drug war.
"Mga g***. Sabi ko sino 'yung mga judges ninyo diyan? Bakit kasama ba kami pagpili nitong mga g*****, p***** i**** puti na 'yan? Baka ito pedophile. 'Yan man karamihan sa kanila (Fools. Who are your judges? Why? Are we involved in the selection of these sons of a b**** whites? Maybe they are pedophiles. Most of them are)," he said.
"Why would I allow myself to be tried by a few idiot human beings in this world?" he added. "P***** i** ka (You son of a b****), human rights. You go to hell."
Duterte also lambasted groups that accuse him of human rights violations, maintaining that his drug crackdown is meant to save the future generation.
He pointed out that he has threatened mayors against getting involved in illegal drugs and noted that some mayors, who were previously accused of protecting drug syndicates, have been killed. He also warned former Iloilo City mayor Jed Patrick Mabilog that he would be next.
Duterte cited the deaths of former Tanauan City mayor Antonio Halili, who was shot dead during a flag ceremony in July and former Albuera, Leyte mayor Rolando Espinosa, who was killed while in prison in November 2016.
The President later on denied he was behind the deaths of mayors believed to be involved in narcotics, saying he was just trying to scare the local executives.
"Ako, magsabi man lang ako 'patayin kita' pero pantakot man lang 'yan, istorya man lang 'yan, maniwala ka pala? (If I say 'I will kill you,' it was just a scare tactic. It's all talk. And, you believed it?)," he said. "Kung sino ang nagpatay eh 'yan mga pulis o tanungin mo, hindi ako (If you want to know who killed them, ask the police not me)."
Meanwhile, Monsignor Pedro Quitorio III, the media office director of the Catholic Bishops' Conference of the Philippines (CBCP), said Duterte's attacks against the Catholic Church are an indication that many people are still not aware of what the Church is doing.
"I don't entirely blame the President (for this anti-Church comments) because he is just one of the millions of Filipinos who don't know what the Church does," CBCPNews quoted Quitorio.
These attacks, he added, are "actually a much-needed reality check."
"I'm happy (about the President's comments). It gives me the real score. We are doing so much in the Church but the people don't know," said Quitorio, who also heads Areopagus Communications.
He said many, for example, do not know what happens to the collections during masses or that the Catholic Church built 30,000 houses for Typhoon Yolanda survivors.
"Who would know that that is what we do? I should know, because I'm from (a) 'Yolanda' area, I'm from Region 8. How many (houses) did the government (build)?" he added.
According to Quitorio, people don't know that the Catholic Church is one of the largest charity agencies in the world because, by nature, it does not self promote.
"Nobody knows, nobody posts," he added. – Evelyn Macairan