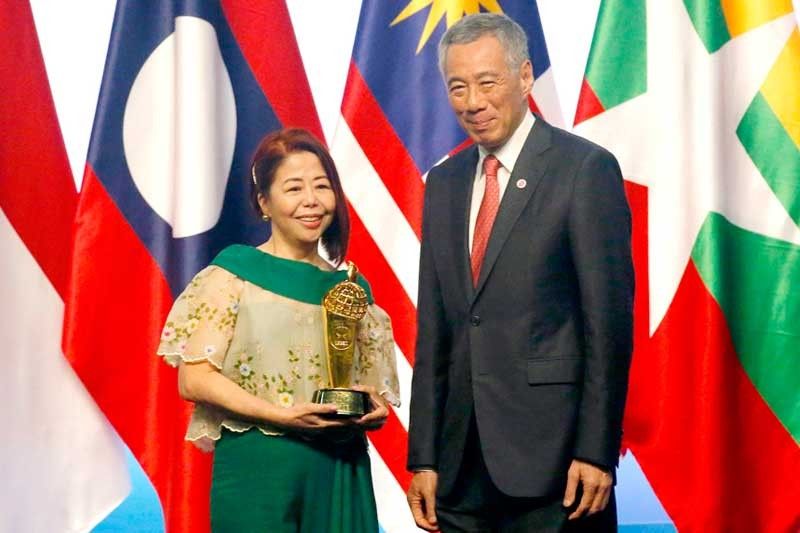 Singaporean Prime Minister Lee Hsien Loong poses with Erlinda Uy Koe, chair emeritus of the Autism Society-Philippines, during the opening ceremony for the 33rd Asean Summit and Related Summits last Tuesday.
AP
Filipino wins first ASEAN prize for autism advocacy
SINGAPORE – A Filipina mother who has pushed for the rights of persons with autism is the first recipient of the ASEAN Prize in honor of her exemplary contributions to an inclusive ASEAN community.
President Duterte congratulated Erlinda Uy Koe, who was given the award during opening ceremonies of the 33rd ASEAN summit at the Suntec Singapore Convention and Exhibition Center on Tuesday night.
Koe became emotional when interviewed by members of Philippine media covering the summit after she received the award from no less than Singapore Prime Minister Lee Hsien Loong and ASEAN secretary-general Dato Lim Jock Hoi.
Koe, chair emeritus of the Autism Society of the Philippines (ASP), was nominated for her family autism advocacy.
The ASP's "Angels Walk for Autism 2018" gathered 24,000 participants early this year, while thousands more converged in simultaneous walks in 10 cities.
"And so for us, for… the inaugural ASEAN Prize to go to a family autism advocacy is a statement. It's a statement that the ASEAN now embraces the inclusion of people with autism like my son," said Koe, who discovered that her first born son Gio has autism when he was three years old.
Her son will turn 25 in January. She has three children.
"So we look forward to a more autism-friendly ASEAN and of course it starts with us," she added.
The ASEAN Prize aims to recognize inspiring achievements and contributions of an individual or organization that foster the ASEAN identity, promote the ASEAN spirit and champion the ASEAN way.
In addition to the trophy, the recipient of the ASEAN Prize also receives a cash prize of $20,000.
Koe's efforts have inspired autism awareness both in the Philippines and abroad. Under her leadership, the ASP has become one of the mist vibrant disability organizations in the Philippines.
"I feel so emotional now because I really thank the Lord, apart from the fact that this is really our advocacy," she said, shedding tears while recalling her family's journey since the discovery of her son's condition.
Once parents discover that their child has autism, the only thing they will think of is how to help him or her grow up at par with the rest.
"Autism is a spectrum disorder. So, others may be able to go college, (but) my son has never been to a regular school… he went to a special (home) school program," she said.
At the regional level, Koe serves as chair of the ASEAN Autism Network (AAN) which is composed of autism family support organizations from ASEAN member-states.
The AAN has become a platform for member-states to cooperate and unite in developing non-discriminatory programs to support persons living with autism and their families.
Duterte expressed his support for the ASEAN Prize, as much as he was proud that Koe is the first recipient of the award.