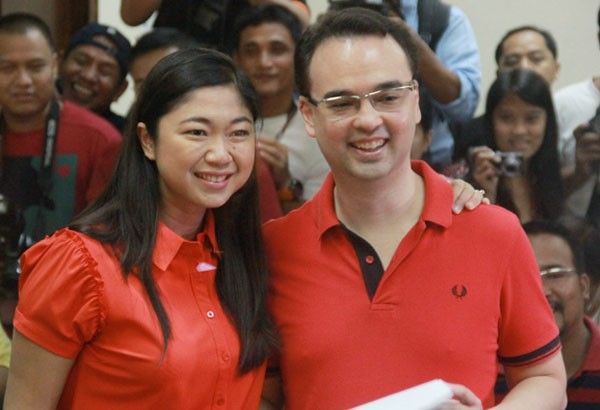 The couple said disqualification cases against them "from the correct perspective, are irrelevant to our constituents' desire."
File photo
Cayetanos on seeking twin House seats: Our constituents trust us
(Philstar.com) - November 13, 2018 - 6:22pm
MANILA, Philippines — Taguig City Mayor Lani Cayetano and former Foreign Affairs Secretary Alan Peter Cayetano are running to continue their many years of public service, the couple said Tuesday afternoon.
"We are running because our constituents trust us that their interests would continue to be promoted and protected," they said in a statement to media after a complaint was filed against them at the Commission on Elections to question their being residents of separate barangays in the city.
Taguig voter Leonides Buac Jr. has filed a petition seeking to cancel the Cayetanos' certificates of candidacy for listing different addresses when "the usual place of abode of the husband and wife, as jointly fixed by them, is their one legal residence for the purpose of running for public office."
In his COC, Alan Peter declared that he is a resident of Barangay Bagumbayan in the first district while Lani declared that she lives in Barangay Fort Bonifacio in the second district.
The petitioner also noted that the eldest of the Cayetano siblings, Rep. Pia Cayetano (Taguig), is running for senator while their younger brother Lino Cayetano—also a former Taguig congressman—is running for mayor to replace sister-in-law Lani.
Alan Peter was congressman for the lone district of Taguig-Pateros from 1998 to 2007. Lani was also a member of the House of Representatives before being elected mayor of Taguig City.
The 1987 Constitution declares "the State shall guarantee equal access to opportunities for public service, and prohibit political dynasties as may be defined by law." Congress, which has historically been dominated by political families, has so far failed to pass a law to enable that prohibition.
"This may not surprise anyone, but this election, the Cayetanos have crossed the lines of decency, now plumbing the depths of shamelessness," the petition read.
But the Cayetano couple said the "disqualification cases, from the correct perspective, are irrelevant to our constituents' desire."
They added: "On May 2019, we will submit to the people's will. This is what truly matters. This is what only matters."
The former Foreign Affairs secretary explained in October that "[a]side from an adviser, I need her vote, so she (Lani) will also run for Congress in the other district, in the district of my elder sister Pia because she will be leaving [to run for the Senate]."
"If you win, you have a vision for the country and Lani is the best person in the second district who knows the problem, who can solve the problem of the second district," he also said.
On Monday, the couple said: "We would like to assure the electorate of Taguig and Pateros of our absolute preparedness to answer point by point the issues raised in these disqualification cases."